55-inch TV purchasing advice: how to choose the right product
The most important things in a nutshell
A high-quality 55-inch TV is perfect for series and film fans who want to bring the cinema experience home.
Due to the comparatively large screen diagonal of about 1.4 metres, a high resolution is mandatory to ensure that the picture is sharp.
Even if there are only a few programmes in the linear TV programme in corresponding quality so far, the TV should support a resolution in Full-HD (1080p) or Ultra-HD/4K (2160p) to be future-proof.
The recommended seating distance is two and a half times the screen diagonal. At 55 inches, that is about 3.5 metres.
The more connection options there are for external devices such as game consoles, hard disk recorders, set-top boxes, digital cameras or smartphones, the better.
Finding the right screen size
For Germans, watching television, both in linear form and via media libraries and streaming providers, is still one of the most popular leisure activities. This is certainly due, among other things, to the massive spread of this technology. According to the Federal Statistical Office, around 98 percent of German households had at least one television set in 2017. This means that television is still one of the leading media in this country. According to very recent figures, Germans spend a total of around 190 minutes a day in front of the television (as of October 2018). Many want to enjoy this time with a good and technically up-to-date set.
While consumption continues to rise among the over 30s and reaches new record levels among the over 60s, Germans under 30 watch less and less television. Not only do they turn on the TV less often and spend less time in front of it, but in addition to the linear TV programme, they are increasingly using time-shifted content from media libraries and streaming services. However, many of the young users between 18 and 24 who already had a subscription to a streaming provider are also returning to linear television. This is mainly due to convenience: While they have to decide on a film or series with portals such as Netflix or Amazon Prime Video, they can simply let themselves be sprinkled with the linear TV offer.
Choosing the right set
To make watching TV really fun, you need a high-quality device with many useful features. Before deciding to buy a certain TV model, interested people should therefore take enough time to make their choice. In addition to technical aspects, the size of the set is a decisive criterion. The right choice depends above all on how much space the user has in his or her home. Certain parameters have to be taken into account.
When choosing the screen diagonal, the size of the room into which the electronic roommate is to move plays an essential role. After all, the user should keep a sitting distance of about two and a half times the screen diagonal. An undersized or oversized device can severely limit comfort.
The seating distance is also important for the picture quality: if the user sits too close, the individual pixels become visible and the picture appears grainy. If, on the other hand, the distance is too great, the user cannot see small picture details and also has to strain his eyes constantly.
The preferred display size has undergone a change over the years. While 32-inch televisions were the best sellers for a long time, there is now a growing demand for larger models. On the one hand, more and more programmes are being broadcast in HD format, making a larger TV set worthwhile. At the same time, production costs are falling, making comparatively large models such as a 55-inch TV affordable for a broader mass. With such a set, film lovers can bring the perfect cinema experience into their homes. Game fans won't be disappointed either, as they can plug in their console and look forward to a few hours of thrilling adventures with breathtaking graphics.
Why a new TV set?
Whether it's an entry-level model for little money or a high-end set: what counts in the selection process is always the quality, the price and the range of functions. The reasons why consumers decide to buy a new television set, on the other hand, can be much more diverse.
Defective old set: If the old TV is a bit "decrepit", it may be time to buy a new set.
Set too small: In the meantime, sets with large screen diagonals have become affordable for the masses. Especially before major sporting events, such as a football World Cup or the Olympic Games, the demand for larger new devices increases significantly.
Poor picture: Five to ten years ago, many models were sold with HD-ready resolution (1,280 x 720 pixels). Older tube TVs with PAL technology even had a resolution of only 768 by 576 pixels. In the meantime, high resolutions in Full HD or Ultra HD/4K format have become standard for new televisions.
Missing functions: Users of older sets may miss smart TV features such as a media library for time-shifted access to content and TV apps.

Built-in picture technologies determine the TV picture
When customers compare the wide range of available 55-inch TVs on the market, they are confronted with many different terms that sound very similar and can be confusing. Manufacturers advertise with technology terms such as plasma, LCD, LED, OLED and QLED. We explain what they mean.
Once the industry leader, now largely replaced: plasma TVs
Plasma TVs were once the ultimate in entertainment. No backlight is needed for operation. Instead, two glass plates are installed between which there is a special gas mixture that lights up by itself. The higher the power supply, the stronger the individual pixels glow. The disadvantages of these devices are strong reflections through the glass front and comparatively high operating costs. That is why the newer LCD technology has meanwhile gained acceptance. These sets can now at least keep up in terms of picture change speed and contrast strength.
LCD TVs with Edge-LED vs. LCD TVs with Direct-LED
Models with LCD (liquid crystal display) technology have a liquid crystal screen. Modern LCD TVs are illuminated with LEDs. Advantages of the new system include lower power consumption and fewer toxic components (the old CCFL fluorescent tubes contain mercury). With these LCD models, which are also colloquially called "LED TVs", a distinction is again made between two designs: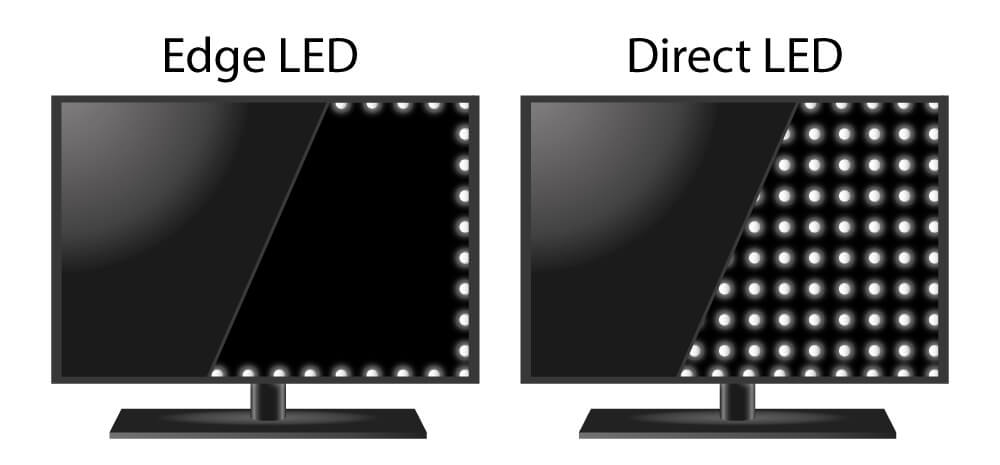 Units with edge LED: ultra-thin design possible
Devices with edge LED technology have LED lights only on the outer edge. The light is distributed evenly across the entire width of the display by means of tiny mirrors. The advantages include the possibility of a very flat design and comparatively low power consumption. They are also somewhat cheaper than Direct LED models.
Direct LED (also called Full LED): LED evenly distributed over the entire screen

With Direct LED technology, the LEDs are evenly distributed over the entire screen. Each of these LEDs is controlled and dimmed separately. So-called local dimming technology can also be used. This is a special type of backlighting: individual small groups of LEDs shine stronger or weaker to achieve a greater contrast between bright and dark pixels. This has decisive advantages: This achieves a very high contrast ratio, which was previously only possible with plasma sets. A small disadvantage is that such a flat design as is possible with edge LED technology cannot be achieved. Overall, the models are priced more or less above the edge LED versions, but score points with their comparatively higher contrast ratio.
The big South Korean manufacturers duel: OLED (LG) vs. QLED (Samsung)

The two South Korean multinationals are competing for the best-selling TVs with their own solutions. OLED and QLED are further developments of LCD technology that provide comparatively even more brilliant colours. The manufacturers each enter the race with their own technologies.
Samsung goes into battle with QLED technology

According to the manufacturer, the Q in QLED stands for Quantum Dots. These are special nanocrystals that absorb light and emit it again. Viewers thus enjoy rich colours, excellent contrasts and intense blacks from all angles. QLED technology displays the entire colour volume without losses or inaccuracies. A big advantage: QLED sets do not suffer from burn-in effects when displaying the same picture for a long time. This is an advantage for exhibition sets or gamers, where, for example, a level map is often displayed at the bottom of the screen. This technology also guarantees a very long service life of 100,000 operating hours. In contrast to OLED, QLED technology is not, strictly speaking, a new development, but merely a further development of classic LCD technology.
LG: Organic LEDs light up by themselves
Organic LED technology was developed by LG. TVs with OLED panels consist of millions of small organic light-emitting diodes that light up by themselves when an electrical voltage is applied. Therefore, unlike conventional LCD TVs, this technology does not require a backlight. With this technology, the OLEDs thus function as both picture generator and light source, whereas normal LEDs are used exclusively for backlighting. A clear advantage of OLED technology is that deep blacks can also be displayed. The colours, on the other hand, appear strong and brilliant. Disadvantage: Compared to classic LCD models, OLED models are more expensive to buy. The comparatively shorter lifespan of "only" 36,000 hours of many older models has been improved by technical innovations. LG now states the lifespan of the newer models at 100,000 hours. This would correspond to 10 hours of continuous operation over 30 years.
Interim conclusion: OLED & QLED

In most respects, OLED and QLED are neck-and-neck. Users who opt for one of these two technologies are definitely well equipped for the future: Unlike LCD technology, they are always UHD (Ultra HD) devices. These formats have four times as many pixels as Full HD and thus offer a particularly sharp picture. Film lovers will achieve very satisfactory results with devices of both technologies. However, the QLED models are recommended for price-sensitive customers. These are currently still slightly cheaper to buy. Very discerning customers, on the other hand, are advised to go for the OLED models. In terms of black level, which impresses with very high contrast values and brilliant colours, these models come out ahead of the QLED variants. They also beat QLED technology in terms of response time and efficiency. For this, however, users have to spend a few euros more.
Curved TVs on the brink of extinction: only Samsung is still holding on to these models

In 2014, so-called curved TVs entered the market. These are flat-screen TVs with a screen that curves slightly inwards. These devices were initially acclaimed because they stood out from the mass of devices with their innovative design. However, since the curved screen shape does not enhance the picture quality, there are no real advantages to the design. The basic idea is: if a viewer sits centrally and at the right distance in front of the set, he or she should perceive colours and contrasts more intensively. According to the manufacturers, the viewing angle is more comfortable for the user than with conventional, non-curved flatscreens, because with the latter the edges of the picture are in the field of vision. The curved devices promise a larger field of vision.
According to a report by Stiftung Warentest, however, the desired effect is only achieved with a screen diagonal of 65 inches or more. Moreover, the effect is only perceptible for viewers sitting exactly in the middle. Other viewing angles are practically not suitable. Also, all viewers must choose a comparatively small seating distance. This is often problematic for families or larger groups, for example at a football match. Another problem is light reflections caused by natural sunlight or the artificial light of a lamp.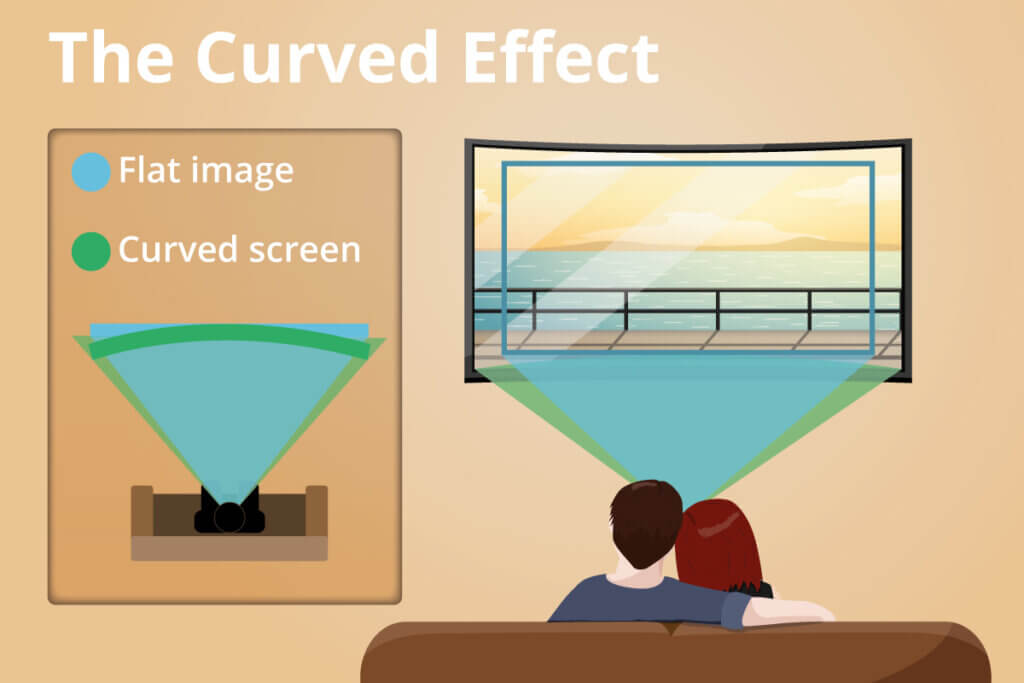 Are classic flat-screen TVs preferable?

For the reasons mentioned above, more and more manufacturers are increasingly focusing on the development of conventional flatscreens again. After the big manufacturers Sony and LG recently abandoned the curved design, only Samsung is still sticking to it.
Resolution: at least Full HD
The resolution of a television determines the maximum number of pixels with which an image is displayed on the television. The larger the screen diagonal of a television, the higher its resolution should be. If the resolution is too low, the picture appears grainy and blurred.
Pixel
The composition of a television picture can be compared to a printed picture: An image is composed of many different picture elements (pixels). The more of these pixels there are, the more detailed or sharper the picture. How many of the dots are necessary for the objective impression of a sharp picture depends strongly on the size of the surface on which the picture is displayed. In the case of televisions, however, it is not the size of the surface that is compared, but the screen diagonal in inches. The smaller the diagonal, the more pixels there are on a smaller surface. Conversely, this means that low resolutions on large monitors can appear grainy, "pixelated". That is why a resolution of less than 1,920 by 1,080 pixels (Full HD) is out of the question for 55-inch models.
Ultra HD offers four times the pixel value of Full HD
Full HD resolution is now a standard feature. If buyers opt for a current model from the 55-inch range, there is a high probability that the device already has a higher resolution than Full HD.
UHD (Ultra HD) is exactly four times the resolution of Full HD. The pixels of the width and height are each doubled. This results in a resolution of 3,840 x 2,160 pixels. So far, only a few contents are available in UHD resolution, such as individual series of the online media libraries Netflix and individual top Bundesliga matches on Sky.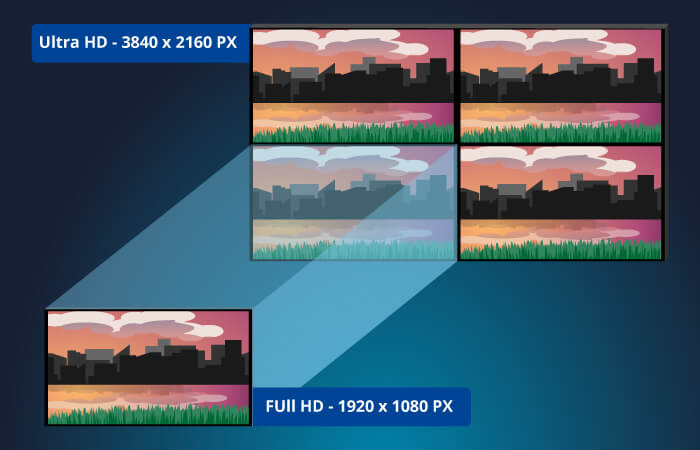 And what is 4K resolution then?

When it comes to 4K resolution, things are a bit more complicated: the collective term 4K does not describe an exact, standardised resolution, but all resolutions that are around 4,000 x 2,000 pixels. UHD is therefore one of the 4k resolutions. In cinemas, on the other hand, the resolution 4,096 x 2,160 pixels is standard in most cases – slightly higher than UHD and still referred to as 4K.
Pushing the envelope: 8K resolution

8K resolves four times higher than 4K and sixteen times higher than Full HD. 8K devices are still very expensive to purchase and the format is virtually not yet widespread. It is therefore a niche product.
Frame rate

But resolution is only "half the battle". No user will enjoy a device that does not display images smoothly. To be on the safe side, prospective buyers pay attention to the refresh rate of the device. The frame rate or refresh rate is the number of individual images that the monitor displays per second. It is given in units of hertz (Hz) or frames per second (fps). If the frame rate is too low, the picture will not be smooth. The viewer then has the feeling that the picture is juddering. Film lovers are familiar with this effect from older recordings, which were filmed with only a few frames per second. Current cinema films are shot with 24 or 48 frames per second.
How many frames are needed for a smooth picture?
24 frames per second are usually sufficient for the human eye to perceive as smooth.
Higher hertz figures are often the result of artificial calculations between the individual frames. In normal TV programming, the high frame rates usually do not play a role; they are only interesting for fast sports or video game broadcasts and for new game consoles that send high-resolution graphics to the TV set. Otherwise, the user perceives a hard-shot game ball at worst as an elongated line. In this case, the refresh rate is not sufficient to reproduce the movement of the ball smoothly. The aforementioned calculations often result in fantasy values of 400 or even 800 hertz, without the manufacturers explaining how these are achieved.
HDR: brilliant picture for even more television fun
High Dynamic Range (HDR) is a technology that reproduces differences in brightness with high contrast. HDR images are also referred to as high contrast images in the German-speaking world. This achieves deeper blacks and brighter whites without making the image appear unnatural. On the contrary, they even appeared more realistic. Unlike other contrast techniques, however, this only works if the TV receives the appropriate signals.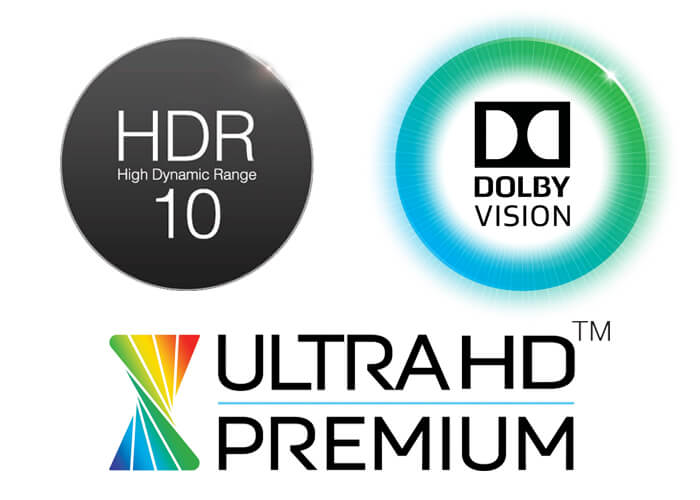 They must already be present in the video track and are not calculated afterwards. In this way, HDR already contributes significantly to picture improvement at Full HD resolution and is therefore absolutely recommendable. In some cases, the video quality is better than at UHD resolution without HDR. However, devices that support HDR have only been gradually coming onto the market since 2017.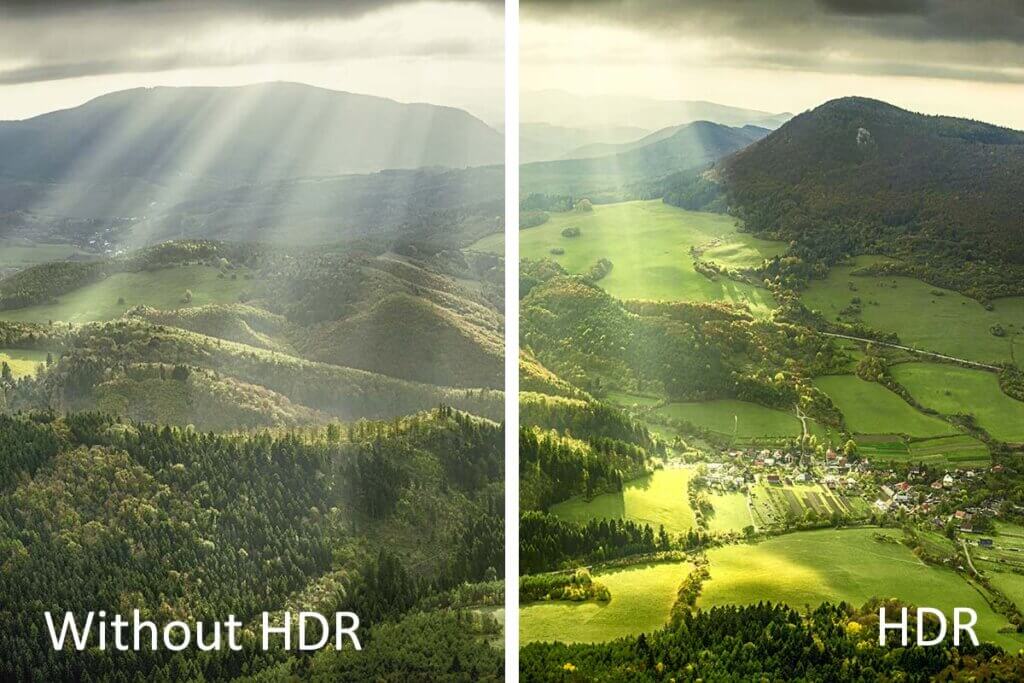 Display size is not decisive for HDR effect

In contrast to UHD technology, the size of the screen plays only a subordinate role in the reproduction of HDR signals, since the human eye can clearly perceive the differences in contrast even with small screen diagonals.
Technical requirements for HDR

In order to achieve the HDR effect, various technical prerequisites are necessary:
Video source must contain HDR signals (Blu-ray disc and player with HDR logo, streaming of certain films and series, for example via Netflix or Sky).
Interface on the TV must support HDMI 2.0a.
HDMI connection cable must support the 2.0a standard.
Different HDR formats
HDR10 is a common format used by industry giants such as Samsung, LG and Sony. The streaming provider Netflix also uses it. Compared to "normal" HD television with 16 million displayable colours, HDR10 offers significantly more depth of detail with around one billion displayable colours. The Dolby Vision format goes even further: up to 68 billion colours are possible. So far, this technology can only be used on a few television models. The same applies to the content available so far.
Connectivity: Technologies determine possible applications

Today, a television does much more than just display the (linear) television picture. Many functions go far beyond that. We show the most important technologies below.
Smart TV: If this function is not available, it is a frequent reason for a new purchase.
A smart TV, more rarely also called a hybrid TV, is a television set that has additional features familiar from computers, especially Internet capability. With such a device, the user receives additional channel and programme information. If their TV set supports Smart TV functionality, users also have access to HbbTV via the red button on their remote control, a standard that allows users to use interactive applications. But users can also install multimedia apps, for example from YouTube, here and enjoy the functions familiar from the PC from the comfort of their sofa using the remote control. The number of available apps depends on the operating system with which the television works.
These include the following options.
Video-on-demand: watch missed programmes later via the channel media libraries.
Electronic programme guide: display information on currently running and upcoming TV and radio programmes
Digital teletext: also called videotext in Germany, offers information from all over the world
Interactive television: Active participation via a return channel, for example in surveys or quiz shows

Tuners determine the reception path: the more, the better

When choosing a television set, prospective buyers should pay attention to the built-in tuners. The more tuners there are, the more transmission paths for the TV signal are possible. A triple tuner with the following features is more likely to be standard today:
DVB-T2 (latest generation of antenna television)
DVB-S (satellite television)
DVB-C (cable television)

The abbreviation DVB stands for "Digital Video Broadcasting". It is therefore a digital signal transmission. The old, analogue broadcasting path was gradually switched off. The advantage of a multitude of tuners is obvious: users can use all three of the listed broadcasting paths without the need for an additional reception device, a so-called set-top box. This is particularly practical when moving house, for example if the satellite signal previously used is no longer available in the new flat. If a TV set supports all three types of reception listed, it is called a triple tuner.
Quattro tuner: Internet television is added

There are still only a few TV sets that can receive television via the Internet. Panasonic is the only manufacturer to offer such TV sets. With this reception option, users can book a subscription with an IPTV provider and watch TV via the Internet. An antenna, cable connection or satellite dish are then no longer necessary. If the TV set does not have such an IPTV tuner, an external set-top box is necessary for reception via the Internet.
Twin tuner: Don't let the name fool you
As if there weren't enough terms already. A set with a triple tuner can handle three reception paths, a quattro tuner even four – so a twin tuner can only handle two? Wrong thinking. The term twin tuner describes the fact that two tuners are available for at least one type of reception. This means that users can watch a film and record another programme at the same time. The designation twin tuner therefore does not give the user any information about which reception modes the set can handle. It can offer one or more reception paths. However, existing tuners are then always installed twice.
Dual tuner: no longer so widespread

Devices that only allow reception in two different ways only have a dual tuner. Most top models now have triple tuners.
3D technology: once highly praised, customer demand has not met expectations

None of the big manufacturers wanted to miss out on the 3D trend, so gradually many suppliers brought 3D TV models onto the market. However, the 3D effect is only possible with TV content shot with special 3D cameras. The devices celebrated their interim breakthrough at the time when Hollywood box-office hits like Avatar were released on 3D Blu-ray disc. The fact that gradually more titles were available on video-on-demand providers such as Netflix or Amazon Prime Video also contributed to the temporary success.
But the trend did not catch on: One by one, the major television manufacturers said goodbye to the development. In 2017, only Panasonic still had 3D devices in its portfolio. Also, as far as 3D films are concerned, the choice is very limited. Most of the available titles date from 2010 to 2014, and the major streaming portals have now completely dropped 3D from their portfolios.
Connections: the more, the better
Depending on the type and number of connections, the set offers, for example, the possibility to connect a pay-TV box, a Blue-ray player or a game console. While an antenna connection is always part of the standard repertoire, the old SCART video transmission standard has lost importance. In the following we present the most important interfaces.
Bluetooth: wireless all-rounder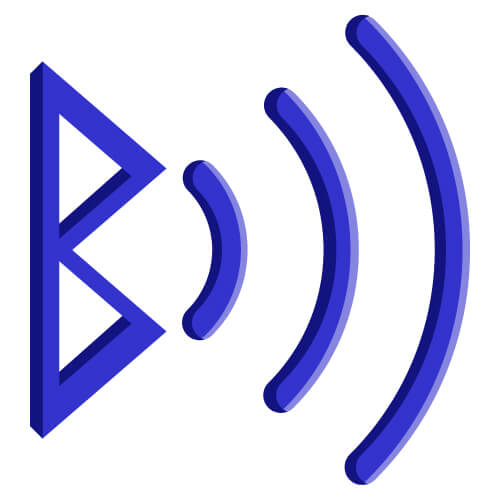 Via Bluetooth, users connect many loudspeaker models, but also suitable headphones, to the TV set without annoying cables. If the set is capable of 3D technology, a connection is established via Bluetooth to the active shutter glasses that are necessary to enjoy the spatial effects.
HMDI: brings audio and video from external devices to the TV set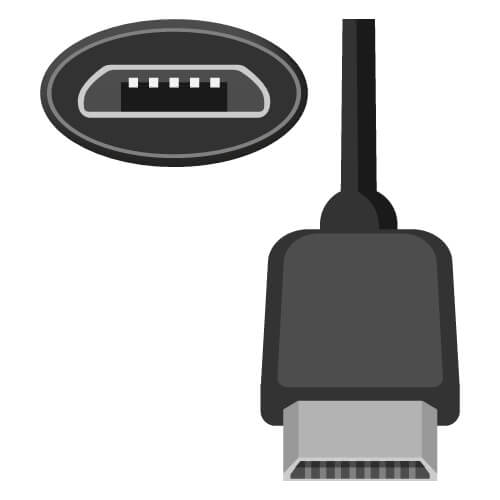 The HDMI (High Definition Multimedia Interface) connection has been the standard for digital picture and sound transmission for more than ten years. In contrast to analogue transmission, only the HDMI cable is now necessary for a 5.1 sound system instead of many individual cables. In addition, the HDMI standard is a prerequisite for being able to display copy-protected content at all. Thus, HMDI technology has replaced the old, analogue SCART standard. The rule for HDMI connections is: the more, the better. The devices that are connected to the television via HMDI cable are increasing. These include, for example, game consoles, DVD and Blu-ray players, PCs, laptops and tablets.
SCART: old standard that is increasingly being displaced by HDMI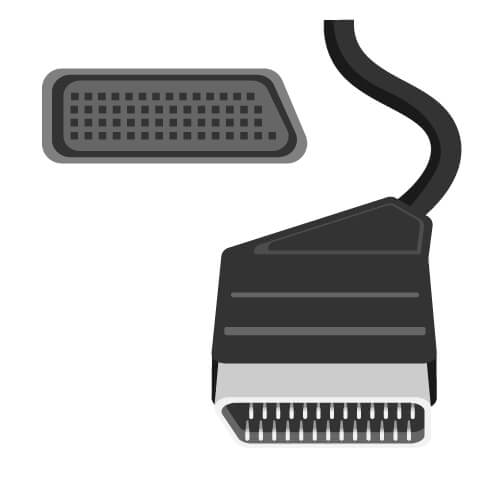 The analogue SCART interface is a standard for the transmission of analogue audio and video signals. This connection has now been largely replaced by digital transmission via HDMI interface. However, users who want to connect terminal devices such as a VHS recorder, older DVD players or game consoles, and who largely want to do without adapters, should make sure when buying that a SCART connection is available.
USB connection: Replaces the slide projector and enables recording.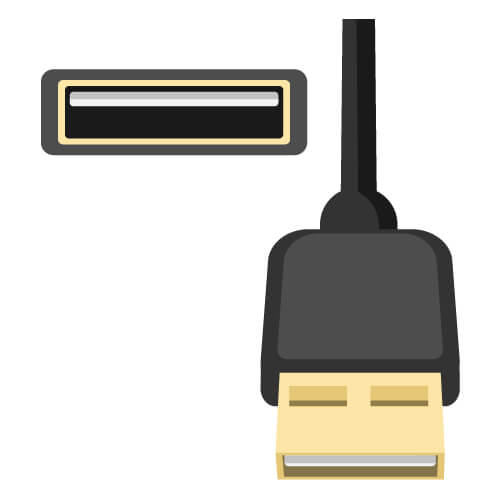 The USB standard has been established for much longer than HMDI technology. It enables simple file transfer through a standardised connection. If you have a TV with a USB connection, you do not need a slide projector. Indeed, it is possible to present pictures – for example, the photos from the last holiday – on the TV screen via a USB stick or an external hard disk. In addition, a USB connection is usually accompanied by the option to record programmes. This system is a practical alternative to a video recorder or hard disk recorder.
CI+ Compatibility: Decoding Pay-TV Signals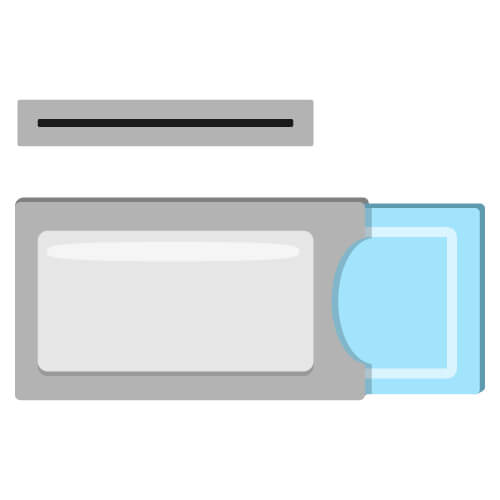 Common Interface (CI) is an interface that enables the decoding of pay-TV signals on TV sets and receivers. Via the CI+ standard, the television stations restrict the respective usage options according to the usage rights. For example, restrictions are possible with regard to the timeshift function (fast-forward or rewind) or recordings. To receive an encrypted television programme, customers need a television with a CI+ slot, a suitable CI+ module and a so-called smart card. While the module is a one-time purchase, the smartcard must either be replaced after its period of validity (usually one year) has expired or recharged according to the prepaid model.
Audio signals: In the meantime, there are different connections

For the transmission of audio signals, modern television models have several connections.
Analogue via 3.5-millimetre jack: classic for headphones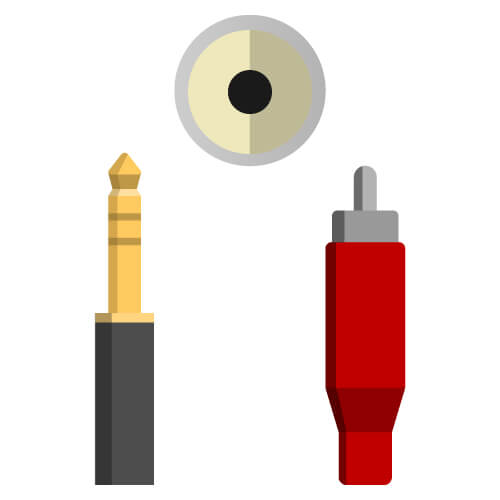 The standardised jack connection is the classic among audio connections. Users use it to connect headphones or smaller audio systems to the TV. In addition, most televisions also have the red and white cinch connections.
Digital: Loss-free audio transmission for sound systems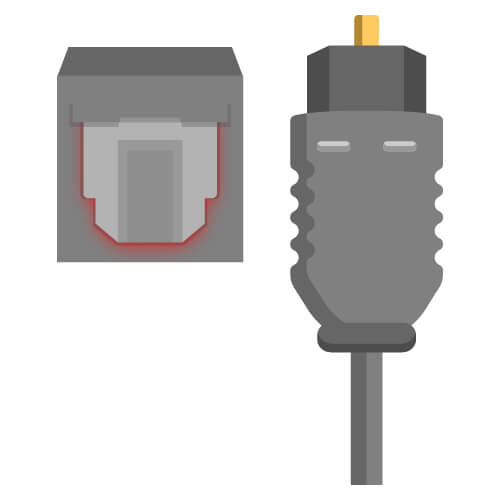 In contrast to the analogue system, the digital TOSLINK connection allows loss-free transmission of audio signals. For this, the user needs a corresponding cable, the price of which is higher than that of the analogue version. Via the TOSLINK connection, the user can enjoy perfect sound with sound bars or 5.1 sound systems.
Internet connection: wired or wireless
Modern televisions can be connected to the Internet. Users of such devices have access to many new functions, such as HbbTV, as well as various apps. There are various options for connection:
By cable: the better choice if the connection allows it.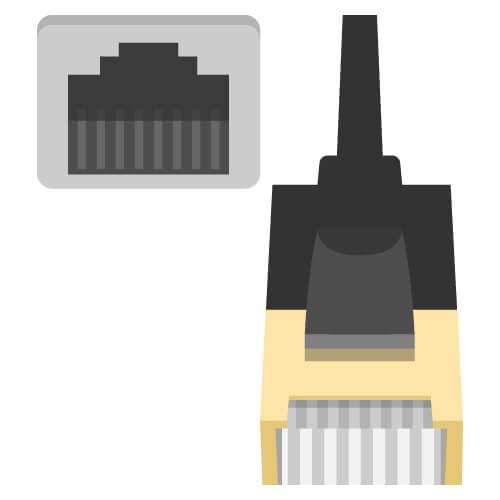 If the router is located near the TV, it is advisable to connect the devices directly via LAN cable. As a rule, connection interruptions are less frequent with a direct connection. In addition, a higher connection speed is often possible via cable, which prevents unwanted buffering.
Wireless: Greater flexibility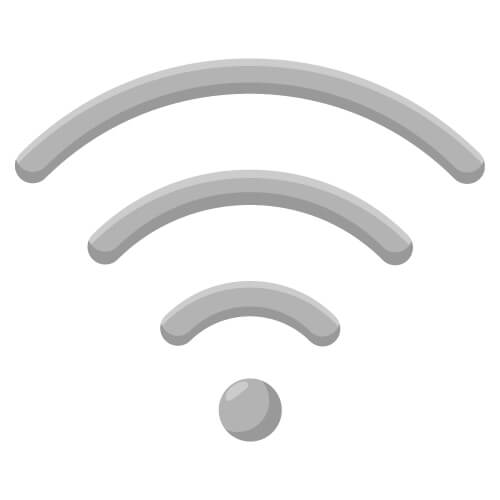 If the router is too far away or a cable connection is not an option for other reasons, most models also offer the option of connecting the TV to the router via WLAN.
Energy consumption: less is good for the environment and the wallet

When buying a television, users should also be aware of the subsequent costs of operation Models with a smaller screen diagonal generally cause lower electricity costs than a larger model, such as one with a 55-inch diagonal. In order to be able to compare consumption more easily, appliances sold in the EU must display the following information on a standardised energy label, among other things:
Classification in one of the seven energy efficiency classes
Presence of a mains switch (modern appliances consume less than one watt in standby, so switching off is usually no longer necessary)
Power consumption in watts
Annual energy consumption based on 4-hour operation per day, 365 days a year
The energy consumption depends decisively on the display brightness. Most of the devices sold fall under energy efficiency classes A or A+. This applies, for example, to devices with edge LED technology. Full-LED devices, on the other hand, often fall into energy efficiency class B because all the LEDs across the entire screen light up themselves and have to be supplied with power. Devices with OLED or QLED technology can also fall into the range of increased power consumption. To determine the follow-up costs, it is therefore advisable to compare the energy requirements. With the help of calculating tools on the Internet, users can calculate the expected costs, taking into account their individual electricity prices.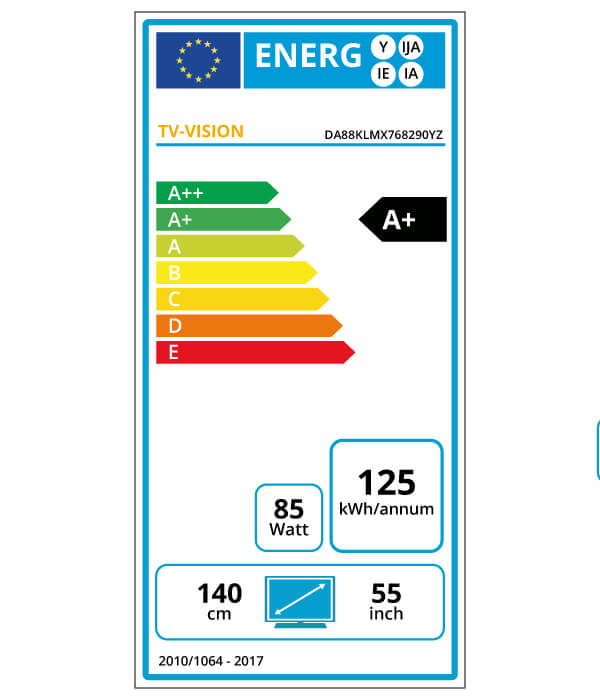 And the price range can be quite high. A 55-inch model with 64 watts power consumption costs about 25 euros a year. If the set consumes 236 watts instead, annual electricity costs of 100 euros can be expected. It is therefore worthwhile for users to take a look at the power consumption of the devices. A corresponding calculation programme that provides information on the electricity costs to be expected daily, weekly, monthly and annually can be found here.
After the purchase: ideal position in the home and care tips

When it comes to the installation location, buyers are spoilt for choice: should the electronic roommate be placed on a sideboard, a wall unit or a stand, or should it be firmly mounted on the wall with an appropriate universal bracket? Attention: The mounting type has a noticeable influence on the sound characteristics. This is especially true if the user does not use external speakers, soundbars or soundbases.
Why are external speakers recommended for flat-screen TVs?

Due to their construction, flat-screen TVs have an extremely small resonance body. This can make the sound comparatively flat. The mounting position is also important, i.e. the distance between the wall or other sound-reflecting surface and the speakers. Users should mount the unit as close to the wall as possible or place it as close to the wall as possible to avoid sound overlap. If this is not possible, the opposite applies: as far away from the wall or sound-reflecting surface as possible, but at least one metre. Users can mitigate the undesirable effects by using sound absorbers. These are available in a wide variety of shapes and colours and are mounted behind the TV set.
At what distance should users sit in front of the set?

The correct sitting distance depends on the resolution of the monitor. Because fewer pixels are displayed on the TV at SD resolution, users may notice individual pixels if the distance is too short. Many people find this unpleasant. The seating distance should be increased accordingly. For SD resolution, the rule of thumb is: screen size multiplied by a factor of 3. For a TV with Full HD resolution, users can move their couch much closer to the set: 2.1 times the screen diagonal is recommended. And owners of a 4K set can move even further forward with the corresponding programmes: to about one and a half times the screen diagonal.
Converting inches to centimetres
1 inch corresponds to 2.54 centimetres.
The screen diagonal of a 55-inch television is therefore 139.7 centimetres.
Optimum sitting distance with SD resolution: 3 times the value in centimetres: 419.1 cm.
Optimum sitting distance with Full HD resolution: 2.1 times the value in centimetres: 293.37 cm.
Optimum seating distance at 4K resolution: 1.5 times the value in centimetres: 209.55 cm.
Of course, very few users will want to move the sofa to watch the TV pictures of different resolutions at different seat distances. As a rule of thumb, a distance of two and a half times the screen diagonal can then be applied for all resolutions. For a 55-inch model, the distance is then about 3.5 metres.
How to clean the dirty TV properly?

How do users get the dust off the TV set? After all, not all methods are suitable for the sensitive devices. First of all, it is important to switch off the TV and let it cool down sufficiently. For quick cleaning in between, dusting cloths and eyeglass cleaning cloths are suitable. In any case, users should make sure that the cloths are explicitly approved for use on LCD televisions.
Different types of cleaning

For wet cleaning, users should use fresh cloths. The softer they are, the better, as this helps users avoid scratches. It is advisable to use two different cloths: one that may be slightly damp and one for drying. Microfibre cloths are excellent for both steps. A compressed air spray can also help remove dust and dirt. Users must be careful with the ventilation slots and the speakers. This also applies to the choice of cleaning agents: Corrosive agents can attack the surface of the screen, leaving scratch marks Acidic agents are an absolute no-no. Mild window cleaners, on the other hand, can be used without any problems if they are used sparingly. If you are unsure, it often helps to look at the instructions for the cleaning agent.
Are there any further tests on 55-inch TVs?

Important: This is only a comparison of 55-inch TVs. For reasons of availability and feasibility, we have not fully tested the products presented ourselves.
Readers who are interested in further tests in the 55-inch TV product category will find what they are looking for at various test institutes as well as in electronics magazines and their online offerings.
The flagship in test matters, the renowned Stiftung Warentest, has not yet conducted a test of TV sets with this screen diagonal itself. However, consumers can access a huge pool of test results on TVs of all sizes and narrow down the search to the desired models using various filters.
Chip.de has also tested and rated a number of recommendable 55-inch TVs. Readers are provided with information on various technical features such as resolution, tuners or internet connectivity. The provider states that all models presented have undergone a test in the in-house test laboratory.
Computer Bild magazine also has its own test. On its website, it presents a test from December 2018, in which various models were examined for their advantages and disadvantages.