Keyboard purchasing advice: how to choose the right product
The most important facts in brief
Rubber dome keyboards are the inexpensive classics – if you value durability and various extras, you should go for a mechanical keyboard.
Gaming keyboards increase the fun of gaming with RGB lighting and special function keys, which in many cases can be customised.
For more comfort in the office, there are ergonomically shaped models that counteract posture problems; a palm rest is considered standard here.
Whether linear or tactile, the type of key on mechanical keyboards is a matter of taste and is decided according to subjective type perception.
Constantly rising standard

Graphic designers, IT administrators, secretarial staff, editors – as different as the job profiles are, they have one thing in common: they are office jobs. According to the online statistics portal Statista, a total of 37.5 million Germans will have an office job in 2020; this number has been rising for years. This means that a large part of the population sits at a desk in front of a computer for many hours a week. Many have already experienced first-hand that this can have harmful consequences for their health: Pain in the head or back as well as in the shoulders, forearms or fingers is not uncommon. In addition to general recommendations to stand up regularly, walk a few steps or do stretching exercises, more and more manufacturers of desk chairs, desks or mice are offering specially designed products to counteract the known ailments. There have also been some changes in keyboards in recent years. They come in all kinds of shapes and colours, materials, clicking techniques, models and designs. Some are particularly well suited for frequent writers, others are aimed specifically at creative types.
But keyboards are not only used at work, but also in the private sphere in almost every household. For example, anyone who writes a lot of e-mails or plays video games in their free time is also dependent on a keyboard at home. Even those who have bought a laptop for private use sometimes use it together with an external monitor, a mouse and a keyboard, as the comfort can be increased considerably at comparatively low cost. The larger screen and the sitting distance allow a much more comfortable posture.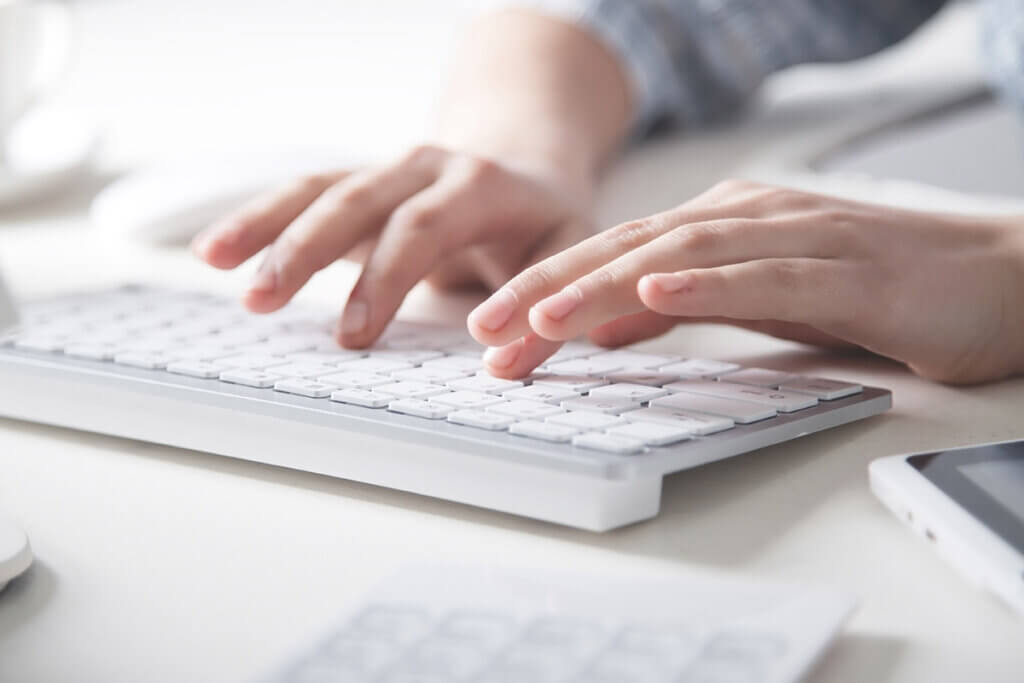 The global market for mechanical keyboards is estimated to be around 1.4 billion US dollars by 2023. The rising popularity of the home office is expected to fuel the trend. To ensure that they offer the greatest possible comfort with maximum functionality, you should select a keyboard according to its intended use.
Basic differences between keyboards

A distinction is generally made between two different types of keyboards: rubberdome keyboards and mechanical keyboards. The designation refers to the respective construction of the keys.
What are rubber dome keyboards?

Rubberdome keyboards have a silicone or rubber dome under each key, which allows the pressed key to spring back up. Since this means that only one continuous rubber mat is needed under the keys, production costs are correspondingly low. The material also contributes to a very quiet keystroke. However, it has a disadvantage: with a maximum of five million keystrokes, rubberdome keyboards have a comparatively low lifespan with a constant deterioration of the typing feel. In addition, due to the rubber material, the key resistance is quite high and so-called "ghosting" can occur: Ghosting" means that key combinations may no longer function correctly as soon as you press several adjacent keys.
Pro points
Reasonable price
Very quiet keystroke
Drawbacks
Low durability
Increasingly poor typing feel
High key resistance
What are mechanical keyboards?

Mechanical keyboards do not use a rubber mat, but individual coil springs that push the keys back up after they have been tapped. The resulting higher production costs are reflected in the purchase price. However, the additional costs are worth it in the long run, because with a lifespan of about 50 million keystrokes, mechanical keyboards clearly outperform rubberdome models. In addition, there is a much higher precision that does not deteriorate over the years, as well as a significantly lower effort required when typing. The better typing feel is only impaired by the background noise when typing, which can vary depending on the type of switch installed. Moreover, ghosting is not a problem with mechanical keyboards.
Pro points
Long life
Good and precise writing feel
Little effort required
Drawbacks
High price
Very loud depending on the type of switch
What role does the key type play with mechanical keyboards?

The choice of key type basically depends on the user's personal taste. The mechanical keys – or switches – differ in the way the keystrokes are registered and how they feel or sound. Tactile key modules have an actuation or switching point that can be clearly felt by the user as resistance. In addition, they can emit a clicking sound – this type of key with double feedback is also called "clicky switches". Linear key modules, on the other hand, give neither perceptible nor audible feedback as soon as a keystroke is registered. This makes them particularly quiet; however, users must press the keys completely down to be sure that the keystroke is recognised.
| | |
| --- | --- |
| Key type | Feedback |
| Tactile | Actuation point is reported back as slight resistance |
| Tactile and click | In addition to the tactile feedback, the keys give an acoustic signal when the actuation point is reached |
| Linear | No feedback |
The table provides an overview of the different key types.
Keyboards: The right model for everyone

Besides the basic construction and type of keys, there are different designs to consider when buying a new keyboard. For example, there are keyboards that are optimised for a specific use or focus on special user needs.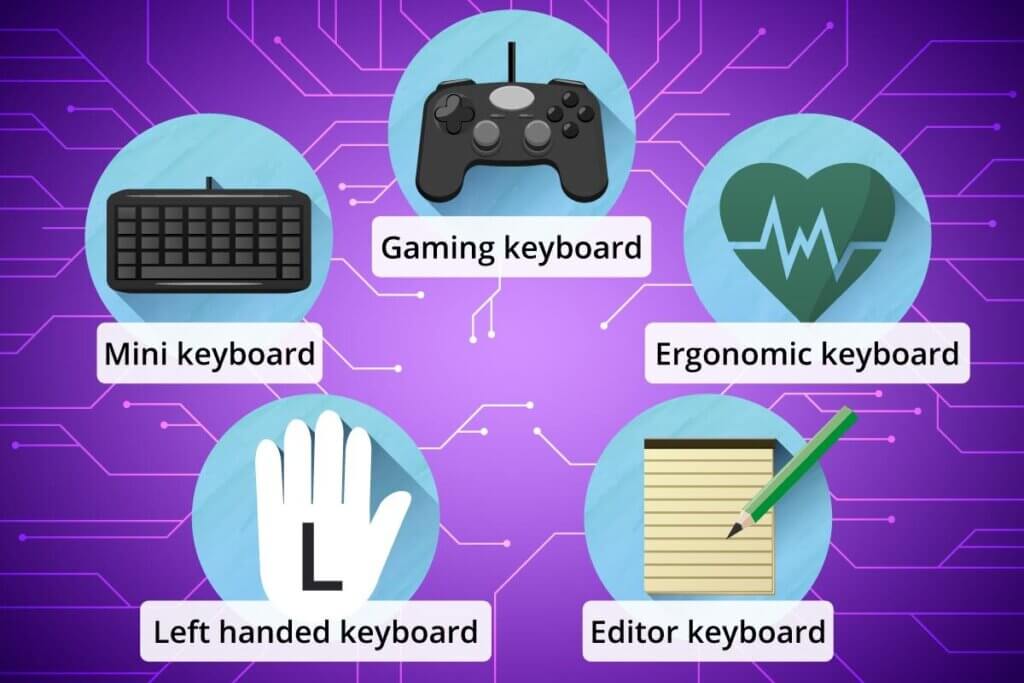 Gaming keyboards

If you use your PC mainly for video games, a gaming keyboard is recommended. Gaming keyboards are particularly worthwhile for first-person shooters or role-playing games, which are played primarily on the keyboard and require speed and precision. Gaming keyboards like the Roccat Vulcan AIMO 121 are designed to react faster to keystrokes and highlight important keys and controls thanks to red-green-blue illumination; this way, you can find the most important keys faster while playing. Gamers can also individually reprogram function and macro keys according to their preferences. Gaming keyboards are also divided into rubberdome and mechanical models. Especially for gaming, there are rubber dome models with a so-called scissor mechanism. Here, the key cap is guided through a construction similar to a lifting platform or scissors. This design makes typing easier and quieter than with conventional rubberdome keyboards.
Ergonomic keyboards

People who have to type a lot every day in their jobs often get problems with their wrists, forearms and shoulders over time. Conventional keyboards cause an unnatural posture for the hands and arms, which can cause discomfort sooner or later. To counteract this, manufacturers such as Kinesis offer specially designed keyboards that contribute to a natural posture due to their ergonomic shape and generally make typing more pleasant and easier. Some models, for example, are divided into two parts; some even allow the distance between the two parts to be adjusted individually. Combined with an adjustable tilt angle, the keyboards allow for more natural computer work. The manufacturer Kinesis even offers a foot pedal keyboard that provides you with one to three programmable pedal keys; this way, you can relieve your hands of basic key operations, such as the enter or space bar.
Editor keyboards

Editors use complex software such as DaVinci Resolve to professionally edit film projects. Specially designed editor keyboards, such as the DaVinci Resolve Editor Keyboard, translate many control and editing functions into keystroke operations. This allows editors to work with both hands at the same time without having to use a mouse – making editing particularly efficient. In addition, the keys on the editor keyboard are convenient and staggered in height so that you can find frequently used functions such as inserting crop marks more quickly and intuitively with the keys provided for this purpose. In addition, wrist rests make for less fatigue. Most manufacturers even offer replacement parts for the keys; so longevity is guaranteed even with intensive use.
Left-handed keyboards

There are also special offers for left-handers on the keyboard market. According to a recent study by the Ruhr University in Bochum, more than ten percent of all people are left-handed – and they usually have a big disadvantage when using standard keyboards: among other things, the number pad on conventional keyboards is located on the right, which is why most left-handers either don't use it at all or get into the habit of using the right hand, which feels unnatural. Although there is still the option of connecting a separate numeric keypad to the PC, a keyboard built for left-handers only enables the same comfort that right-handers get as standard.
Mini keyboards

There are some areas where work is carried out in confined spaces but a keyboard is still needed. Examples can be found in kiosks or in industry – here, compact keyboards are used which, despite their small size and height, ensure a good tactile feel and thus ideal user-friendliness. There are keyboards with PU or silicone membranes especially for places of use where a high standard of hygiene is important. This keeps soiling of the keyboards to a minimum and makes cleaning particularly easy thanks to the sealed keypad's insensitivity to water.
What to look for when buying a keyboard

For each type of application, there are keyboard models that meet the special needs of the respective user group. However, finding the right model from this range is not always easy and should be decided on the basis of the purchase criteria listed below.
How do I find the right gaming keyboard?

For maximum gaming fun, a gaming keyboard should be particularly robust and have a high-quality finish. Many gamers prefer models with an eye-catching look – for most gamers, no keyboard should be without a backlight. Gamers are also demanding when it comes to the keys themselves: mechanical models with replaceable keys that meet individual preferences in terms of typing feel and noise are particularly popular. A new technology based on infrared recognition even enables gradual pressing, allowing you to control even more precisely in games. In addition, keys with programmable function keys are indispensable for the gaming hobby. Most gamers prefer wired keyboards because the transfer rate is faster than wireless keyboards; in gaming, response time is game-changing.
What are the most important buying criteria for office keyboards?

When it comes to office keyboards, it all depends on usage and personal preferences. Frequent typists need keyboards that last a long time and offer maximum comfort thanks to their ergonomic design. Make sure that the keyboard can be individually adapted to your body and the way you work. A palm rest ensures relaxed working even after several hours. For intensive use, mechanical keys are always a good choice because they are much more durable. The volume of keystrokes is particularly important for users who share an office with others – a keyboard with linear keys may be recommended here. All others should be guided by their personal taste and decide whether they prefer to work with linear or tactile keys.
Gaming and office keyboards should have the following features:
Gaming
Robust construction
High quality finish
Key illumination
Keys with programmable function keys
Office
<div><br class="Apple-interchange-
Office
Pleasant typing noise
Comfortable typing experience
Robust and ergonomic design
Palm rest
Wireless through the day

While for many gamers only keyboards with cables come into question due to the higher data transfer rate, this criterion hardly plays a role in everyday office life. Both at the desk at home and in the office, wireless keyboards have the advantage of reducing cable clutter on the work surface. A compact, lightweight keyboard without cables is also a practical alternative for people who work a lot on the road with their notebook or tablet. They just have to accept that wireless keyboards offer fewer functions and keys than wired keyboards for stationary use. The usage time is also limited, as you have to charge the models regularly.
Keyboards without cables are connected to the mobile device via wireless technology either with a USB adapter or via Bluetooth. The mini-USB stick is connected to the computer, which then establishes the wireless connection to the keyboard on its own. In the case of a Bluetooth keyboard, no USB adapter is required; all that needs to be done is to start a Bluetooth search so that the two devices can connect to each other.
Pro points
No annoying cables
Bluetooth keyboards without USB stick
Use up to ten metres
Drawbacks
Fewer functions
Limited usage time due to battery or rechargeable battery operation
Interesting features of keyboards

In addition to the basic features of keyboards, which depend mainly on the user profile, there are a number of interesting features:
RGB lighting

Illuminated keyboards are particularly popular with gamers. The red-green-blue illumination helps to find the most important keys faster – moreover, the visual effect is unmistakable and enhances the design of a high-quality gaming PC. Logitech, SteelSeries and Razer Blackwidow, for example, offer models with customisable lighting with a spectrum of 16.8 million colours.
USB ports
Some keyboard models offer USB ports that allow you to connect a mouse or an external hard drive, for example. This is particularly practical if the computer's USB ports are difficult to reach or already occupied.
Keyboards without a numeric keypad
Keyboards are available either with or without a numeric keypad. The numeric keypad is especially important for users who work a lot with numbers. However, keyboards without a numeric keypad are much more compact. This saves a lot of space on the desk and ensures more freedom of movement for the mouse, for example; an interesting point especially for gamers. A keyboard without a numeric keypad is also the more attractive option for users who want to work on the move, because small and handy models prove to be more practical when transporting office equipment.
Keyboards with touchpad

Touchpads offer comparable and in some cases even better precision than mice. Ultimately, it is purely a matter of taste – those who prefer touchpad control do not have to do without it today, even when working with an external keyboard. Manufacturers such as Logitech have models with built-in touchpads in their range that have the same functionalities as notebook touchpads. The touchpad fields are arranged either below or next to the keys, thus enlarging the devices accordingly. Some keyboards offer the option of saving functions and gestures individually.
Washable keyboards

Regular and thorough cleaning of the keyboard is advisable. Models that are easily washable are therefore particularly practical. Such models protect the electronics from water penetration. Afterwards, dry your keyboard with a soft cloth and disinfect the keys to ensure utmost cleanliness.
Retractable and foldable keyboards

Retractable keyboards made of silicone also offer advantages in terms of hygiene, as the keys are very well sealed and therefore easy to clean. They are also less sensitive to dirt, liquids and dust. The biggest argument in favour of rollable models, however, is their flexibility. They can be rolled up so small that they fit in any pocket. Foldable keyboards are just as flexible and practical, but more susceptible to dirt and damage. These have a hinge in the middle so that you can simply fold the two halves of the keyboard together and easily store the device.