Chromebook purchasing advice: how to choose the right product
What You Need to Know
Chromebooks offer an ideal alternative for frequent surfers looking for an affordable laptop.
Chromebooks impress with their efficient design, very long battery life and excellent value for money.
Endless memory and access to data anywhere and at any time – 100 gigabytes of cloud storage are included with every Chromebook.
Countless apps, automatic updates and high security guarantee carefree use for beginners and advanced users who are looking for an uncomplicated second device.
Why it pays to buy a Chromebook
Mobility is becoming more and more important in the working world, and this is not only true for salespeople or consultants. Laptops have therefore become indispensable in every company, but these practical devices have also long since overtaken desktop PCs for freelancers, pupils and students and, of course, for private use. While according to Statista, in 2005 roughly the same number of desktop PCs as notebooks were sold in Germany, in 2019 there were almost four times as many notebooks as desktop PCs.
This means that mobile devices in particular have benefited from a general increase in sales figures since 2005. It is interesting to note that the most popular operating system worldwide is Windows, with a current market share of around 78 per cent. Apple's macOS is in second place with about 17 percent and the so-called Linux operating systems come in at about 1.9 percent. Linux is a free, modular operating system that is constantly being developed further by software developers all over the world and has become particularly popular for mobile devices such as smartphones and tablets. In 2020, for example, Linux-based Android smartphones have a market share of over 73 per cent, while Apple's iPhones have 26 per cent.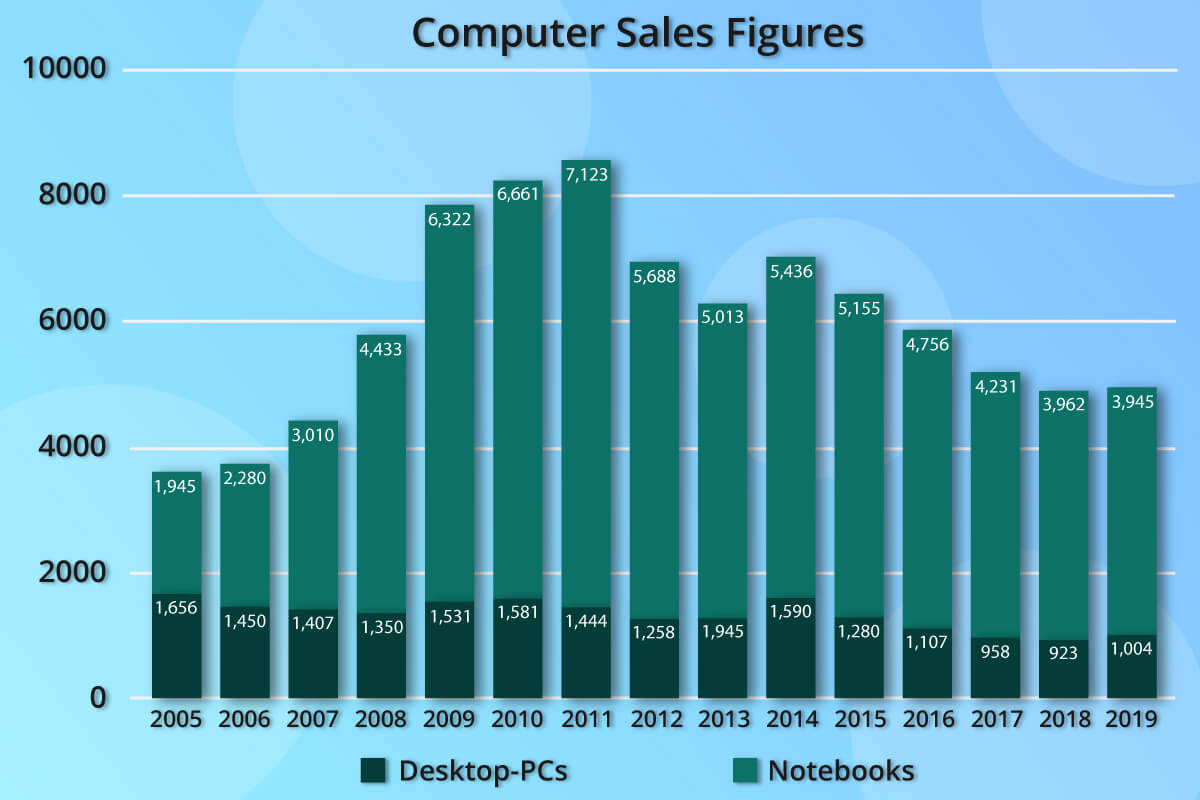 But the share of Linux operating systems is also rising among notebooks, and one reason for this is the growing popularity of Chromebooks. The Linux-based operating system Google Chrome OS offers a whole range of advantages. Users benefit, for example, from a considerable software library, since Chromebooks work primarily with Google apps. User data is usually not stored locally on the device, but in the cloud. This brings several advantages – the storage capacity of computers, as well as smartphones and tablets, is often one of the biggest price drivers for the different models. With the permanent availability of Google Drive, Chromebooks have a very positive advantage here, because more than 64 gigabytes of memory is simply not needed. Another positive aspect is data security in the event of loss, theft or damage to the hardware.
What are the arguments in favour of buying a Chromebook?
Thanks to the comparatively small local memory, Chromebooks are characterised by a slim and permanently fast system. However, if you don't want to upload your files (exclusively) to the cloud, you can expand the local storage with a microSD card in most cases. The simple equipment is also reflected in the price: you can get good devices for just a few hundred euros that are completely sufficient for many applications. Manufacturers of Chromebooks such as Lenovo or Acer now offer very high-quality devices that are in no way inferior in design to the market leaders from Apple and Windows-based laptops. Another advantage is user-friendliness. Chrome OS has a very simple structure, many programmes from the Google Suite such as Google Mail or Google Docs, but also virus protection software, are preinstalled and can be expanded with apps through the Chrome Web Store, just like on a smartphone.
Especially for users who appreciate flexibility and want to work device-independently, Chromebooks are therefore a very good alternative, because with their Google account they have access everywhere to their files stored in the respective applications. Especially for users who collaborate a lot with colleagues via Google applications, this is a convincing argument.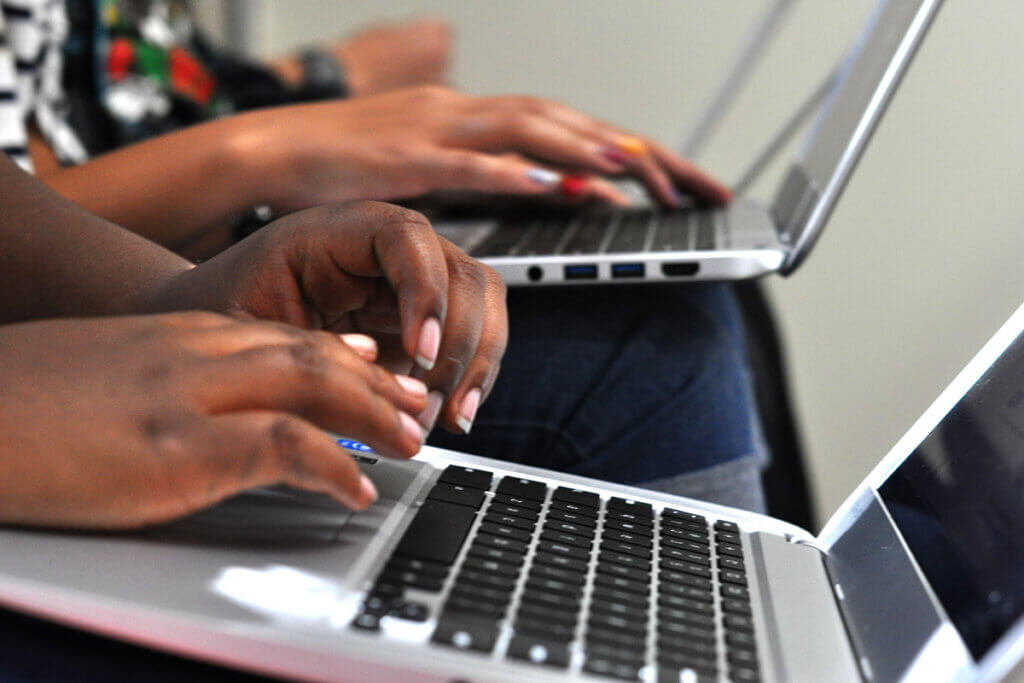 The files are automatically synchronised on all devices and users do not have to worry about updates or virus protection: Chrome OS ensures that both work securely, unnoticed and without any user intervention at all. In addition, users benefit from a typically powerful battery that allows them to work, surf the internet or play games for hours on end.
Chromebook processors – an overview
While the choice of processor plays a critical role in the decision-making process for many laptops in the upper league, Chromebooks manage with significantly cheaper hardware components. The reason for this is that Chromebooks are generally very resource-efficient, which is reflected primarily in the price, but also in the battery life and the waste heat produced.
Intel Pentium and Celeron – the endurance runners
With the advent of low-cost notebooks and Chromebooks, the popularity of the aging Celeron and Pentium processors has grown, because they too have evolved considerably. For example, the Celeron N3150 has four processor cores with 1.6 gigahertz each and the Pentium 7505 even just surpasses this value. For simple office work, smaller games and even editing small pictures, this is sufficient performance. The low power consumption of the two processors enables an extremely long battery life, which gives the user a lot of flexibility. This means that nothing stands in the way of a trouble-free working day full of meetings and presentations.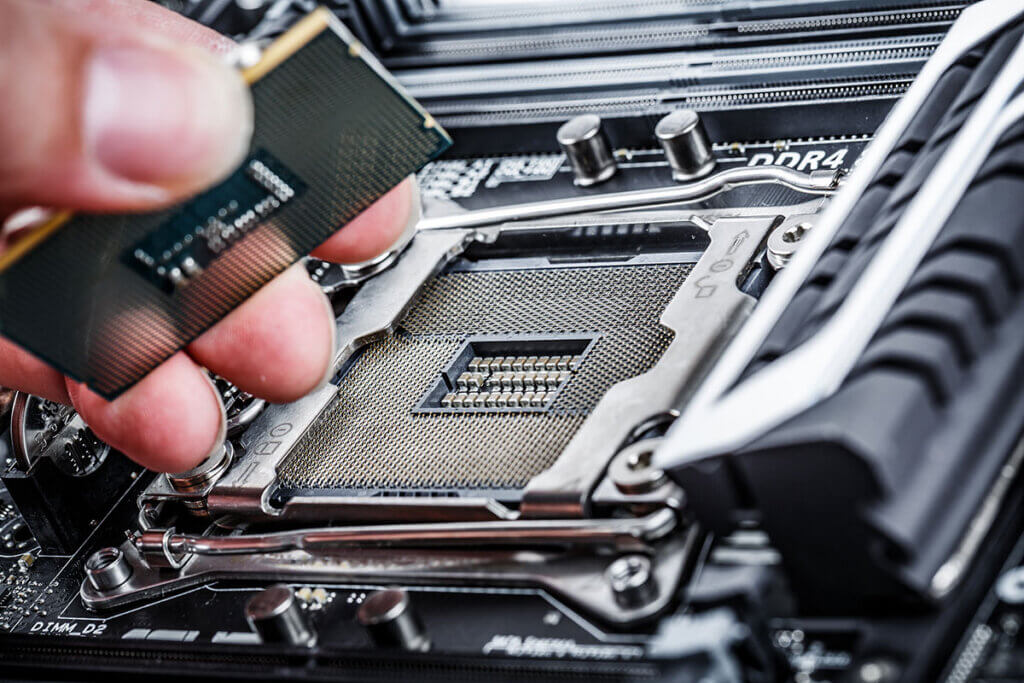 Intel Core i3 and i5 – can it be a little more?
Those who expect a little more from their Chromebook should choose a model with a Core i3 or Core i5 processor. The performance of the four cores and eight threads is even sufficient to perform several tasks at once. With these models, you can watch movies, edit pictures and do office work at the same time, so all the basic expectations of a solid Chromebook are met.
AMD A-CPUs – the processor for gamers
Close in price to Intel Celeron, the AMD A-CPUs are convincing with more performance, although this takes its toll on battery life. An important argument for game lovers is the stronger graphics chip, with which simple games are possible. Even though AMD has become a very strong competitor in recent years, especially with the new Ryzen CPU generation, which convinces above all with its price-performance ratio, the Californian company continues to rely on the slim A-CPU variants for Chromebooks.
What to look for when buying
In addition to processors, there are a whole host of other criteria to consider when buying a Chromebook. Due to the claim of simplicity and low prices, there is of course not the degree of diversification in Chromebooks that you find in high-end devices. Still, there are differences to consider in some aspects that you should be aware of before buying. In the following, we go into the most important buying criteria and explain what differences there are and where a certain standard has established itself among Chromebooks.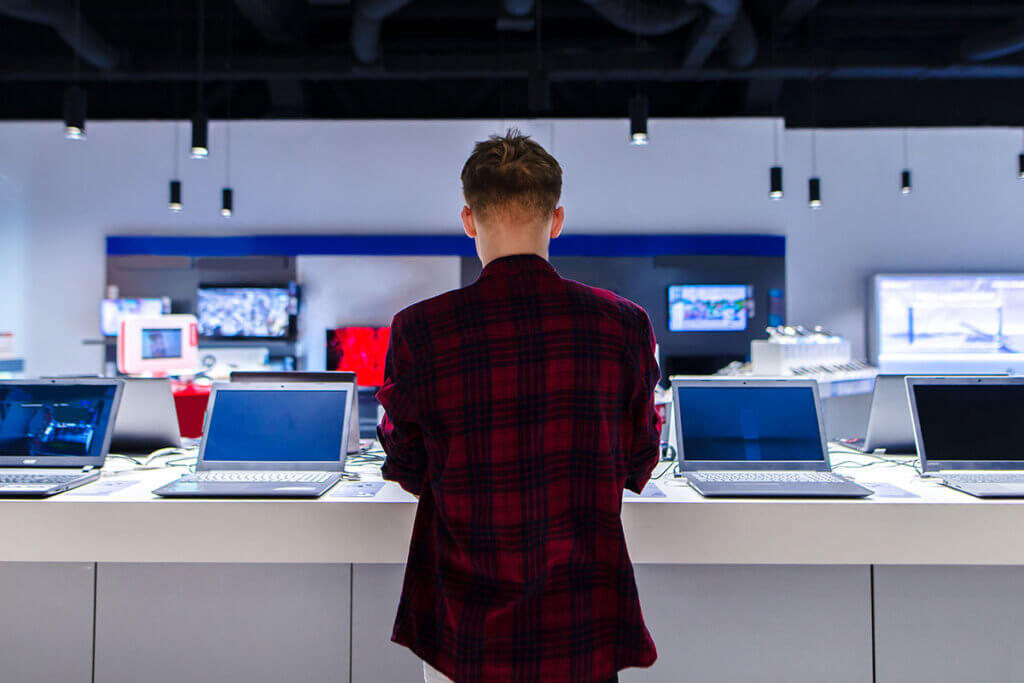 Case and workmanship
Consumers don't really have to think too much about this when buying, because Chromebooks have overcome the age of plastic and now impress with their high-quality design, which is in no way inferior to ultrabooks. Chromebooks rely primarily on aluminium casings, which further increases the price. An additional advantage: the devices are ultra-flat, light and, thanks to their conductivity, there is no danger of them running hot. They work quietly and are ideal for travelling thanks to their compact design.
Power
There are also no huge differences in performance between the individual Chromebook models. Chromebooks are not about faster, better, stronger, but rather about efficiency and value for money. Smaller games and common applications can still be used with modern Chromebooks with sufficiently good performance. If high performance is important to you because of the planned use, you should make sure that the Chromebook has at least four gigabytes of RAM and an Intel Core i5 or Core i7 processor. Otherwise, longer loading times can quickly lead to frustration.
RAM
One big difference between traditional notebooks and Chromebooks is the RAM installed. While notebooks have up to 32 gigabytes of RAM (random access memory), Chromebooks need much less: with a maximum of eight gigabytes of RAM, the all-rounders provide enough access speed when editing data, which is mainly due to the Chrome OS operating system.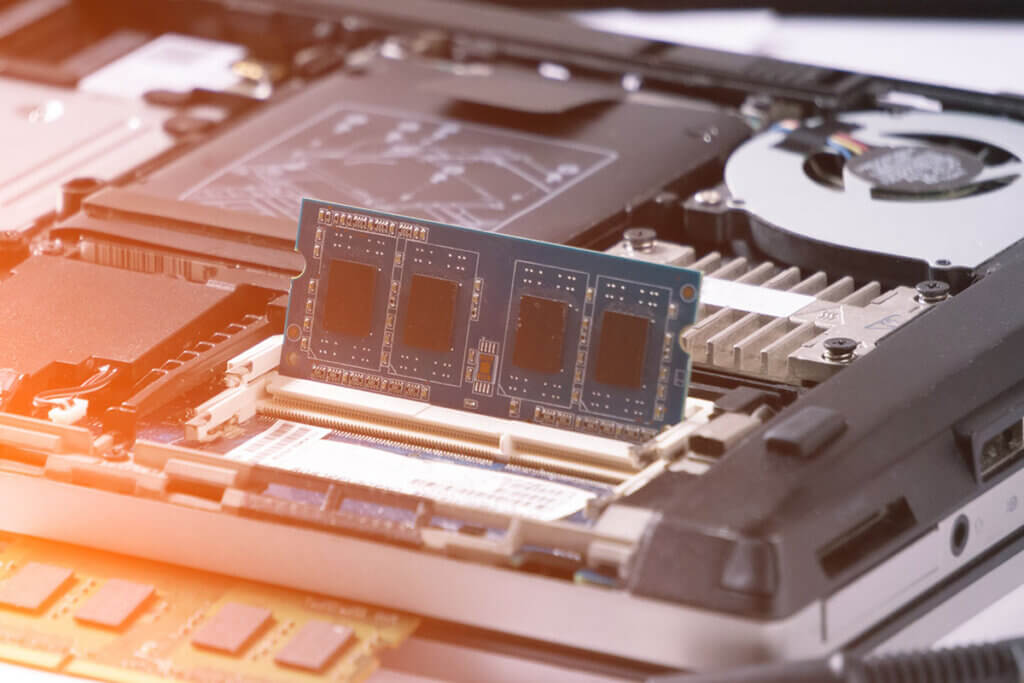 Local memory
The Chromebooks have very limited local SSD storage in common, as the basic idea is to store data in the cloud and thus use Google Drive. Users thus have the advantage of being able to access their data from any device. Both the operating system and the apps call up and store their data online, so that the internal fast memory is hardly burdened. Every buyer of a Chromebook gets 100 gigabytes of free online storage. If you need more, you can book additional capacity or look for a device that has a slot for microSD memory.
How important are the display and screen size for Chromebooks?
There are indeed some differences to consider when it comes to the display and screen size, so consumers should think about what they mainly want to use their Chromebook for before buying it. Especially when it comes to display quality, many manufacturers cut corners and buyers of very affordable models should be aware that they should not have high expectations here. Most manufacturers use IPS displays, which reproduce intense colours but often lack luminosity. So if you like to work on the balcony, you should take a closer look at the individual models from this aspect. Chromebook models also vary in screen size: this also depends on how the device is to be used. If you are on the road a lot and do not have to perform any demanding multitasking tasks with the Chromebook, you can go for smaller, lighter models with a clear conscience.
Well-known brands

Asus Chromebook Flip | Acer | HP | Lenovo | Samsung
Touchpad and keyboard – what to look for when buying a Chromebook?
Chromebooks appeal to users who need an efficient work device for writing texts and emails or for surfing the internet, who are perhaps often on the move and are looking for something that is light, handy and mobile and that can be used flexibly and everywhere. For this reason, most of the built-in keyboards are also of a correspondingly high quality and promise pleasant working. If you often work in darker light conditions, you should also make sure that the keyboard has a backlight. The touchpad should also be pleasant to use – if it does not react intuitively to finger movements, this can quickly lead to frustration. The pressure points on the touchpad and keyboard should also be precise and intuitive – it is advisable to try out the devices in the shop, as the user experience is very subjective.
What ports should a Chromebook have?
There are really no differences here compared to conventional notebooks. The most important ports are definitely one or two USB ports. Buyers should make sure that at least one of the ports supports the USB 3.0 standard. This provides a transfer rate ten times faster than USB 2.0. In addition, some Chromebooks have USB 3.1, which can also be used to transfer video and audio signals. This can also be done via HDMI connections, which are needed if the Chromebook is to be connected to a monitor or TV. This can theoretically also be done via a USB 3.1 port, but the monitor should have an appropriate cable. If you want to listen to music via wireless speakers or headphones, you will of course need the obligatory 3.5-millimetre jack connection, otherwise you can of course connect your playback device to the Chromebook via Bluetooth as normal.
Battery life
The long battery life is a unique selling point of Chromebooks, because thanks to the efficiency of the devices they work very energy-efficiently – you can easily get about ten hours with most models. Even at maximum load, many devices were measured to have around seven to eight hours of battery life. For users who need to be flexible and don't want to be constantly on the lookout for the next power outlet, a Chromebook is an attractive alternative to a conventional notebook.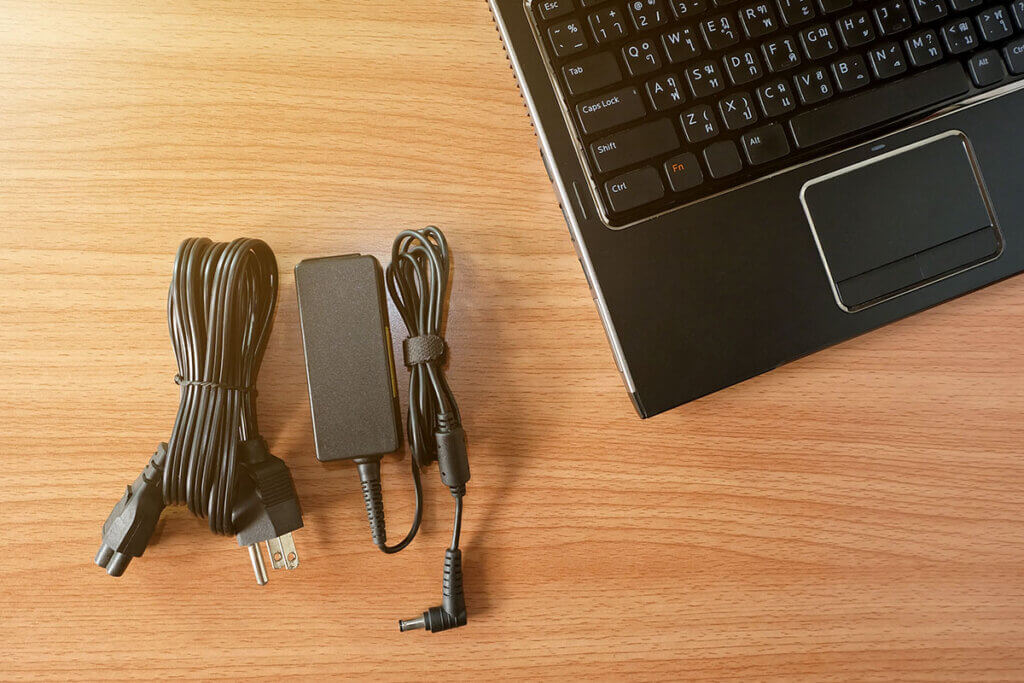 Apps
Although an internet connection is required for most tasks, offline software can be downloaded via the Chrome Web Store and thus also used on the move and without internet access. For example, programmes such as Microsoft Word or Outlook can be obtained via the store and used offline. Alternatively e is the use of the web application. Alternatively, the apps of the Google G Suite with word processing, spreadsheet and presentation can be used. Image editing apps such as Photoshop Lightroom or Snapseed can also be installed. As with the Windows desktop, the apps are divided on the screen or displayed on several virtual desktops. Almost all current models today also support Android apps, but in many cases these are not optimised for the Chromebook and thus lag behind in user-friendliness.
Installation and start-up – it doesn't get much faster!
In contrast to the initial setup of, for example, Windows laptops, the famous "first steps" of a Chromebook are child's play: especially users who already have a Google account are ready to go after one minute at the latest. Even booting up and shutting down Chromebooks takes a few seconds at most, even on the cheapest devices. So if you're tired of waiting for your laptop, you'll definitely be happy with a Chromebook.
The right accessories for your Chromebook
Once you have decided on the right model, you can complete the equipment with a few essential products:
Powerbank
Even though Chromebooks offer ultra-long battery life, it can be very useful to have a power bank with you, especially when travelling, so you can easily charge your Chromebook on the go. However, you need to make sure that the device has a USB 3.1 Type-C port.
External mouse
Many people prefer to use an external mouse rather than the built-in touchpad, as the response times of inexpensive models in particular are poor and the operation therefore does not feel intuitive. An external mouse solves this problem and can be connected to the Chromebook either via Bluetooth or cable.
Headphones
The sound of the speakers built into Chromebooks is not exactly one of the devices' strengths. However, if you like to use your Chromebook for games, video chats or watching films or series, you should invest in good headphones.
Notebook case
Especially if you travel a lot with your Chromebook, you should not do without a notebook case. The aluminium cases of the devices scratch easily and the cases also protect against one or the other damage in case of falls.
Conclusion: Chromebooks are inexpensive all-rounders
A solid Chromebook is thus a real alternative to conventional – and often expensive – notebooks or ultrabooks for many interested people. Especially users who are primarily looking for a device for surfing and writing, and who appreciate flexible handling of their documents, are well advised to go with a current Chromebook model. Those who travel a lot should rather look for a compact design and a touchpad that is comfortable to use – because an external mouse may not be convenient to use everywhere.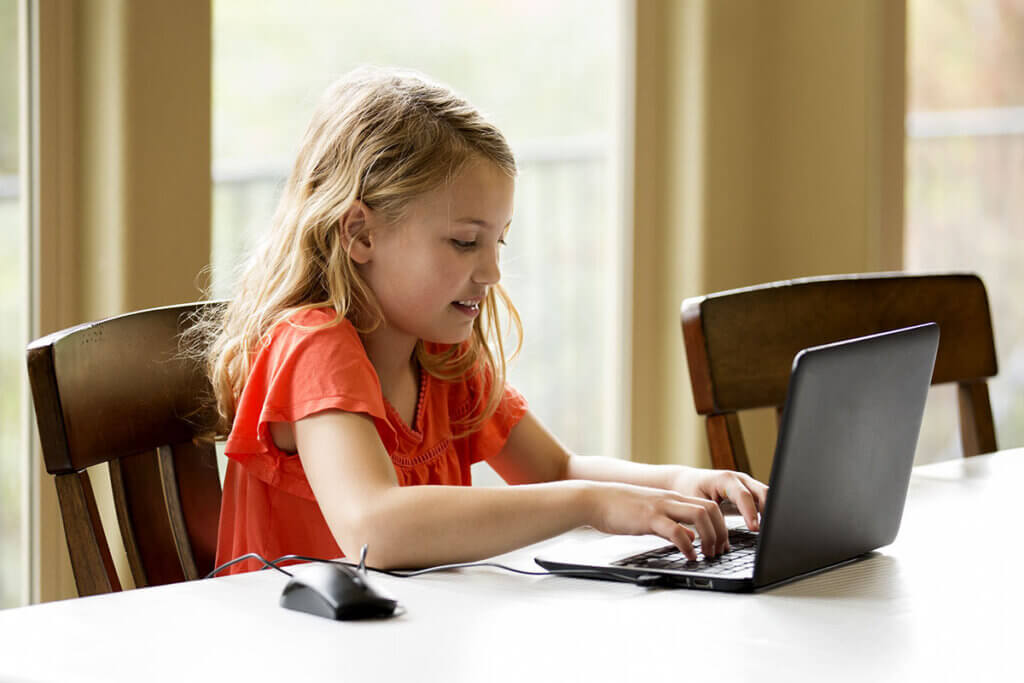 If you're looking for something more for your home, you can go for larger screens and, if necessary, make sure the Chromebook has the right ports to connect a monitor, external keyboard, headphones or speakers. If the Chromebook also has a solid processor, there's not even anything standing in the way of a movie night. This makes the Chromebooks true all-rounders, which everyone can find if they are not looking for a device for demanding graphics work or high-end video games.