Photo printer purchasing advice: how to choose the right product
What You Need to Know
Photo printers are specifically designed for colour printing on high-quality photo paper.
With an all-in-one photo printer you can also scan, copy and fax files.
The majority of large models are inkjet printers that often use more than five different colour cartridges.
Photos taken with a portable photo printer are no larger than a postcard.
Refillable ink cartridges can reduce the cost of consumables.
Making memories tangible
Since photos are mostly taken digitally these days, they need to be printed before they can adorn your walls. You can either hire photo labs to print them or use your own printer.
Why a printer specifically for photos?
Any colour printer can print photos, but not all of them produce really good results: Blurred areas, streaks and pale, lifeless colours are among the typical problems of low-quality prints. Ordinary printers are nowhere near laboratory quality. High-quality prints are best achieved with special photo printers and suitable photo paper. Their printing technology does not differ significantly from conventional printers: they are often inkjet devices. So why do photos turn out better with these models than with conventional inkjet printers?
The main difference lies in the paper feed. Normal printers feed the paper via rollers. With photo printers, on the other hand, the paper runs over one plane. The reason for this is the thickness of the photo paper: if the heavy paper moves over rollers, it bends. Furthermore, photo printers have a high print resolution and speed and sometimes allow more colour gradations. They can therefore print sharp photos very quickly. With a solid photo printer and matching photo paper, you can produce lab-quality prints in the comfort of your own home.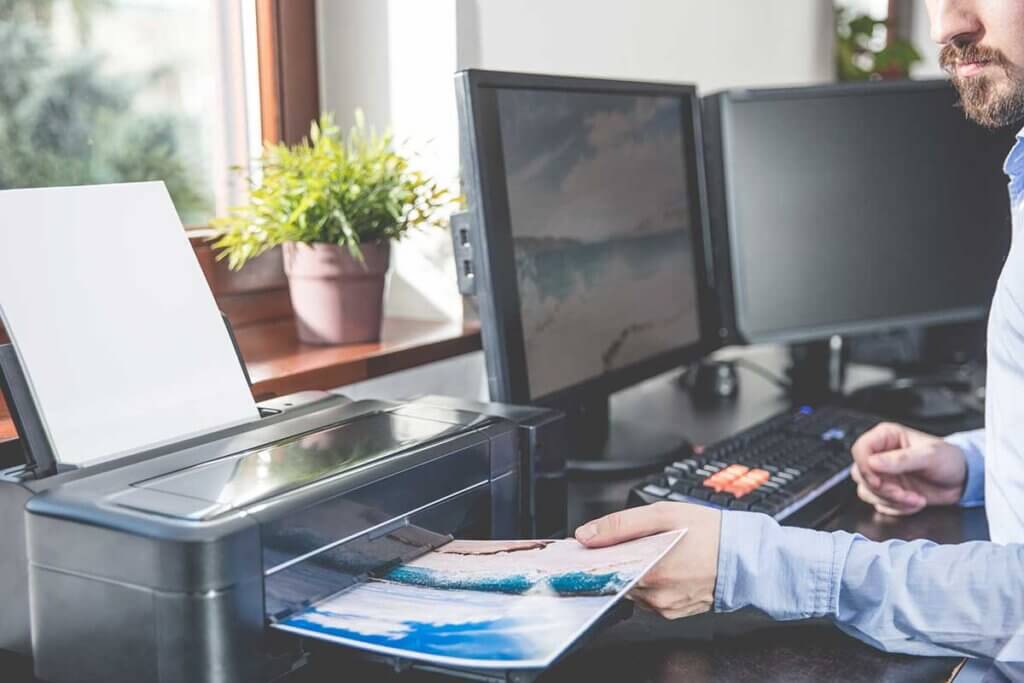 The different printer technologies
Photo printers with inkjet technology are mainly found in A4 or large format devices. Mobile printers, on the other hand, work mainly with the dye-sublimation process or ZINK printing. Printing photos with a laser printer is feasible, but the image quality does not come close to printouts made with the other technologies mentioned. Therefore, this technology is not important for photo printers.
Inkjet printers create images by spraying small drops of ink specifically onto the paper. A halftone image is created from the thousands of tiny dots. For this purpose, they are equipped with nozzles behind which there are several ink chambers. Conventional inkjet printers work with the four basic colours black, cyan, magenta and yellow, whereas photo printers often use at least five colours. The additional colours are often variations of the primary colours, such as a light magenta or a light cyan. There are two processes by which the drops are ejected from the nozzle: Bubble-Jet and Piezo.
Bubble-jet printer
In bubble-jet models, a small plate is placed behind the chamber, which heats up to several hundred degrees as soon as a dot is to be applied to the paper. The heat causes the ink to evaporate and become a bubble. This in turn expands until it presses a drop of ink with a diameter of about 0.3 millimetres through the nozzle onto the paper. When the ink drop is squeezed out, the bubble contracts again and new ink is drawn in. Some printers have more than 100 such chambers. The disadvantage of this method, however, is the high level of wear; the nozzles in particular clog very quickly.
Piezo printers
Photo printers with piezo technology work with piezo crystals in front of each nozzle, which are deformed by the application of electrical voltage. First, the elements bend outwards, creating a vacuum that sucks the ink out of the container. Then the electrical charge is reversed and the piezo elements curve rapidly inwards. This process presses the ink through the nozzles onto the paper. Since the voltage can be precisely adjusted, the size and quantity of the ink drops can be varied. No heat is generated during the entire process.
Piezo printers are not only faster than bubble jet printers, they also last longer: they can print about ten times as many A4 pages. However, the initial costs are higher than with the other technology.
Piezo printers for more than photos

Since printers with piezo technology do not generate heat, you can also apply other liquids to a carrier in addition to conventional ink. In the industrial sector, they are suitable, for example, for patterns on electrical circuit boards or for the production of colour filters. You can also use piezo printers with sublimation ink to print on polyester textiles or objects such as mugs.
Dye-sublimation printer
Many portable photo printers use dye-sublimation technology. Dye-sublimation printers do not use ink cartridges, but ink ribbons or films in the basic colours black, magenta, cyan and yellow and high temperatures. The print head is equipped with heating elements that generate temperatures of up to 400 degrees Celsius. During the printing process, the paper passes the ribbons one after the other. The heat causes the inks to evaporate and transfer to the paper one after the other. Finally, the printers apply another film to the image to seal it. In this way, up to 16.7 million shades of colour are possible, ensuring vibrant and accurate colour reproduction.
ZINK printer
ZINK technology makes it possible to build ultra-small photo printers, as there is no need for ink cartridges or other colour consumables. The term ZINK stands for "Zero Ink" and has nothing to do with the substance of the same name. In contrast to previous techniques, all colour pigments are in the form of millions of crystals directly on the photographic paper.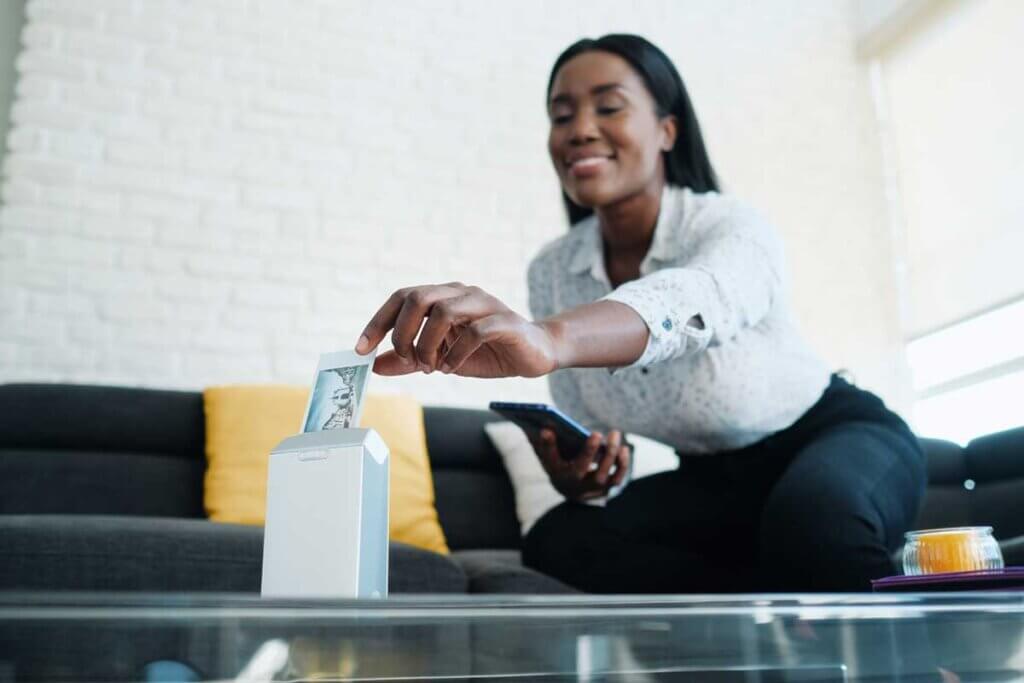 The paper is composed of a colour crystal layer in each of the primary colours magenta, cyan and yellow, a base layer, two separating layers between the colour pigments and a protective polymer coating. Printing takes place with the help of heat pulses: A short heat pulse at 200 degrees Celsius activates the yellow colour crystals, magenta reacts at a medium pulse of 150 degrees Celsius and cyan pigments become active at a long heat pulse of 100 degrees Celsius.
What to look for when buying
Photo printers are designed to print razor-sharp images with vibrant, accurate colours. Appropriate resolution and colour fastness are therefore essential. The size of the printer, connectivity and features, on the other hand, depend on your needs.
Stationary or mobile?
Conventional photo printers are usually stationary devices that work with the inkjet process. Such photo printers allow at least A4 printing as well as various smaller formats such as the postcard format. In addition, there are large-format printers that produce prints in DIN A3 format.
Mobile photo printers are much smaller. The largest among them print pictures with a size of 10 x 15 centimetres, often the prints are even smaller. The pocket-sized photo printers are uncomplicated to control with a smartphone or tablet and, much like instant cameras, they allow photographers to quickly have a small print of the photo they have just snapped in their hands. However, if you want to print images larger than a postcard, a stationary printer is recommended.
Print resolution
Print resolution is measured in dpi ("dots per inch") and describes how many dots of print fit into one inch. The specification determines how sharp the printed image is. The more dots there are on a surface, the finer and more accurate the shapes and colours of the image can be reproduced and the smaller the dots have to be. Stationary photo printers have a print resolution of up to 9,600 x 2,400 dpi. Mobile photo printers, whose prints are at most the size of postcards (about 10 x 15 centimetres), usually have a print resolution of 300 x 300 dpi.
If you want to print photos for private use, you do not need the highest possible resolution. The print resolution depends on the size of the printout and the resolution of the camera sensor. The larger the printout, the less dpi you need to get a sharp image. If you divide the number of pixels in your shot by one hundred, you can see how large the print can be at a print resolution of 300 dpi without loss of quality. An image resolution of eight megapixels (3,456 x 2,304 pixels) allows prints in the format 35 x 23 centimetres: DIN A4 photos in high quality are possible without any problems.
Colour reproduction
Photo printers should reproduce the colours of photo prints as beautifully and accurately as possible. The printer regulates the necessary colour settings with so-called colour and ICC printer profiles. The profiles are usually stored by the manufacturer in the printer drivers.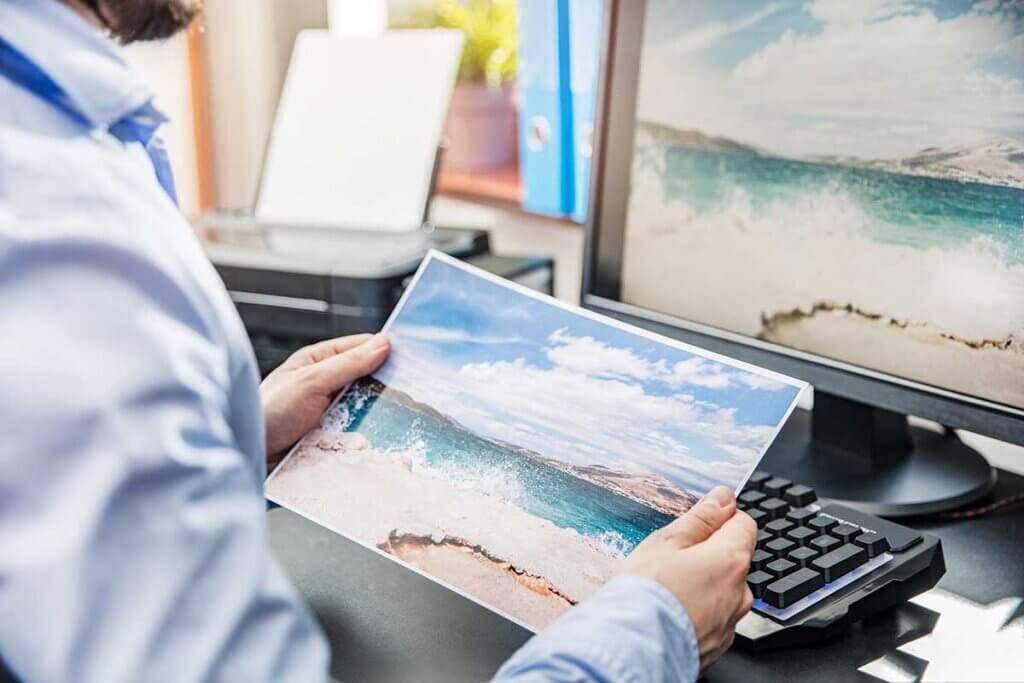 Consumers cannot tell from the product description how good the printout will ultimately be. It is advisable to look for independent product tests or videos to get an impression of the print quality. After all, the testers evaluate with test prints, among other things.
Photo printers that print with at least five colours have better colour reproduction than models with four colours. The more basic colours are used, the more different colours can be created from them. For home use, four to six basic colours are usually sufficient.
Print speed
The print speed of photo printers is higher than that of conventional inkjet printers: typically about 15 black A4 pages per minute. Some models even manage more than 30 black and white prints in the same period. The number of colour prints in A4 format is around 10 pages per minute.
For photos, the printers need more time. In 10 x 15 centimetre format, a maximum of four per minute are possible. The Epson Expression Photo HD XP-15000, for example, needs 27 seconds for a photo in this format. The print speed of a printer can usually be found in the product description.
Connections
An important aspect when buying a photo printer is its connectivity. Stationary photo printers allow a classic connection via cable, usually by means of a USB or Ethernet or LAN cable. Meanwhile, a wireless connection via WLAN or Bluetooth is part of the standard repertoire of a good printer. The WLAN function allows you to connect the printer to the home network and thus operate it from any terminal in the home, even if the two devices are in different rooms.
With a WLAN connection and a suitable app such as Cloud Print, you can also operate the printer via smartphone or tablet and access the photos in the device memory of the mobile device. Only one device at a time can be connected to the device via Bluetooth.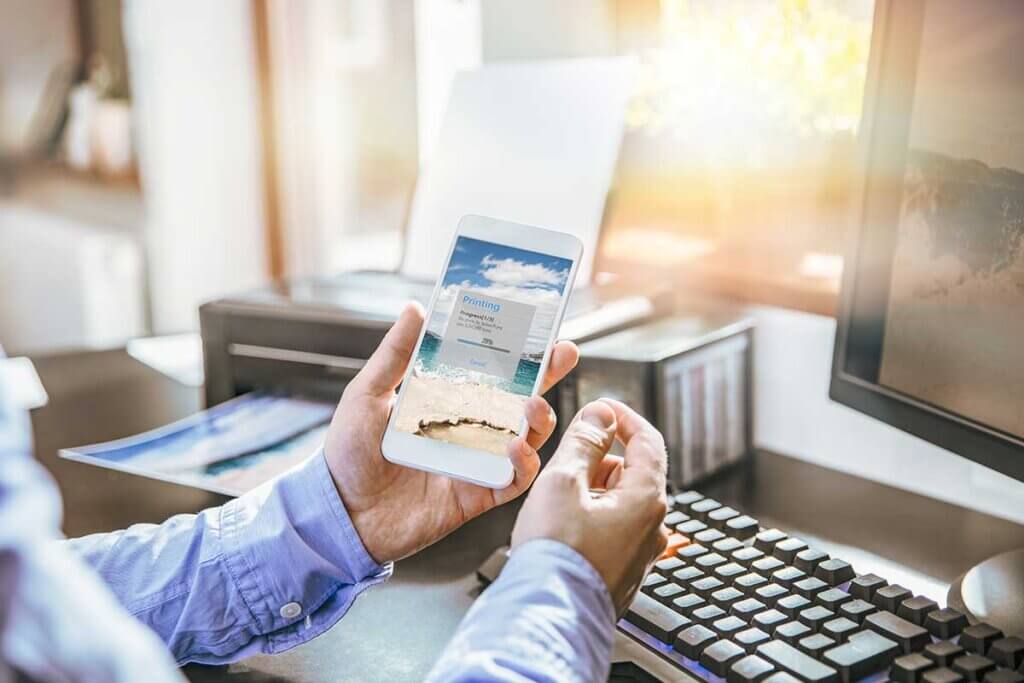 Alternatively, you can transfer content such as images to the printer via the USB interface using a storage medium such as a USB stick or external hard drive. You can then make the print settings directly on the device. An SD card reader is practical for the memory card of a digital camera, for example.
Compact mobile photo printers usually do without superfluous connections: They are equipped with a WLAN or Bluetooth modem to ensure seamless pairing with your smartphone and a USB port to charge the battery.
Functions
Many photo printers are designed as multifunction devices: they not only print photos, but they also scan and copy. Some devices even have an integrated fax machine. Such all-in-one printers can replace your traditional work printer. If you already have a well-functioning work printer, you don't need a multifunction photo printer. For those who need a new device anyway, an all-in-one photo printer is a good choice.
For printing text in large numbers, features like double-sided printing or an automatic paper feeder are beneficial to save time and paper. It is important that the photo printer allows borderless printing so that you can use the entire surface of the photo paper. This function is now available on most printers.
Ink cartridges
Printer cartridges come in either single-ink or compact cartridges. Single-ink cartridges contain one colour, so individual inks are easily replaceable. Compact cartridges, on the other hand, are filled with the four basic colours. When one colour is used up, you need to replace the entire compact ink cartridge, even if the other colours are sufficient.
Many photo printers with inkjet technology have at least one additional colour in addition to the four standard ink cartridges black, magenta, cyan and money. This can be, for example, a non-pigmented black tone called photo black, which can be mixed with the three basic colour tones for extra high-contrast prints. The Expression Photo XP-8600 from Epson, on the other hand, does without an additional black and instead supplements the palette with a light cyan and a light magenta. Professional photo printers are sometimes equipped with more than ten ink cartridges and can therefore reproduce an enormous range of colours.
For each printer model, manufacturers offer compatible ink cartridges that are optimally matched to the printer in terms of printing speed, printing technology and ink flow. In addition to the manufacturer cartridges, there are also cheaper compatible products from well-known third-party suppliers that have no disadvantage in terms of print quality. With unknown manufacturers, however, a supposed bargain can turn into an unpleasant surprise. Other third parties remanufacture recycled original cartridges.
You can also protect the environment and your wallet by choosing refillable ink cartridges. These are available either as empty, reusable cartridges from the printer manufacturer and third-party suppliers or as permanently integrated tanks. You need separate ink bottles to fill them. Third-party manufacturers offer complete sets with cartridges and overnight ink for specific printer models, which can be used to fill the tanks several times. Extrapolated, you pay less for these sets than you would if you bought one conventional cartridge per colour.
At Canon, printers with integrated tanks belong to the MegaTank series, at Epson the models are called EcoTank. Although they are often at least twice as expensive as equivalent printers with normal ink cartridges, the ink bottles cost much less: for 15 euros, Canon gives you a bottle that allows you to print 3,800 pages. According to Epson, the ink supplied is equivalent to about 72 ink cartridges and therefore provides a cost saving of 90 per cent.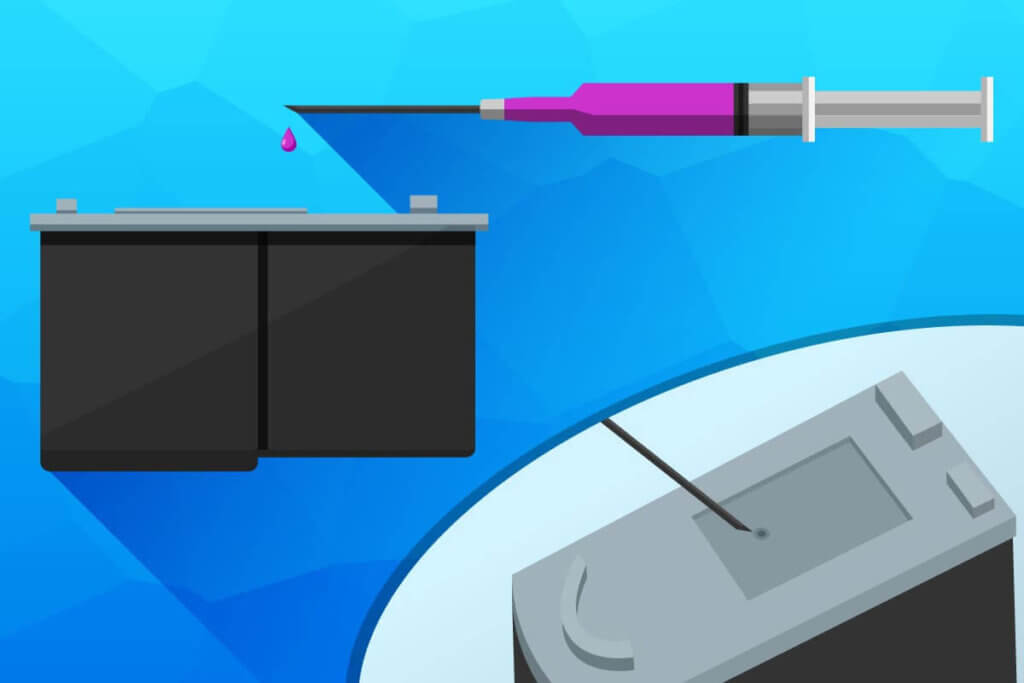 Photo paper
High-quality photos depend not only on the features of the printer, but also on the paper you print the photo on. Standard office paper is great for documents, but it doesn't adequately bring out the vibrant colours of a photo. Special photo paper is needed for sharp, high-contrast images. It has a heavier paper weight than copy paper and is available with both a high-gloss and a semi-gloss finish. Matte photo paper is more forgiving of small image defects, such as unwanted blurriness. Glossy paper is particularly suitable for high-quality photographs: The pictures look as if they have just come out of a professional photo lab. The paper thickness provides information about the stability of the paper. For photo paper, a weight of 200 to 230 grams is recommended, as it is durable and still fits into any photo printer.
Paper with a higher weight will cause paper jams in some printers, preventing them from feeding the paper. Since photo paper is thicker than office paper and requires a separate tray, the capacity of the tray is often only enough for about 20 to 30 sheets.