Sports headphones purchasing advice: How to choose the right product
What You Need to Know
Sports headphones are easier to handle, lighter and more robust than conventional designs.
They have pleasant acoustics and suppress annoying external noise.
Most sports headphones are in-ear models that fit securely in the ear and do not restrict freedom of movement.
Many models also serve as a headset for making phone calls.
Faithful companions for yoga, running or weight training
Many people love to listen to music while exercising – especially while jogging: It increases motivation, fun and stamina. The beat drives you on and the outside world is blocked out. Headphones specially designed for sports guarantee first-class sound and a high level of wearing comfort when running, in the gym or cycling.
Not just for one purpose
Sports headphones are a good choice for anyone who likes to listen to a podcast or enjoy an exciting audio book on longer walking or running tours. They are characterised by a particularly good hold in the ear. This means that athletes don't have to constantly worry about earplugs falling out. Most models do not require a cable, which guarantees a high degree of freedom of movement. Another plus point: sports headphones are insensitive to moisture and humidity. Some models are even suitable for listening to music while swimming.
But the use of headphones is not limited to sporting activities: The journey to work also gains in quality with background music. Time in the waiting room flies by and you are also spared the chatter of fellow passengers on the train and bus. Sports headphones increase the quality of life and mean a little bit of freedom: simply switch off and immerse yourself in other worlds to the songs of your favourite band. What's more, many headphones function as a telephone headset thanks to their integrated microphone.
Advantages of sports headphones
Sports headphones are lightweight and robust designs that sit securely in or on the ear without pinching. They won't fall out or down even during vigorous physical activity. Many models have additional fitness functions that make training easier and reduce external noise using ANC technology. This improves concentration in the gym, for example. Most sports headphones are operated via small buttons on the headphones themselves. Apps are available for some models, and very modern models even respond to gestures. Ideally, sports headphones work wirelessly via Bluetooth, which increases freedom of movement. Headphones for everyday use often do not have all these features. Sports headphones are therefore the better choice.
The different types of headphones
Sports headphones come in three different types: in-ear models that are pushed directly into the ear canal, on-ear models with open headphone cups that rest on the ears, and over-ear models where the closed headphone cups completely enclose the ears.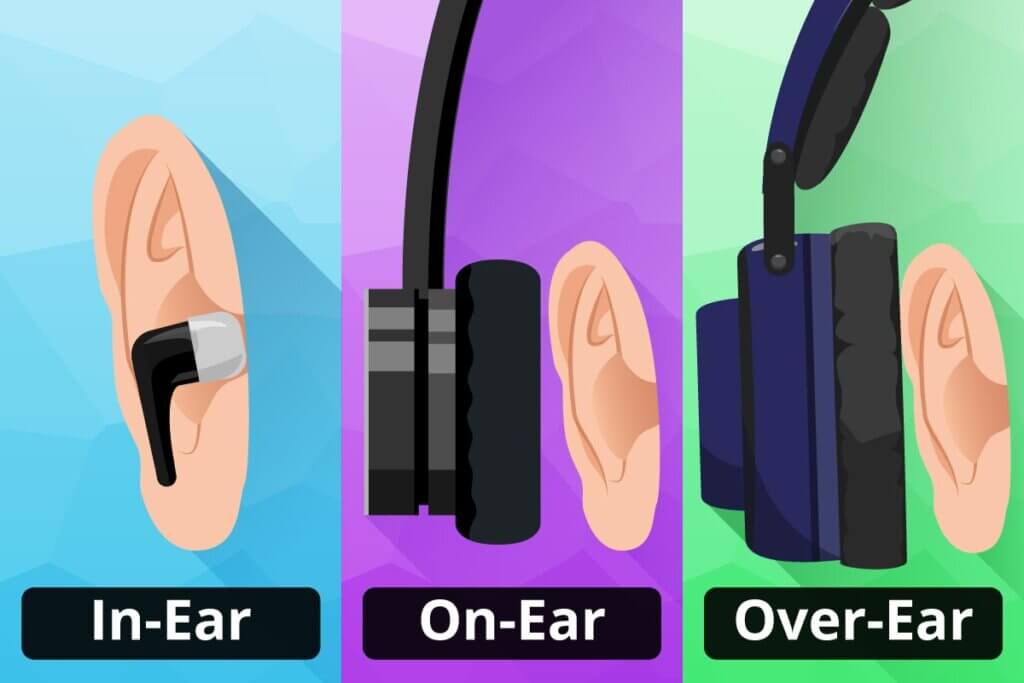 In-ear headphones
As a rule, sports models are in-ear headphones, as they are perceived as less annoying and promise a more secure hold. There are now many models that have just as good a sound as the more solid in-ear headphones. For a better hold in the ear, there are models with small temples behind the ears or a cohesive band at the back of the neck. Sports headphones should not wobble, be easy and quick to use and be waterproof.
You still have to accept small compromises when listening with in-ear models. Since the headphones sit directly in the ear canal, the sound reproduction can sometimes seem less spatial and natural than with in-ear headphones. On-ear and over-ear models sit on or above the ear cups. In addition, in-ear models should not be worn in traffic. The noise cancellation shields you from the outside world to such an extent that dangerous situations can arise.
Pro points
Strong shielding from outside noise
Good bass quality even at low volume
High wearing comfort
Secure fit
Compact and lightweight
Drawbacks
Sound reproduction less spatial
Not suitable for road use
On-ear headphones
On-ear headphones are headband-mounted models that rest on the ear cups. These open headphones are designed so that the sound produced in the headphones can pass through the back of the headphones to the outside. The sound image is thus usually more natural and appears more spatial. In addition, unlike closed over-ear headphones, users do not feel a dull wearing sensation, a feeling of being cut off from the outside world. This means that on-ear models are also suitable for road traffic at medium volume levels. However, if you are looking for complete silence, you should rather go for over-ear headphones with ANC function.
Pro points
Natural and spacious sound
No dull feeling when worn
Suitable for road traffic at medium volume
Over-ear headphones
In contrast to on-ear headphones, over-ear headphones are bracket models whose ear cups completely enclose the ears. They are designed in such a way that they do not allow any sound to pass through to the inside or outside. Due to the enclosed air volume inside the headphone cups, more pressure is built up with bass-heavy music, which is why the over-ear versions are perceived as having more bass.
However, the perception of a three-dimensional room sound is less, as the sound cannot develop freely. Another disadvantage of closed headphones is the lack of heat exchange at the ears, which can cause the ear cups to become warm during prolonged use. In addition, users are so disconnected from their surroundings that it is dangerous to participate in road traffic. For example, they may hear cars late or not at all – especially if the headphones have ANC noise cancellation.
Pro points
Maximum noise cancellation through closed headphone cups
Even less ambient noise with active noise cancellation
Strong perception of bass
Drawbacks
Not suitable for road traffic due to noise reduction
Heat build-up under ear pads possible with prolonged use
Sound is less three-dimensional
What matters when buying
Sports headphones are compact lightweights. Nevertheless, they are equipped with many useful features. From noise cancellation to the headset function, they come with useful additional functions and operating options. When it comes to charging options, operating time and other technical requirements, sports headphones also offer a wide range of options for every taste.
Wired or wireless
If you are looking for in-ear headphones for jogging, you will find both wired and wireless models. However, classic wired designs are becoming less common in sports versions. The newer models connect to the smartphone via Bluetooth.

The wireless versions allow maximum freedom of movement when listening to music and making phone calls: no cable that gets tangled, is too short when moving or constantly hits your face when walking. This not only spares your nerves, it also helps you to concentrate on the essentials. A small downer of Bluetooth technology is its rapid battery consumption. This is especially true for the small, lightweight in-ear versions. In contrast to wireless on-ear or over-ear headphones, there is less material or space available for storing power. This can lead to the battery running out on longer trips.
Completely wireless earbuds
Most in-ear sports headphones have a short cable between the individual earbuds. The cable is placed in the back of the neck while exercising. The controls are usually located on the connecting cable. However, some athletes are bothered by the visible and tangible connection bar.
An alternative to this is offered by so-called earbuds: Bluetooth earplugs that are sportsman-friendly and do not require a cable at all and are operated directly at the ear. These models, also known as fidelity wireless headphones, require a little more practice to use. In addition, wireless models run a greater risk of losing them during sports. In addition, there is little space for the batteries, which is why the runtime is shorter than with neckband variants.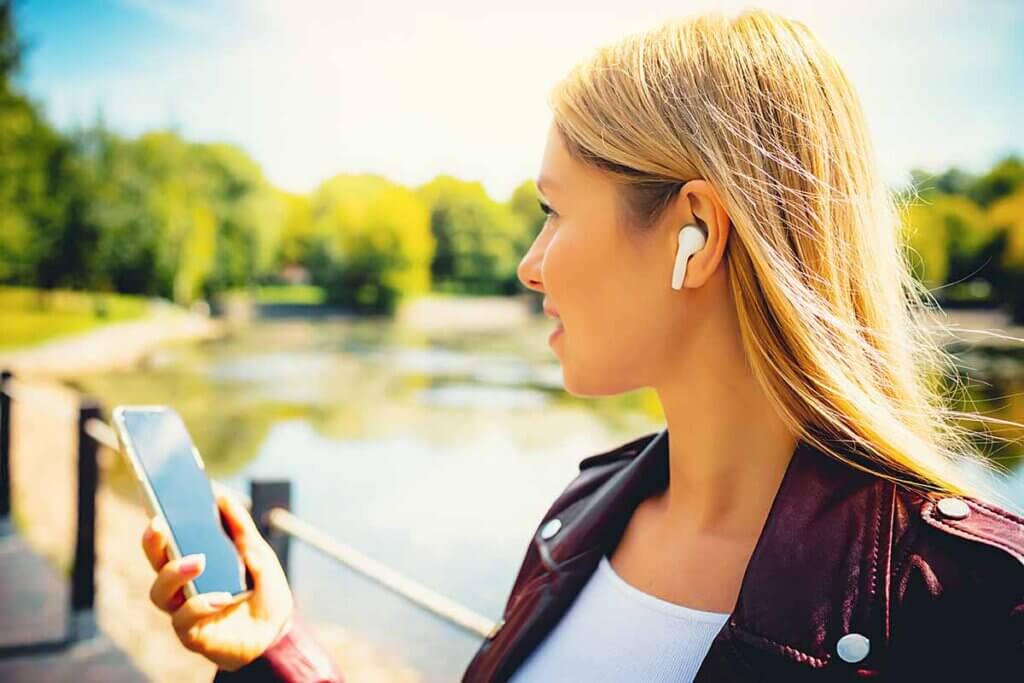 Which headphone model is best depends on your preferences in terms of comfort and operating options. In any case, an optimal fit of the in-ear headphones is essential so that they do not fall out of the ear during fast or jerky movements. Some sports headphones are equipped with ear hooks that disappear inconspicuously behind the ears and provide additional support. Other versions have interchangeable ear inserts that can be individually adjusted to the dimensions of the ear and ear canal.
Pro points
High wearing comfort
Lightweight
Unlimited freedom of movement thanks to Bluetooth
No tangling of the cable
Drawbacks
Short battery life
Greater risk of loss
Operation on the earpiece takes some getting used to
Telephone calls possible thanks to microphone
Many athletes appreciate being able to make phone calls with their jogging headphones. For some, chatting with their best friend while running in the morning or planning urgent business appointments with the office is now part of the daily routine and saves time. That's why many models include an integrated headset. Controls on the pods or on the connection cable enable hands-free phone calls and unhindered sports activities.
Weatherproof and waterproof
A sudden downpour on the far jogging track and all that can be heard from the headphones is a hiss? Modern sports headphones are designed to withstand moisture and humidity. How much you can expose a model to moisture, rain or even submersion is indicated by the respective IPX protection class: A scale from one to nine indicates the outdoor conditions the headphones can withstand. Most sports headphones have an IP protection class of at least five, which means they can withstand jets of water from various directions. If you want to use your headphones while swimming in the pool, it is best to choose a model that has an index of eight or higher. In this case, even permanent submersion is possible without any problems.
Get some peace and quiet with Active Noise Cancelling
In the underground, a lot of background noise is usually distracting, and in the gym, conversations or the programme on the TV monitors are too loud. No matter whether it's your everyday commute or sports, many people want more peace and focus.
Headphones with active noise cancelling (ANC) effectively block outside noise. Many users feel more relaxed and less distracted, which is why models with ANC are particularly suitable for meditative sports such as yoga or Pilates. Even on the cross-trainer in the gym, many people do not want to be disturbed by the strained breathing noises of their neighbours. ANC models provide an effective remedy here.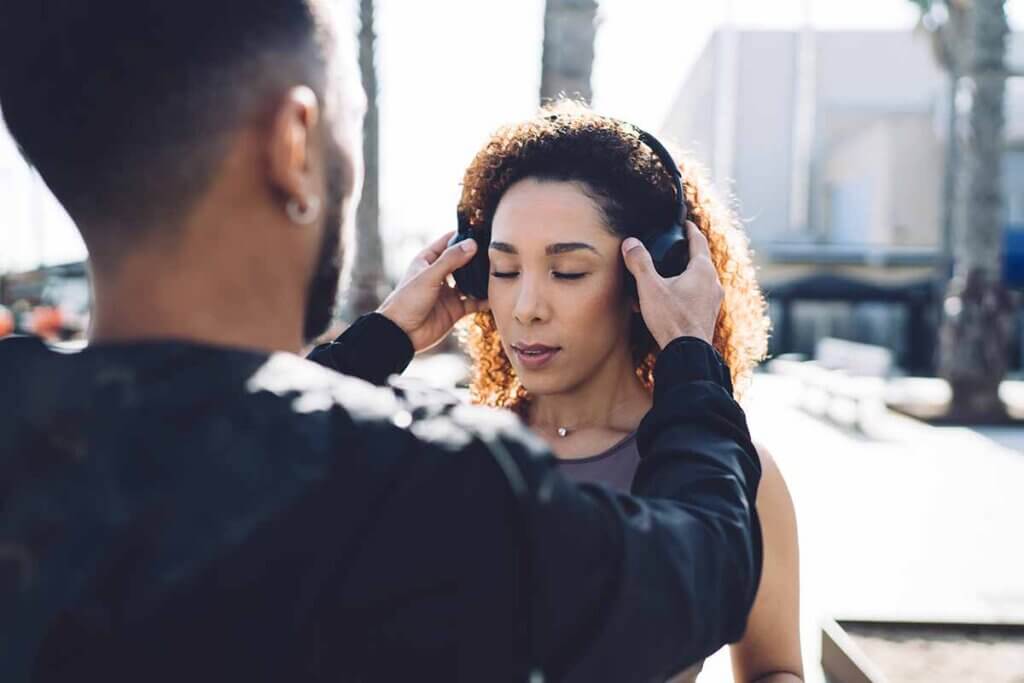 With which devices are sports headphones compatible?
Until a few years ago, joggers still ran with MP3 players and classic wired headphones. Today, however, wireless headphones dominate: they are connected to the smartphone via Bluetooth, so that the annoying tangle of cables while running is a thing of the past. For training at home or yoga exercises in the park, it is highly recommended to pay attention to the maximum range of the Bluetooth connection. This way, the mobile device does not have to stay on your body during training, but can be placed comfortably next to the water bottle. Some Bluetooth headphones are also compatible with sports watches. If you don't want to have any devices with you while exercising and want to enjoy maximum freedom, go for wireless headphones with an integrated MP3 player.
What controls are there?
Depending on the model, sports headphones have different controls. True wireless headphones have buttons directly on the earpiece. Alternatively, they have a touch field on which music and calls can be controlled by swiping and tapping. The small surface requires a little practice and patience until you get the hang of it. Headphones with a connection cable usually have simple three-button controls for voice commands to start and stop the music and adjust the volume.
Major differences
Sports headphones, especially the in-ear versions, are all characterised by their handiness and light weight. Nevertheless, there are differences: the heavyweights sometimes weigh more than 200 grams, whereas some of the lightweight competitors weigh only 20 or even 10 grams. In general, headphones with earpieces and cables tend to be heavier than the true-wireless options – but as always, exceptions prove the rule. If you don't want to feel the weight of your earphones at all, you should follow the manufacturer's weight specifications.
The same applies to the size of the earphones. They should be comfortable to wear during sports and ideally be quick and space-saving to stow away when the podcast is boring or your training partner shows up for small talk. Headphones with foldable earbuds quickly disappear into your sports jacket. Earbuds without cables usually come in a slim case that also takes up little space.
Wide choice of designs

Sports headphones not only offer attractive functions, but also come in a wide range of colours and designs. From minimalist black or white earbuds to headphones in bright colours and patterns, there's something for everyone.
Safety while jogging
Especially when it comes to endurance sports, many people go for top performances with motivating music. But don't forget that as a jogger you are also an active road user. If you listen to music while exercising outdoors, you are treading a fine line between pleasantly immersing yourself in a world of your own and concentrating on the traffic. Therefore, it is important never to turn up the volume of your headphones too much unless you are on a lonely forest path. In areas where there are other road users, the ambient noise should still be clearly perceptible despite the headphones.
In addition to too high a volume, ANC models in particular carry the risk of missing traffic or warning signals. It is therefore advisable to choose headphones with noise cancellation that can be switched on and off as needed. They should only be used deliberately in a safe environment, for example during fitness exercises on a lawn or in the gym. The next time you go jogging, the ANC function can simply be switched off.
How are jogging headphones charged?
Headphones that are not connected to the smartphone or MP3 player by a cable have a power storage unit. Especially with the slim in-ear models, however, there is little space available for the integrated battery, which is why it is a real challenge to achieve a long operating time. The range in this area is wide: while some sports headphones last 24 hours, others only manage around 4 hours. On the other hand, many wireless models can be easily charged in the charging case while on the move, which adds to the flexibility. The charging case fully recharges the headphones up to three or four times. When it is empty, the device is connected to the mains via a micro-USB or USB-C cable to be fully recharged.