Mono laser printer purchasing advice: how to choose the right product
What you need to know
Black-and-white or mono laser printers produce high-quality text prints.
Many devices are limited to printing and cannot scan, copy or fax.
Mono laser printers do not print colours, only greyscale.
Since toner cannot dry out, laser printers are always ready for use.
Fast and reliable printing
Black-and-white laser printers, also called mono laser printers, are workhorses and indispensable in many offices. They print several hundred pages of documents in just a few minutes – but, as the name suggests, only in greyscale. So if you want to print colour illustrations or photos, you should look for a different printer. Black-and-white laser printers are designed to print text quickly. Where many pages of paper are printed, they help save time.
Compared to inkjet printers, mono laser printers not only work much faster, but also more accurately. Text printouts are characterised by precise contours and a rich black. This gives them excellent readability. Printouts from laser printers are also particularly lightfast and do not fade. Other advantages: Immediately after printing, the documents are smudge- and smear-proof, and the toner does not run even when it comes into contact with water. Mono laser printers therefore produce document-quality printouts.
In contrast to colour laser printers, mono laser printers only have a single toner cartridge for black. This means less effort in maintaining the printer, as only one cartridge needs to be replaced. Laser printers are very economical anyway, so they do not need to be changed too often.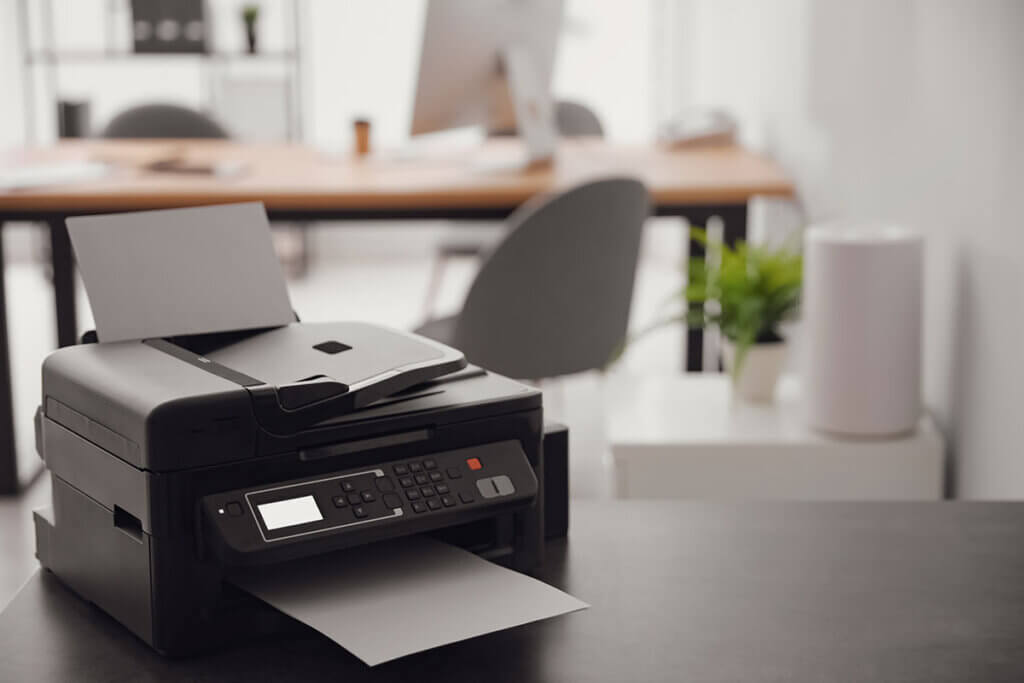 How laser printers work
In contrast to inkjet printers, laser printers use so-called toner. This is not liquid like ink, but a very fine powder. The outside of a laser printer looks inconspicuous, but inside there is a lot of technology, because the printer uses the principle of electrophotography.
In the laser printer, a charge roller statically charges the printer drum. The drum is discharged by a laser beam at the points where no toner should adhere. A magnetic roller then transfers a very thin layer of toner onto the drum. The particles only adhere to the charged areas.
The fed paper is now moved past the drum. The transfer roller pressing on the paper from the other side transfers the toner particles to the paper. The toner still only adheres loosely to the paper. The fuser unit melts the ink onto the paper.
For whom is a black-and-white laser printer suitable?
A black-and-white laser printer is best suited for households that only need to print something from time to time. It produces text documents in very good quality and has a decisive advantage over inkjet printers: because toner powder is used instead of ink, the colour does not dry out even if it is not used for a long time. It is therefore always ready for use.
Anyone looking for a new printer must be aware that black-and-white laser printers are only really good for printing text. Colours are converted to greyscale when printed. Graphics with different colour assignments thus lose their meaning. If you often use such graphics in your job, you are better off with a colour laser printer. If you want to print high-quality photos at home, on the other hand, it is best to choose an inkjet printer.
The most important buying criteria
A laser printer should work quickly and produce crisp, sharp text. Black-and-white laser printers do this job brilliantly, but otherwise they are not particularly versatile. If you print a lot of documents, you should look for a high paper capacity and double-sided printing. A WLAN-enabled device can be placed flexibly in the home.
Speed
If you print a large number of documents with an inkjet printer, you can drink coffee, hang out the laundry or clean out the dishwasher in the meantime. In short: the devices are not exactly fast. Fortunately, things are different with laser printers. They spit out the first page after just a few seconds and continue at a fast pace.
The highest-quality and fastest black-and-white laser printers reach an impressive 40 pages per minute. By comparison, only a few inkjet printers manage more than 10 pages per minute. Medium-priced laser printers, on the other hand, print 20 to 30 pages in the same time. Some laser printers stay below 20 pages per minute and are therefore less suitable for intensive use. However, if you only print something now and then, you will be satisfied with such a device.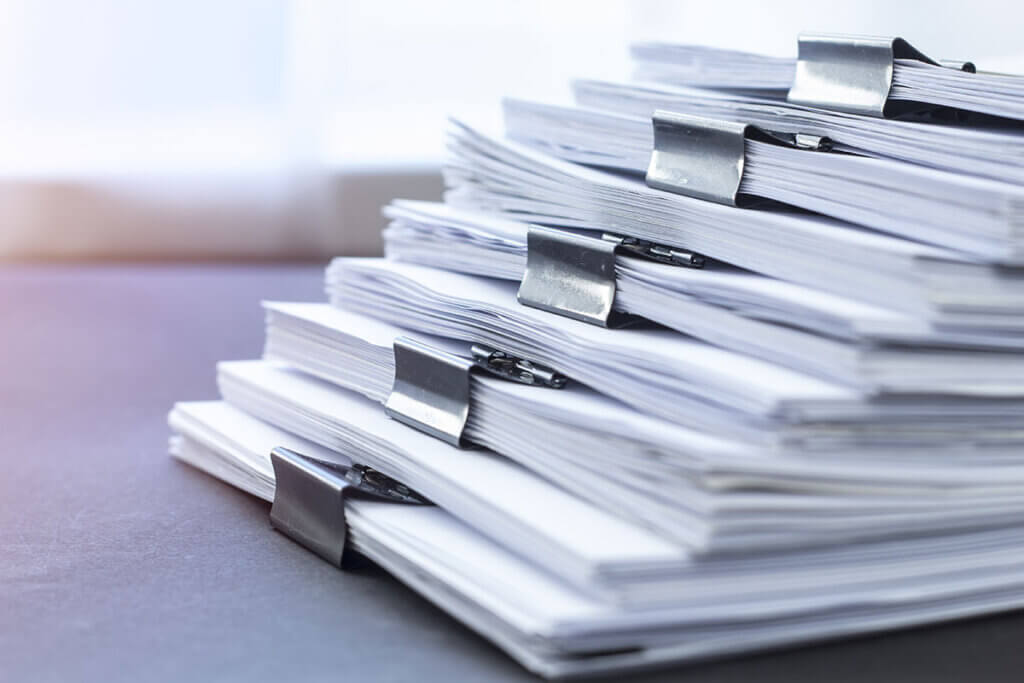 Resolution
Print resolution is an important purchase criterion for black-and-white laser printers. The higher the resolution, the better the print quality. But what exactly does resolution mean? It determines the sharpness of the print and is usually expressed in "dpi", short for "dots per inch". It is the number of printed dots per inch, which corresponds to 2.51 centimetres. A higher value represents a higher resolution, while a lower value represents a lower resolution. A good laser printer should have a resolution of at least 600 dpi, better 1,200 dpi. Then every printout is clearly legible.
Wireless printing
There are various ways of transmitting print data from the computer to the laser printer. Every laser printer has a USB port. The printer and computer can then be connected by cable, or printing can be done directly from a USB stick. However, wireless connectivity is much more convenient for users.
Nowadays, there are practically no laser printers on the market that are not WLAN-enabled. Once the printer is connected to the home network, it can print from any device, even conveniently from a smartphone. All connected devices within range can control the printer. WLAN also allows flexible placement of the printer. It can be placed wherever there is space. Since laser printers emit fine particles into the air, it is advisable not to place the device directly next to the workplace.
With Cloud Print and AriPrint, Google and Apple have developed their own interfaces. Cloud Print is compatible with Windows and Android, users have to connect the printer with their Google account. The printer can then be configured and managed via the application. AirPrint basically works in the same way, but is only compatible with Apple devices. Here, too, the printer can simply be controlled from iOS devices.
Paper formats
The most common paper size for documents is A4, so laser printers are primarily designed for this. Many laser printers can also be set to the next smaller formats A5 and A6. The latter is the postcard format. A3 is not commonly found on laser printers for private use. Modern devices usually also offer the option of adjusting the type of paper. Options include heavy paper, envelopes, glossy paper, labels and transparencies. This opens up many design options and eliminates the need to go to the copy shop.
The printer paper is placed in a cassette from which the machine feeds the paper. It can be pulled out and refilled. For frequent printers, the capacity of this cassette is an important purchase criterion. To avoid having to add paper too often, it should hold at least 200 sheets of paper. In large devices, there is sometimes even room for 500 sheets of paper.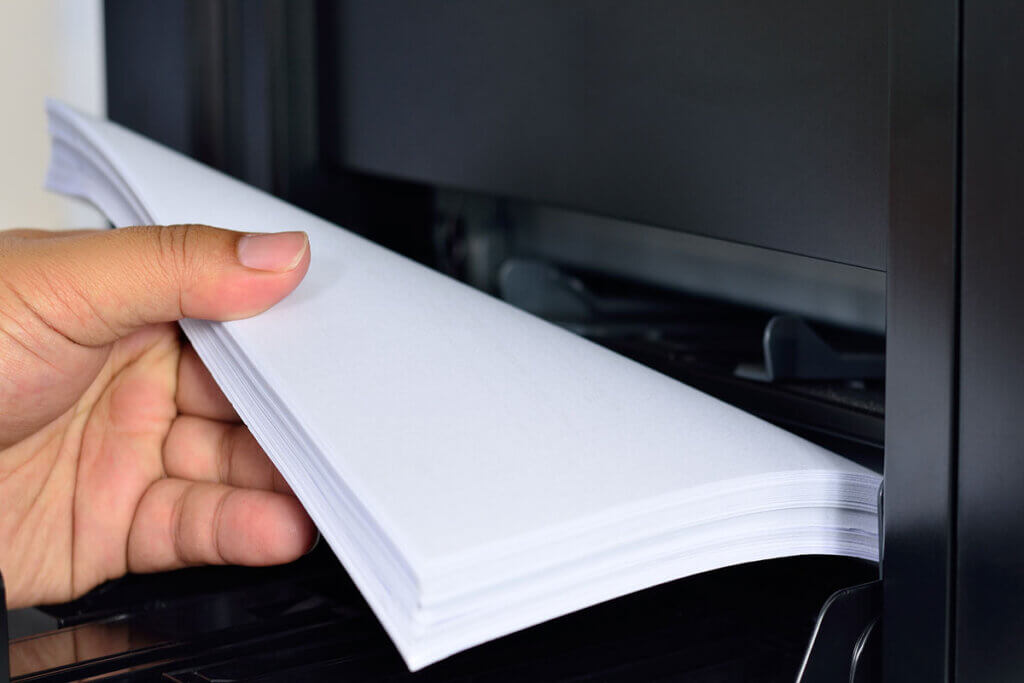 Double-sided printing
When printing on both sides, not only the front but also the back of the paper is printed. This uses less paper and reduces printing costs. In smaller laser printers for home use, the paper is turned over in the machine after printing on the front side. Large office machines can print on both sides at the same time. With laser printers for private households, printing takes correspondingly longer, but double-sided printing remains optional. If you want, you can print on the front sides only. Devices that can print on both sides are larger, heavier and also more expensive because of the additional mechanics. Prospective buyers should therefore consider how important this feature is to them.
Two-sided printing is often referred to as duplex printing. The manufacturer's claim "manual duplex printing" should cause scepticism: such a device initially prints only all front pages. Afterwards, users must turn the paper over by hand and reinsert it into the paper cassette.
Control via app
Printer apps are supposed to enable easy installation and use. They give access to advanced functions and personalised settings. Usually, the installation of such an app is optional and not necessary for users who only want to use the basic functions of the printer.
Printer apps can be a curse and a blessing. It becomes annoying when there is a compulsion to install the programme. Sometimes users are even forced to set up a user account and log in before they can print, which makes operation enormously difficult. The penetrating HP Smart app from the manufacturer of the same name met with criticism from Stiftung Warentest for these reasons.
Frequently asked questions about black-and-white laser printers
Laser printers emit fine dust because of the toner powder used. Many people are therefore sceptical about these devices. The question arises as to how harmful laser printers are to health and where the ideal location for them is. Another difficulty in using laser printers is the cartridges, which are not easy to dispose of.
Are black-and-white laser printers harmful to health?
Many workers who complain of health problems at work attribute this to the presence of a laser printer. In fact, laser printers produce emissions that warrant concern. It has been proven that such printers emit large amounts of ultrafine particles that can be inhaled by people. Another concern is the volatile organic compounds produced by the high temperatures involved in printing. There is evidence that these are carcinogenic.
Although it has been proven that most laser printers produce increased fine dust pollution, it is difficult to clearly attribute complaints to the microparticles emitted. So far, it has not been possible to prove a clear connection. However, the Federal Institute for Risk Assessment does not rule out a possible health risk.
Since laser printers emit fine dust into their environment even when used sparingly, the printer should not be placed directly next to the workplace. Ideally, the printer should be located in another room. Since this is not always feasible, there is an alternative: Place the laser printer in a cupboard. This reduces the emission of fine dust. Furthermore, make sure that there is a sufficient supply of fresh air. The printer should not be placed in a room without windows.
How often should the toner cartridge be changed?
The toner level indicator in the menu of most printers shows whether the toner is running low. However, users will recognise a low toner level at the latest when the quality of the prints decreases and they become streaky. The service life of a toner cartridge usually varies between 2,000 and 3,000 prints. Unlike colour laser printers, black-and-white printers have only one cartridge that needs to be replaced.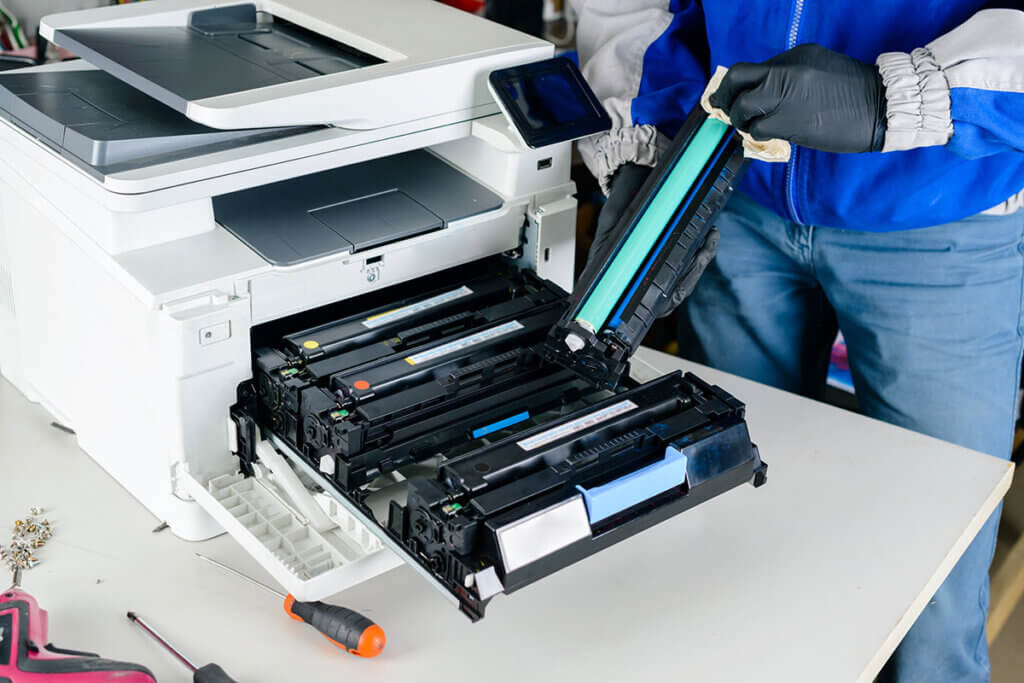 If the printer has been in use for a short time, it must cool down sufficiently before the cartridge can be replaced. Otherwise there is a risk of burning one of the components inside. When changing the cartridge, it is advisable to wear disposable gloves to avoid contact with the powder. If something does go wrong, it is best to wipe it up with a damp cloth. Do not use warm water as the toner may melt. The same applies to toner stains on clothing. It must not be washed in hot water. If you use a hoover, use one with a fine particle filter.
Where to put the empty toner cartridge?
Empty toner cartridges must not be disposed of with normal household waste because, on the one hand, toner powder is harmful to health and, on the other hand, the cartridges contain valuable raw materials such as aluminium. They are electronic waste, the improper disposal of which can result in a fine of up to 500 euros.
Instead, you can take the empty cartridge to a specialist printer dealer. They may also be able to refill it. Many manufacturers also offer a free take-back service. Check their websites for the exact procedure. Large electronics shops also accept empty cartridges. Finally, you can go to the recycling centre where the cartridge is disposed of properly.
---
Image 1: © New Africa / stock.adobe.com | Image 2: © Oleksandr / stock.adobe.com | Image 3: © singkham / stock.adobe.com | Image 4: © smspsy / stock.adobe.com