24-inch TV purchasing advice: how to choose the right product
The most important facts in brief
Small televisions are well suited as second sets in bedrooms, kitchens or guest rooms.
The screen diagonal for 24-inch TVs is 61 centimetres. Only HD ready and Full HD are available as picture resolutions.
Units with an integrated DVD player are recommended if space is at a premium.
In terms of picture and sound, the small TVs unfortunately do not come close to the quality of large TV models. The buyer should not be demanding here.
For sports and action programmes, the TV dwarfs are not a recommendation because of the poor picture quality with fast camera movements.
Watching television is still one of the most popular leisure activities in Germany. According to Statista, Germans spent an average of 223 minutes per day in front of the television in 2016.
It is therefore not surprising that many households have more than one television. As second sets for the kitchen or for the bedroom, consumers like to reach for smaller models, such as 24-inch TVs. However, the demands on picture and sound quality should not be too high. The TV minis do not deliver UHD quality. The user has to make concessions here.
Our comparison presents the most popular 24-inch TVs. Find out in this guide what you should pay particular attention to when buying.
Small but mighty – 24-inch TVs – the minis among TVs
24-inch TVs are modern flat-screen TVs with a screen diagonal of 24 inches. This makes them, together with 32-inch sets, the dwarfs among TV sets.
How much are 24 inches in centimetres?

One inch is equal to 2.54 centimetres. For a 24-inch TV set, the screen diagonal is therefore 60.96 centimetres. However, for simplicity's sake, the product description reads 60 or 61 centimetres.
With their small size, 24-inch TVs are of course ideal for small rooms. Especially as a second set, they find their place in many a bedroom, youth room or guest room. Some models, such as the Telefunken model in our 24-inch TV comparison, are equipped with a DVD player. This is an advantage for film fans who do not have much space available. They can do without a separate DVD player.
However, there is a catch: the TV minis cannot offer a cinema-like experience in UHD. The screen is too small for that. For sets of this size, only a screen resolution in HD ready (720p) or Full HD (1080p) is possible. And curved design is downright ridiculous with dimensions of around 55 x 37 centimetres.
Advantages
Space-saving
Combi sets with DVD player available
Ideal as a second set for bedrooms or guest rooms
Good value
Low energy consumption
Disadvantages
Picture resolution only up to Full HD, no UHD/4K
No curved TV possible
Few connection options
In addition, a 24-inch TV cannot have as many connections as a 65- or 75-inch TV. There is simply not enough space. But don't worry: most models have USB connections and one or two HDMI ports. And Internet connection is also part of the standard equipment. This is quite sufficient for occasional use.
Screen types on small TVs
The choice for 24-inchers is not as huge as for large TVs. Curved design is not to be found in this size range. The expensive OLED technology is currently only used in large screens.
Small TVs found on the market today are usually equipped with a modern LED display. In product descriptions, one also finds the combination LED/LCD screen. The synonymous use of the terms is absolutely correct, because an LED screen is a form of Liquid Crystal Display (LCD). With this display technology, the screen consists of further layers and colour filters in addition to the LC layer, which are illuminated from behind by LEDs (LED backlight).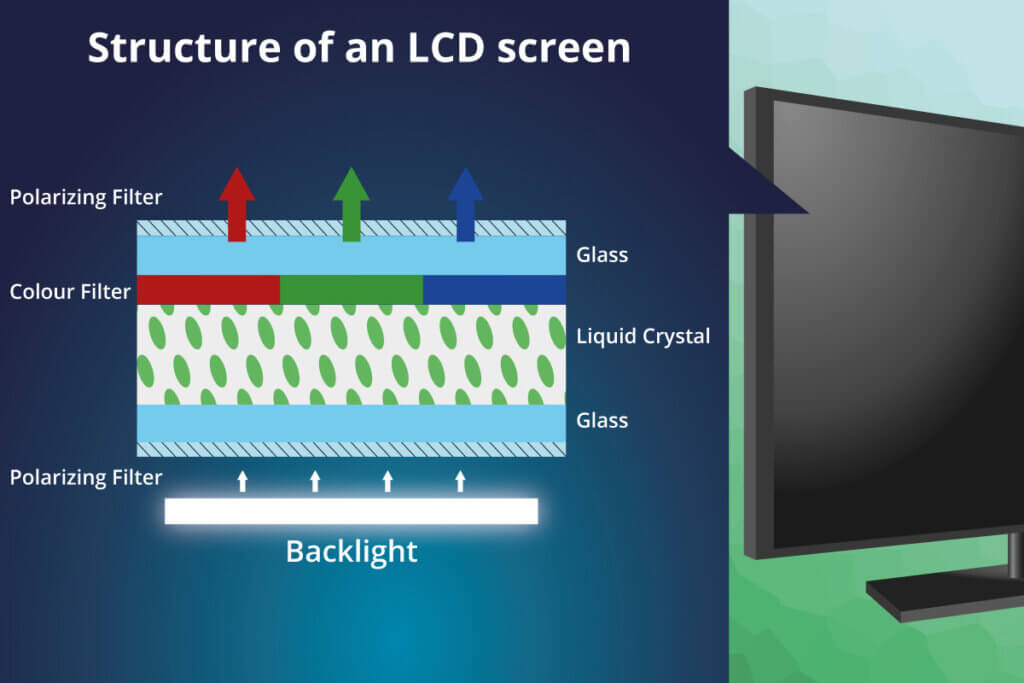 With this LED backlight, a distinction is made between two types of construction:
With Edge-LED, the LEDs are located on the outer edge of the screen, i.e. on the frame. With the help of prisms, the light is distributed over the entire surface. Because of this design, these TV sets are quite narrow. The disadvantage: the illumination can be uneven, so that bright light spots can form on the screen. These can become visible especially when dark images are shown, i.e. when the screen is dark. Parts of the picture that should actually be rich black then look as if someone is shining a torch on them from behind. This is why this effect, which occurs quite often with LED screens, is called the "torch effect". In the low price segment, this screen defect is common. Not every user finds it disturbing.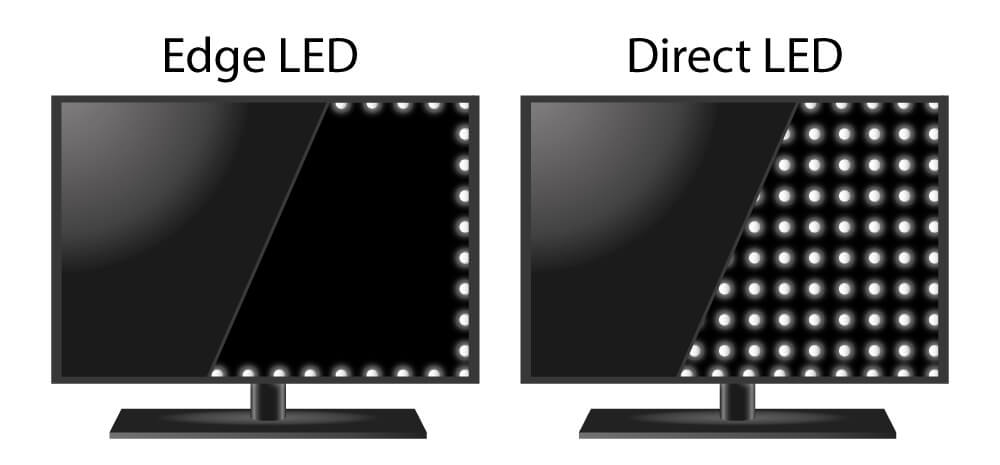 If you still insist on a high-contrast picture on the TV dwarfs, you should look for a model with Direct-LED or Full-LED. Here, LEDs are mounted over the entire surface. This enables better illumination of the screen. However, the devices consume a little more energy.
Some 24-inch models from Philips are equipped with Direct-LED. However, the even more precise local dimming, in which each LED is controlled individually, is not available on these devices either.
What to look for when buying a 24-inch TV
In our comparison of 24-inch TVs, you will find devices from well-known brands such as Samsung, Philips and Panasonic, but also no-name devices. When deciding which brand to buy, it is not the brand that counts, and even the comparison winner does not necessarily have to be the first choice for every consumer. In the following section we explain which details you should pay attention to when buying.
The size of the screen: Why only 24 inches?
Before buying, consumers should consider a number of questions about the choice of device. Among them is the question of screen size.
If you look around at the range of 24-inch TVs, you have already made your decision regarding the screen size. The small sets are, of course, ideal for small rooms. If you only want to set up a small TV corner in your living room without the TV set dominating the whole room, a mini-size TV is also a good choice. Often, 24-inch TVs also find their place in a bedroom or guest room. They are then intended for occasional use, perhaps to finish watching a programme before going to bed.
Picture resolution
Compared to larger TVs, the range of 24-inch TVs offers only two options as far as picture resolution is concerned:
The following applies to the resolution:

The more pixels there are, the sharper the picture.
The general standard for streaming services and TV channels is still Full HD. The user is therefore well advised to buy a TV with a picture resolution in Full HD. Higher picture resolutions such as 4K/UHD are only found in TV sets from around 55 inches. The small 24-inch TVs, on the other hand, often only offer HD-ready. However, the lower resolution is hardly noticeable on the small display. On a large TV screen, however, the picture would be blurred. For new purchases, experts nevertheless recommend a set with Full HD – if only because this resolution is more future-proof.
Overview of picture resolutions for TV sets
| | | | |
| --- | --- | --- | --- |
| Designation | Pixel specification | Shortcut | Particularities |
| HD ready | 1366 x 768 pixels | 720p | Suitable for HD broadcasts and DVDs |
| Full HD | 1920 x 1080 pixels | 1080p | Suitable for playing Blu-ray Discs, HD broadcasts and streaming services |
| 4K / UHD | 3840 x 2160 pixels | 4K | Suitable for UHD Blu-rays and UHD broadcasts |
Overall, however, the picture quality of 24-inch TVs is mediocre. In the Stiftung Warentest tests, no model can convince in this area. Especially with fast movements, the picture jerks so that the movement is not displayed smoothly. The user can only achieve slight improvements with the picture settings. The test experts recommend that consumers who want to improve their TV viewing experience rely on sound optimisation. This requires an audio interface, which brings us further to the TV's interfaces.
The connections on a 24-inch TV
An important point when comparing products is the interfaces that the TV comes with. The following connections should definitely be available on a new television:
External devices such as DVD players, laptops, consoles or adapters for streaming services (e.g. Google Chromecast) can be connected to the High Definition Multimedia Interface (HDMI) ports. The more HDMI ports the TV has, the better. A new 24-inch TV should have at least one, preferably two HDMI ports.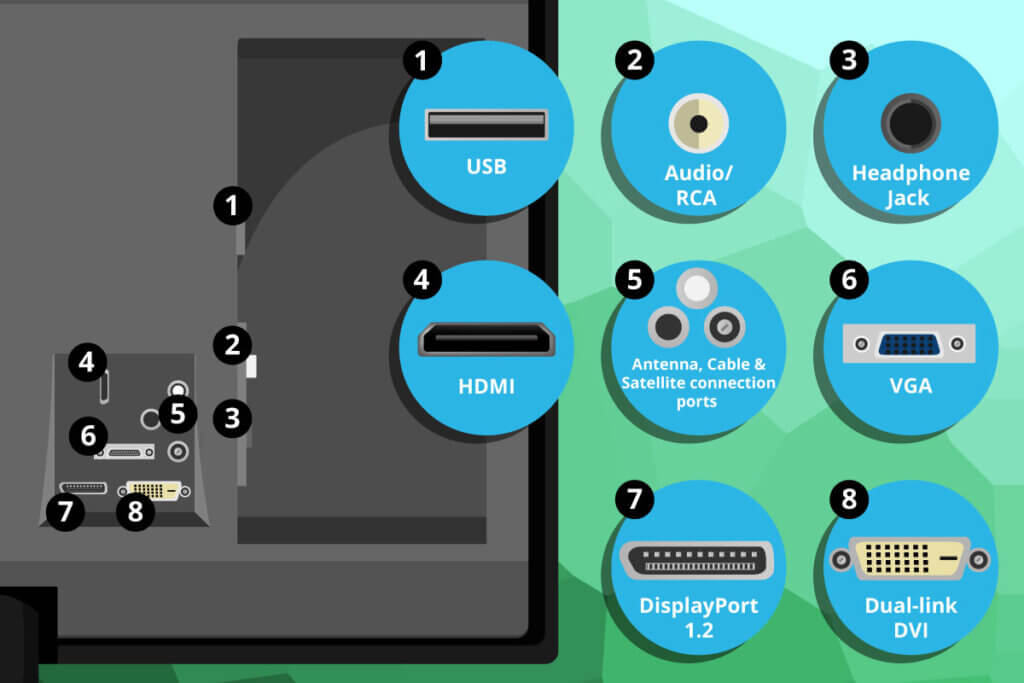 USB ports are necessary to connect hard drives or USB sticks. If you occasionally want to view photos on your small TV, you should pay attention to this feature. If the TV has a recording function, a USB port is essential to connect an external hard drive.
The audio output is necessary to connect a sound bar, a Bluetooth transmitter or a hi-fi system. Especially with 24-inch TVs, the optimised sound can significantly improve the viewing experience.
Slots for smart cards (CI+ slots) of pay-TV channels and headphone jacks are optional.
Smart TV and internet connection
An internet connection is now standard for modern TV sets. This makes TV sets just as "smart" as mobile phones. The TV set accesses Netflix, YouTube and Google Play apps via the internet connection. Many televisions can be conveniently connected to the internet via WLAN. However, this wireless connection is not always completely free of interference. If you want to be on the safe side, connect the 24-inch TV to the web via cable. The prerequisite is a LAN socket on the TV set. Another advantage: Internet-capable TVs can be integrated into the home network.
Today, smart TVs are usually HbbTV-capable. HbbTV (Hybrid broadcast broadband TV) is an international standard for the transmission of interactive applications. Most consumers are familiar with HbbTV as "red button" technology. Directly while watching television, information on additional information is displayed, which the user can call up via remote control.
Tuner equipment
What would a television be without reception? Superfluous. That is why interested buyers should pay attention to how many reception components (tuners) are built into the TV set. Sets with triple tuners are equally suitable for antenna, cable and satellite reception.
Note: If you watch TV via antenna, look closely at special offers and make sure that the TV supports the new DVB-T2 HD transmission standard – recognisable by the green logo. This specification combines the new terrestrial transmission standard DVB-T2 with the new HD video codec HEVC/H.265.
Electricity consumption: How much electricity does the new TV set cost?
Every electrical appliance is a new "power guzzler" in the household. Before buying, experts therefore always recommend checking the EU energy efficiency label and the power consumption (watts).
With 24-inch TVs, however, the additional costs are kept within limits. Because of the small screen, these sets consume much less power than the larger models anyway. Their energy efficiency class is between A and A+. The power consumption is usually about 20 watts.
A television with a power consumption of 20 watts that runs for two hours consumes about 0.04 kilowatt hours (kWh). It thus causes costs of about one cent (when a kilowatt hour costs 28 cents) per day. That is a little more than four euros in energy costs per year.
You can find various electricity consumption calculators on the Internet to help you determine your expected energy costs.
Energy-saving tip: Even in stand-by mode, a television consumes a small amount of energy. If you do not use the set for a longer period of time, disconnect the power supply.
Features such as a sleep timer, picture off or eco mode also help to reduce power consumption.
Checklist: These are the features you should look out for
The must-haves
HDMI connections: The more, the better
USB ports: Always good
For antenna reception: Support for DVB-T2 HD
Smart TV and HbbTV support
Audio output for sound connection
Gladly seen
Energy efficiency class A+
Full HD resolution (1920 x 1080)
Bluetooth support
Extras for 24-inch TVs
Some 24-inch TVs come with additional functions that make the space-saving TV even more attractive.
USB recording
Newer models have this practical recording function, for example the EWS504 series from Panasonic. For this, the user needs a storage medium with a USB connection. For short recordings, a USB stick with at least four gigabytes is sufficient. In general, however, USB hard drives are the better choice.
Tip:

Be sure to take an empty hard drive for this. After the memory is connected to the TV via the USB port, a formatting process begins and the hard disk is set up for recording. Afterwards, the user can only watch the recordings on the Smart TV and not on the PC or other devices.
The user activates the recording via the electronic programme guide. It should be noted, however, that it is not possible to record a programme and watch another on TV at the same time. Only expensive televisions and hard disk recorders have a double receiver (tuner).
Integrated DVD player
The Telefunken model in our comparison of the best 24-inch TVs features an integrated DVD player. This combination is perfect for film fans who have little room and a DVD collection. But photo slide shows on DVD can also be presented on a small scale with such a TV.
Tips for the right picture settings on the TV
In the rarest of cases, the TV is optimally set with its factory settings. Even with new picture sources such as DVD players or consoles, the user often has to adjust the TV's settings.
Brightness and contrast
Bright and dark areas of the picture should be clearly discernible without losing details. It is best to adjust the brightness first and then adjust the contrast. With an optimal setting, even grey areas are easily recognisable and bright areas do not shine excessively.
Colour and colour temperature
A TV picture with bright colours usually looks brilliant and rich at first. However, if the colours are so garish that you can no longer see any colour gradations, viewing can become exhausting. In this case, reduce the colour saturation a little.
The colour temperature of the picture also affects the viewing pleasure. A picture with a strong red component looks a little too warm. Too much blue, on the other hand, makes the TV picture much colder. In the colour settings, the user can also correct these colour casts.
Default settings
So that the user does not have to spend a lot of time turning the various colour and contrast controls, many TV sets have presets. Similar to filters on a photo camera, this allows the user to adjust the look at the touch of a button. This is especially helpful if the 24-inch TV is to serve as a monitor for the PC or console.
Questions & Answers
How much does a 24-inch TV cost?
In most cases, the price of a TV depends on the size of the screen and extra features such as 3D capability. A small 24-inch TV can be had for 200 to 300 euros.
What is the ideal seating distance for 24-inch TVs?
To find the right location for the TV in the room, the common rules of thumb for the ideal seating distance are helpful. For HD resolution, the following equation is recommended:
Size of the TV set in centimetres (screen diagonal) x 2.5 = optimum sitting distance from the TV in centimetres.
For a 24-inch TV, this would be about 1.5 metres.
Is a 24-inch TV suitable for the motorhome?
Due to their small dimensions, TV minis naturally belong on the shortlist when it comes to technology equipment in the motorhome. However, not every device is ideal. If you are looking for a 24-inch TV for your motorhome, you must make sure that the device of your choice has a 12V connection for power supply. Then the TV can be connected to the on-board power supply without any problems.
My dream TV does not have a Bluetooth connection. Can I upgrade it with Bluetooth?
Yes, it is possible to add a Bluetooth connection. Commercially available Bluetooth transmitters are the solution. The transmitter is connected to the TV via the headphone jack or the digital-optical audio output and sends the sound signal to the paired Bluetooth device. When making a purchase decision, the buyer should therefore pay attention to which audio output is available on the TV set. Then a Bluetooth speaker or Bluetooth headphones can provide better sound.