40-inch TV purchasing advice: How to choose the right product
The most important facts in brief
40-inch TVs are all-rounders with a 102-centimetre screen diagonal.
Whether as main TV, secondary TV or monitor – 40-inch models are versatile.
Most of today's 40-inch TVs are smart TVs and have HbbTV.
They are available with either SD or HD resolution.
Whether standing or hanging, 40-inch TVs require a sitting distance of two metres.
40-inch TVs and their advantages
Sometimes the best end of the day takes place on the couch in front of the TV. It doesn't always have to be the regular TV programme. The range of streaming services is growing and the content is becoming more and more diverse: series and films as well as live sports and other events are provided by streaming providers. And finally, there is the good "old" DVD or Blu-ray.
Home cinema technology is also advancing steadily. To put it exaggeratedly, the current devices from last week are already obsolete today. If you want to buy a new technical device, it is therefore particularly important to consider the current state of the art. For example, if you are flirting with a new flat-screen TV, you should first and foremost know what size is ideal for your home conditions.
How big are 40-inch TVs?
The screen diagonal of a 40-inch TV is about 102 centimetres. These TV sets prove that bigger does not always have to be better. Even comparatively smaller TV models convince with clear pictures, a good sound and strong features. Moreover, not all large TVs are suitable for every home. A 40-inch TV belongs to the medium-sized TV sets and is therefore an ideal intermediate solution.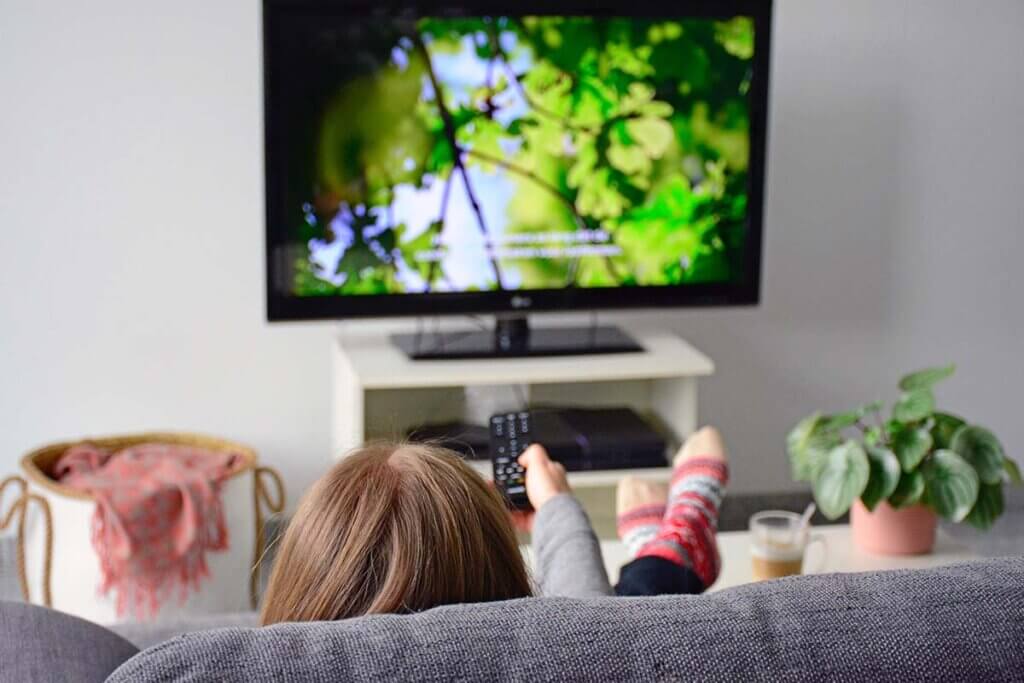 The screen diagonal of a television is usually given in inches in advertising. Since this value originates from the Anglo-American system of measurement and is mainly used in Great Britain and the United States of America, inch specifications are rather abstract in this country. A conversion into centimetres provides clarification: one inch is exactly 25.4 millimetres, i.e. 2.54 centimetres. 40-inch televisions therefore have a screen diagonal of about 102 centimetres. This puts them in the lower range of medium-sized TV sets.
Small but mighty: Smart all-rounders
It's the inner values that count. Accordingly, great entertainment is not necessarily dependent on the size of the TV. Even 40-inch TVs score with advanced functions and first-class performance. Thanks to their handy size, 40-inch models are suitable for various purposes:
As the main TV in the living room
As a second TV in the bedroom
As a TV for the children's room
As a second monitor for work
As a screen for video games
Whether you are looking for a replacement for a broken TV or considering a second or third TV, the TV all-rounder is versatile, fits very well in most living rooms and even looks good on the desk.
HbbTV (Hybrid broadcast broadband TV) is not a specification of certain manufacturers, but a standard that is usually part of the basic equipment if the TV set was produced in 2015 or later. You usually access HbbTV via a red button on the remote control. Newer TV sets usually have the interactive function integrated. But older models also sometimes have HbbTV – regardless of the brand.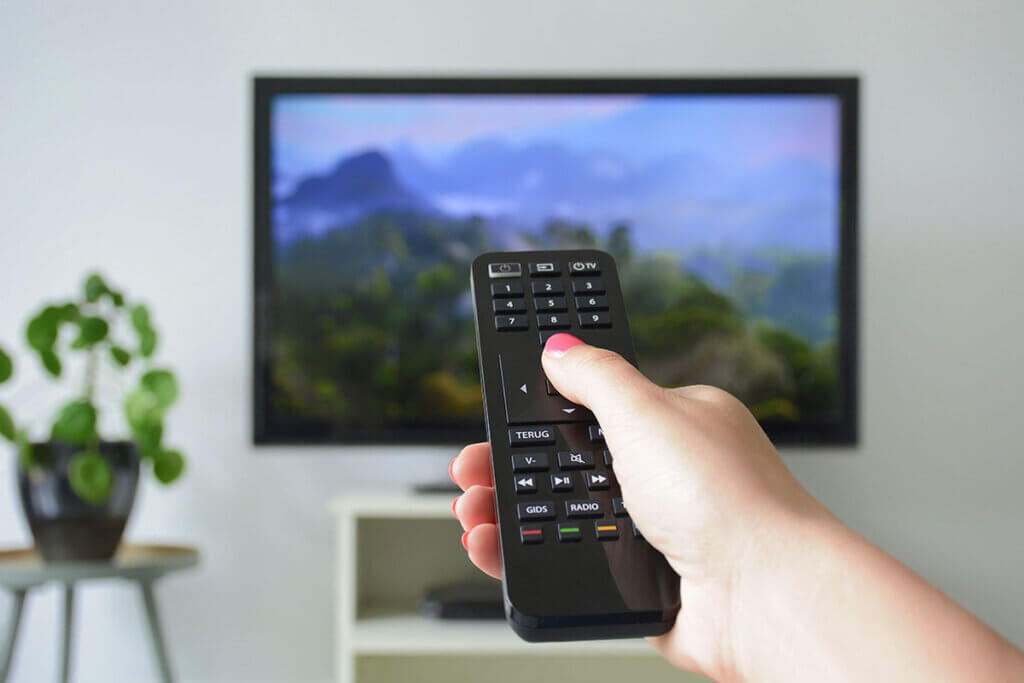 What is HbbTV and what are the advantages?
Many refer to the function, which has been available since 2010, as modern teletext – better known in Germany as videotext, whose iconic pixel display has remained unchanged for decades. "Hybrid broadcast broadband TV" also offers information that complements or goes beyond the programme currently being shown. These are some examples:
Current news and weather
Background information on the TV programme
Access to the broadcaster's media library
Trailers for films, series and shows
Virtual TV guide
The big advantage over traditional teletext is the improved visual appearance, because HbbTV presents the content in a much more appealing way, includes pictures, graphics and videos and scores points in direct comparison to the traditional variant with a more user-friendly operation. Since it is an Internet feature, the possibilities are almost limitless.
To the point
HbbTV combines regular television with the online functions of almost all of today's TV sets, thus creating an extended, interactive offer.
There are no additional costs for HbbTV. However, a fast internet connection is recommended to make the best use of the services. Broadband Internet access can therefore be considered a prerequisite.
A theoretical look into the future
It is not only technology fans who are asking: What will happen next with HbbTV? The answers are speculative, because many things are possible. It would be conceivable to expand interactivity by directly participating in the current programme via HbbTV – for example, in the form of voting during a casting show. Personalisation is a major Internet trend. Optimisation is also possible in this area, so that individual TV programmes can be created automatically on the basis of user data or manually by entering personal preferences.
40-inch TVs also receive HbbTV
The "modern teletext" does not depend on the size of TV sets. Thus, the owner of a 40-inch TV also benefits from the HbbTV advantages.
The alternative: receivers
Until around 2013, HbbTV was almost exclusively usable via external receivers. If your preferred 40-inch TV is not equipped with the technology from the factory, a corresponding receiver can be an alternative.
However, there is one prerequisite: the magic word is smart TV, i.e. TV sets with additional computer functions such as Internet access established via LAN or WLAN. But not all smart TVs automatically have the "Red Button". To be sure, you should look for a corresponding symbol in the scope of functions.
How to use HbbTV
To use the function, it is irrelevant whether the TV receives the TV signal via antenna, satellite or cable. The type of transmission is therefore irrelevant. Although not all broadcasters offer the function, the coverage is now very high and goes beyond the renowned public broadcasters ARD and ZDF as well as the ProSiebenSat1 Group – both of which were among the pioneers of HbbTV. To start HbbTV, all you have to do is press the red button on the remote control. Also, pay attention to the screen, because some broadcasters fade in a hint when the function can be used with a certain programme item.
Caution, viruses!
Because the TV is connected to the Internet while using HbbTV, users should keep an eye on the TV's virus protection. It is advisable to install new updates immediately. In addition, you can deactivate HbbTV if you do not use the function.
What should I look for when buying a 40-inch TV?
Even though all models have a screen diagonal of 40 inches, the differences between the devices can be great. When buying a 40-inch TV, you should therefore pay particular attention to the resolution as well as the picture quality. The refresh rate is also crucial for a sharp, smooth picture. Connections and reception options provide information about the options available to you. Good sound quality is essential for a complete home cinema experience. With low power consumption, you can enjoy the virtual experience for several hours with a clear conscience. Last but not least, you need to decide whether you want a flat-screen TV or prefer the benefits of a curved TV.
Screen: Resolution and picture quality
4K, HDR, UHD – with so many abbreviations, it is easy to lose sight of the essentials. The image resolution formats 4K and UHD (Ultra High Definition) are almost identical as successors to Full HD – sometimes 4K is used as a generic term. The resolution has a decisive influence on the picture quality. While Full HD works with 1,920 x 1,080 pixels, UHD achieves four times the resolution with 2,160 x 3,840 pixels. 4K technology offers a slightly higher resolution picture than UHD with up to 2,160 x 4,096 pixels. HDR stands for "High Dynamic Range" and refers to a technology that ensures higher contrast images.
However, more pixels do not mean that the picture is displayed in a correspondingly high resolution. For a clear picture, both sides must match: TV and visuals. The streaming service Netflix, for example, offers 4K content. However, you can only see the difference to Full HD on a very large screen or if you sit very close to the device.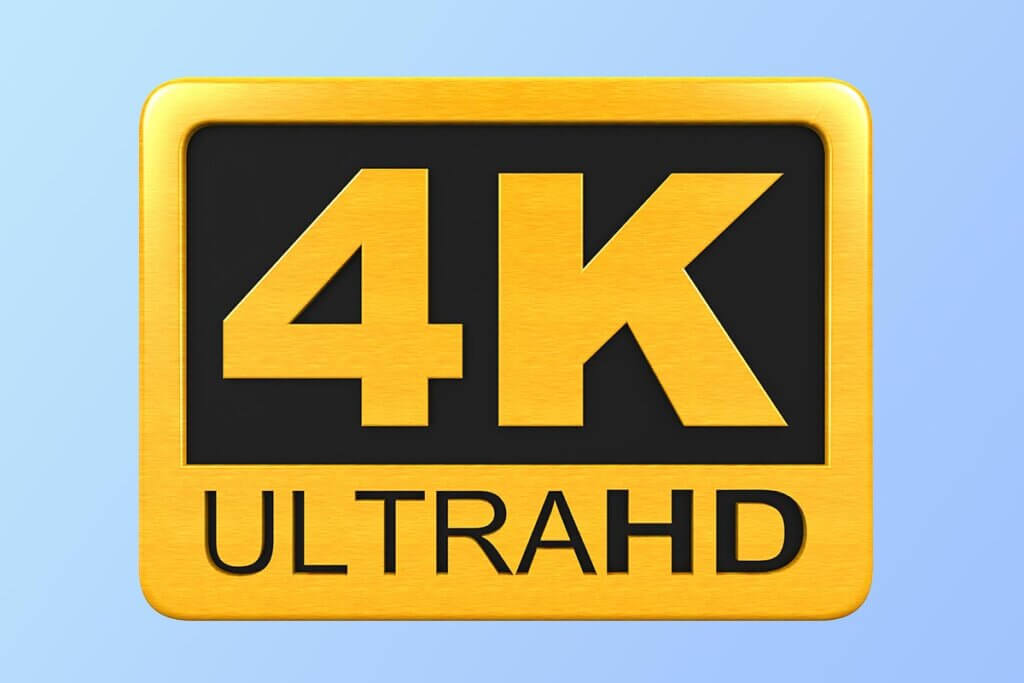 Full HD is enough
For 40-inch TVs, Full HD resolution is usually sufficient because smaller TV models with a lower resolution achieve a similar pixel density as larger sets. This ensures a sharp, high-resolution picture even with Full HD.
Picture refresh rate: a matter of her(t)zes
Apart from popular streaming services such as Netflix and Amazon Prime Video, television programmes can be received in other ways. DVB describes the standard for digital transmission of content. As a rule, the TV programme comes to your screen via one of the DVB options and a corresponding tuner. Therefore, it would be ideal if your 40-inch TV has a triple tuner that can realise reception via DVB-C, DVB-S and DVB-T.
DVB-C describes cable television, which is received via a contract with a cable network operator using a suitable receiver or a DVB-C tuner integrated in the TV set.
DVB-S is satellite television, which works via a satellite dish and is received with a satellite receiver or a DVB-S tuner integrated in the TV set.
DVB-T describes antenna television, which operates via an antenna and is received with a suitable receiver or a DVB-T tuner integrated in the TV set.
IPTV is Internet television that runs via an Internet line and is received with a receiver from special IPTV providers.
The name of the type of reception refers in each case to the first version of the version. In some cases, further generations already exist and are numbered accordingly, for example DVB-T2.
Known brands with GbbTV
Panasonic | Philips | LG | Samsung
Connections: Goodbye SCART, hello HDMI
If you have a DVD player, it may not be compatible with a new 40-inch TV, because SCART connections have largely been replaced by HDMI. To connect the two devices anyway, you need an adapter. Nowadays, a TV should have at least two HDMI slots; three to four connections are recommended. For 4K and HDR content, newer HDMI generations are also necessary.
In addition, there are various connections that are more or less important depending on your needs:
LAN/WLAN: Smart TVs offer online functions and are connected to the Internet via a LAN port if the TV does not have a built-in WLAN receiver for a wireless connection.
ARC: ARC is an HDMI connection for sound sources that play the TV sound and are controlled with the remote control.
USB: A USB port is used to transfer files such as pictures and videos from smartphones and other mobile devices to the TV. You can also connect external devices such as a keyboard via a USB port.
Energy consumption: Sustainable television
Labels such as A++ provide information about energy efficiency. Energy labels with an "A" are right at the front and the more pluses there are behind the "A", the better the energy efficiency. In addition to the ecological footprint, this also has an impact on your wallet, because within a comparable product group – for example in terms of size – the better the energy efficiency class, the lower the energy consumption.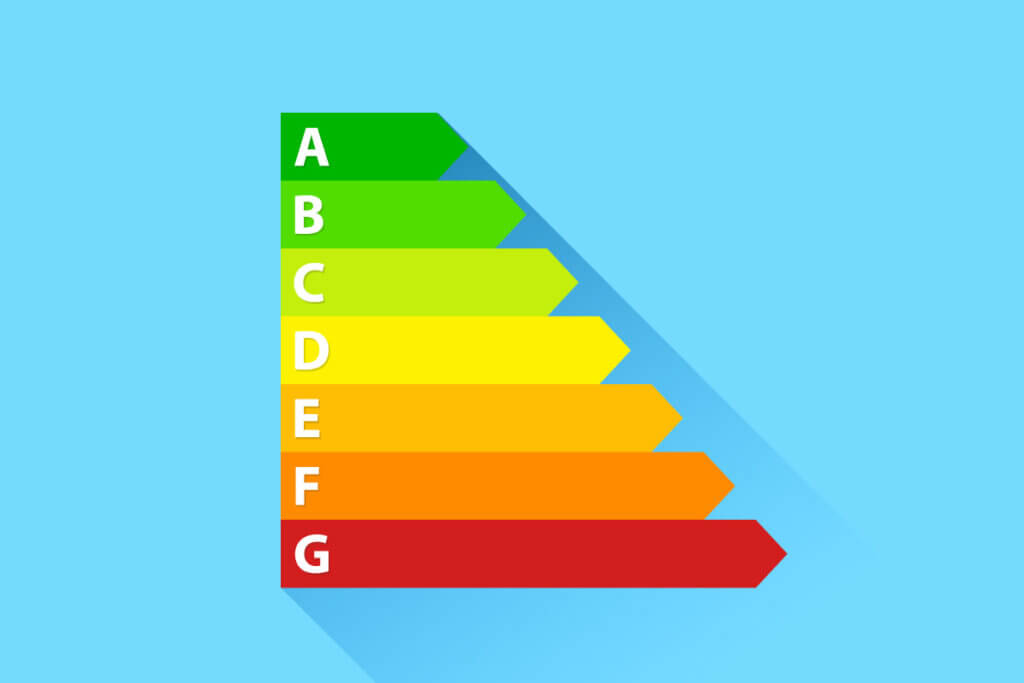 Don't be surprised if your 40-inch TV is "only" rated "A". It is often the large models that get a particularly good energy efficiency class. Here it is important to look at the ratio, because the energy consumption of smaller sets is inherently lower.
Sound quality: For an acoustic experience
A clear picture is only worth half as much if the sound is not good. However, the sound quality of smaller TVs is usually not as good as that of larger products. If your 40-inch TV doesn't deliver good sound, you can easily optimise it with external devices. These are proven options:
Soundbar
Loudspeakers
Music system
Headphones
You should pay special attention to the connection, because with all variants you theoretically have the choice between cable and Bluetooth – provided the devices to be connected have corresponding audio outputs and inputs and support Bluetooth.
Flat-screen TV versus curved TV
Curved TVs, i.e. models with a curved screen, have not been able to establish themselves. Sales are still relatively high in the gaming segment, but curved sets are less suitable as TVs – especially not for a 40-inch model, because the inward curvature, also called concave, is hardly noticeable in smaller and medium-sized models.
The basic idea behind curved TVs is to enhance the entertainment experience by allowing viewers to participate more intensively in what is happening on the screen. Those who prefer curved TVs should choose a large TV from 60 inches upwards. 3D fans can also optimise their TV viewing experience with a curved model.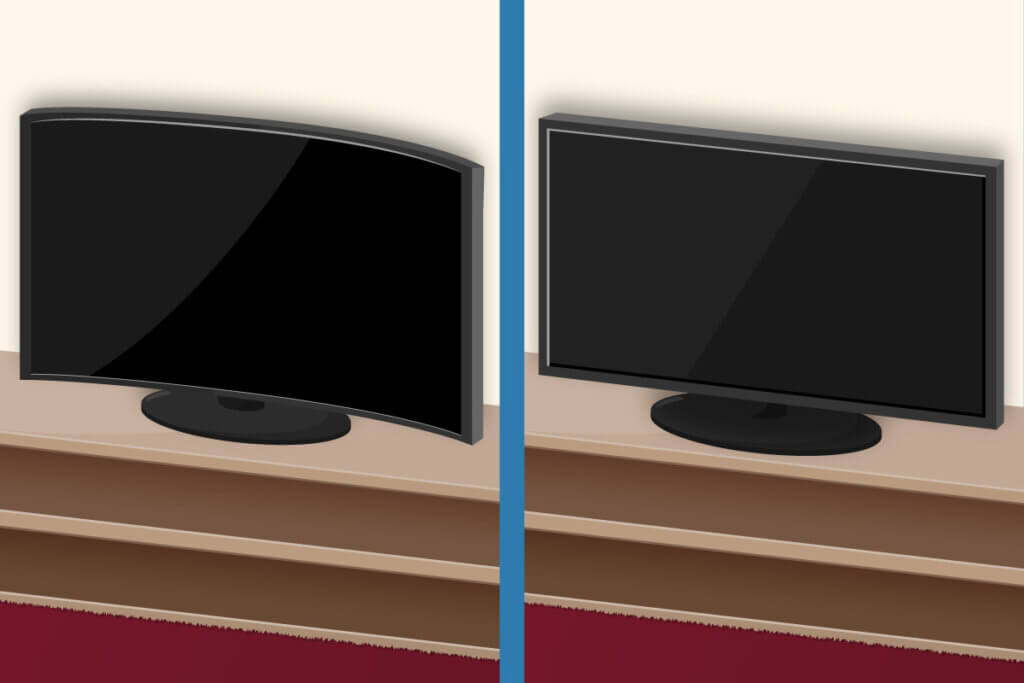 Well placed is half the battle
The bigger a TV is, the more space it needs and the further away you should place it. Therefore, the TV's location should always match the distribution of the rest of the furniture. You can calculate the ideal seating distance yourself.
Where is the best place for a 40-inch TV to stand or hang?
Mounting it on the wall is elegant and modern. In terms of light incidence, it is best to place the TV across the window. 40-inch TVs usually fit easily in the wall unit or on the TV shelf. If you still have space problems, you can benefit from a model with adjustable feet. Whether hanging or standing: in both cases, it is advisable to position the TV so that it causes as little cable clutter as possible – for example, in the immediate vicinity of the power socket.
Safe is safe
To avoid accidents, it is very important to choose the right wall mount. Get help with the installation if you are unsure.
A rule of thumb is that the bottom edge of the TV should be at about eye level when you are sitting in your TV seat – on the couch, for example. If you want to hang the set on the wall, you should measure the exact height beforehand. A cardboard template that is true to the original can be used for this purpose. In the case of a standing model, the measurements are important before you buy so that you know exactly how high your 40-inch TV including stand should ideally be. The viewing angle to the screen should be straight.
What is the perfect sitting distance from a 40-inch TV?
Ideally, you can see the picture with all its details, but without individual pixels. The seating distance depends primarily on the resolution and the size of the screen – in the case of a 40-inch TV with Full HD, the result is around two metres.
To calculate the minimum seating distance to a Full HD TV, the screen diagonal is multiplied by two. For a 40-inch TV, the calculation looks like this: 2 x 40 = 80. If the result is converted into centimetres, we get 203.2 centimetres.
Get closer
As a very general rule, the higher the resolution, the shorter the distance to the TV may be. So with UHD TVs, you can move further forward.
Since in most cases a couch is directly against the opposite wall, the room dictates the seating distance. This reduces the leeway when choosing the TV size if you want to stick to the calculated specifications. Ultimately, however, your eyesight also plays a role. Therefore, the rules of thumb should only serve as a guide.