43-inch TV purchasing advice: How to choose the right product
The most important facts in brief
43-inch TVs take up less space than large home cinema TVs, but still offer a large enough picture for a successful home cinema evening.
When buying a 43-inch TV, you can choose between resolutions such as Full HD or UHD.
TV sets with a size of 43 inches are also available in the Smart TV variant.
43-inch TVs – multimedia all-rounders

Nowadays, a TV is no longer just a TV: in recent years, the technology of modern TV sets has come a long way. Equipped with numerous functions, it is not always easy for buyers to find the right purchase decision. However, one of the most important criteria when buying a new TV for almost every buyer is the screen size, because the choice of different sizes is huge and not everyone has the space for a large home cinema TV.
A 43-inch TV is therefore a good compromise if you have limited space but want to watch movies in a home cinema ambience. The 43-inch size is particularly suitable for medium-sized rooms and is excellent both as a secondary set, for example in the bedroom, or as the main set in the living room.
This is how big 43 inches are
In Europe, and thus also in this country, the metric system is widespread, which means that the size, or more precisely the diagonal, of all screens is given in inches. However, very few consumers are able to estimate the actual screen size when they look at the inch measurements of a TV. For the 43-inch TV, the diagonal is just over 109 centimetres. This size is roughly in the middle range of currently available screen sizes. 43 inches are large enough to spend a cosy evening at home cinema without taking up too much space.
Moreover, this screen size does not require such a high resolution to produce a razor-sharp picture: Full HD is perfectly adequate here. Of course, a lower resolution is also noticeable in the price, so 43-inch sets are available relatively cheaply.
Multimedia capabilities
Whereas in the past the clunky tube TVs were only suitable for broadcasting the normal TV programme and, at most, for playing games with a games console, modern TV sets can come up with many other functions.
In the meantime, they have become multimedia all-rounders: almost every new TV set is also available in a smart TV version, which means that the set is Internet-capable. This capability has given rise to numerous streaming services, which make it possible to watch films and series at any time, i.e. independently of the normal TV programme. The number of users of streaming services is growing steadily and the majority of consumers also pay attention to the fact that the TV set is internet-capable when buying it.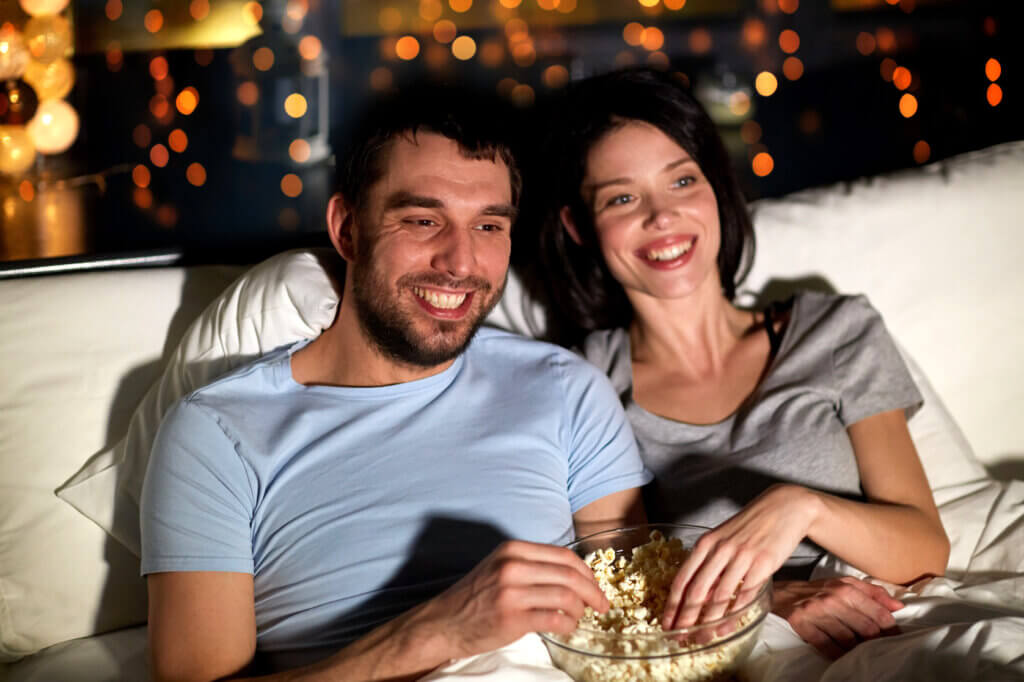 In addition, the connections of a modern TV set are also crucial. Most models have a variety of common interfaces, so the 43-inch TV is also very interesting for gamers.
Recommended distance from the 43-inch TV set

The guideline for the ideal viewing distance from the 43-inch TV is about 229 centimetres. It should be clearly stated here that this is only a guideline value, which can deviate by several centimetres. The decisive factor is the size of the living room, whereby a viewing distance of 229 centimetres should not be a problem for most living rooms. In some bedrooms, however, it could be tight: Here, consumers should opt for a smaller TV set. In any case, it is important to maintain the viewing distance, otherwise the eyes will be strained too much in the long run.
Below is an overview of the most important advantages and disadvantages of a 43-inch TV:
Plus Points
Pleasant screen size of 109 centimetres
Comparatively little space required
Full HD resolution quite sufficient
Relatively inexpensive to buy
Drawbacks
Not every model is Internet-capable
Very low-priced devices have too few connection options
Different display technologies and designs

Today's TV sets have different display technologies, also known as panels, which are decisive for the way a TV works. Basically, a distinction is made between LED or LCD, QLED, OLED and IPS.
LED and LCD
The majority of today's TV models are equipped with an LED or LCD panel. In principle, an LCD panel is also an LED panel, because this panel also works with LED light-emitting diodes. The LED light-emitting diodes illuminate the pixels in such a way that the picture of the TV is displayed. Meanwhile, LED and LCD are among the oldest panels in screens. Accordingly, the prices for TV sets have dropped significantly in recent years.
LED or LCD panels are convincing with good brightness values, but after a while users have to reckon with the so-called clouding, also called torch effect. Bright spots or so-called halos form on the screen, which are particularly noticeable in dark pictures. However, this only applies to TV sets equipped with so-called edge LED technology, because the LED light-emitting diodes are only located at the edge of the screen. On LED or LCD TVs with full or direct LED technology, on the other hand, this torch effect does not occur because the LED lights are evenly distributed throughout the screen.
In addition, LED and LCD panels cannot produce deep blacks, so the blacks look more like grey or anthracite. On the other hand, the significantly lower power consumption compared to old tube or plasma TV sets is a positive detail of the 43-inch TV.
QLED
QLED is the most modern display technology developed by Samsung and is therefore only installed in Samsung TV sets. This technology works with Quantum Dots, which provide even more brilliant colour displays as well as higher contrast and black levels – from every viewing angle. Samsung TVs equipped with this QLED technology are, however, more expensive than the simple LED TVs.
OLED
OLED panels are also a more modern form of LED display technology. With such a panel, each pixel is illuminated individually, which leads to a generally better picture quality. In addition, clouding is minimised, contrast values are higher and black levels are lower than with a conventional LED panel. In addition, OLED panels are even more energy-efficient than conventional LED panels. On the other hand, the purchase price is higher than for simple LED TVs.
IPS
IPS panels also work with liquid crystals. Here, however, they are arranged differently than in the common LC display. IPS panels are known for their powerful colour and contrast values, which remain almost constant from any viewing angle. However, the power consumption is somewhat higher compared to LED or LCD panels. The purchase price of IPS TVs is also higher.
Curved TV – the latest innovation?
A 43-inch TV is also available in the so-called curved version. In this version, the screen of the TV is curved. Although this version has only been on the market for a few years, the hype is already flattening out. The manufacturers promised more intense impressions and more depth for this version, with colours and contrasts being perceived better from a certain distance.
However, independent testers found that these promised effects only occur on TV sets with a size of 65 inches – and only for the viewer sitting centrally in front of the screen. In addition, the viewing distance must be very short. For a film evening with family or friends, this can hardly be observed, which is why a curved TV is less recommendable here. Moreover, not every consumer has enough space for a 65-inch TV set.
For the reasons mentioned, manufacturers are again increasingly focusing on conventional flat-screen TVs, which already have very slim frames. The conventional flat screens are also more suitable for larger groups. In addition, the seat does not necessarily have to be in the centre of the TV set.
What matters when buying
Every consumer has his or her own ideas and wishes when deciding to buy a new TV. 43-inch TVs come in different models, with different features and varying prices. No wonder, then, that it is not easy for many consumers to decide quickly and confidently on a model. The selection of a model is based on the following criteria:
Screen resolution
refresh rate
Sound
Reception mode
Range of functions
Energy consumption
Connection options
Scope of delivery and accessories

Screen resolution
43-inch televisions are available with two different screen resolutions: Full-HD and Ultra-HD (UHD for short). The Full-HD resolution, which is generally sufficient for a TV of this size, is 1,920 by 1,080 pixels. Colour and contrast values are already optimal here. However, if you are particularly demanding in terms of graphics, you should go for a UHD model with a screen resolution of 3,840 by 2,160 pixels. Such models are, however, more expensive to buy than the simple Full HD TVs.
The refresh rate
The refresh rate, also called frame rate, is given in hertz and indicates how many frames per second appear on the screen. On 43-inch TVs, the frame rate is usually 50 or 60 hertz, which is quite sufficient for normal use. Only if the TV is to be used mainly for gaming would a higher refresh rate be necessary under certain circumstances.
The sound
Due to their flat design, all flat-screen TVs basically have the same problem: the sound quality leaves a lot to be desired, which is due to the fact that the design offers little space for powerful speakers. If you want perfect sound, you should buy additional external speakers or a sound bar.
The reception mode
Not every 43-inch TV has all the reception options. Therefore, buyers should pay attention to the reception path they want to use with their TV and whether the desired set supports this reception path. Common reception options are currently:
DVB-C (cable TV)
DVB-S2 (satellite TV)
DVB-T2 (antenna TV)

Today's TV sets contain so-called tuners. On the one hand, there is the dual tuner, which is designed for two types of reception. More modern and now widely used is the triple tuner, which supports all common types of reception.
In addition, some models have a so-called twin tuner integrated. This has two receiver sections for one and the same transmission path, so that, for example, two cable receivers can be connected at the same time. This enables the user, for example, to watch a programme and record a film on another channel at the same time.
Attention, additional equipment is sometimes necessary!
For the new form of television programme, IPTV (internet television), there is no integrated tuner or receiver in any television set. In this case, users must always obtain an external additional device from the appropriate provider.
The range of functions
43-inch TVs are available with or without an Internet function. Buyers should therefore consider whether they need a so-called smart TV, which is the name given to TV sets with internet functions. Internet-enabled sets allow access to streaming services and other online functions, but are somewhat more expensive to purchase. Under certain circumstances, a TV set without Internet function can be at least partially upgraded. For this purpose, there are special USB sticks with which users can access certain online services.
Energy consumption
Frequent users in particular should keep an eye on power consumption. Almost all manufacturers provide information on this. However, as mentioned at the beginning, a 43-inch TV is not a particularly big energy guzzler. The display technology is the decisive factor: OLED TVs consume the least electricity, but they also cost a little more to buy.
To save electricity, it is practical if the TV is equipped with a stand-by mode and a sleep timer. Users can select a time when the TV switches to standby mode. This is ideal for users who like to fall asleep with the TV on.
The connection options
The connections on a modern TV set are a not insignificant purchase criterion these days. The most important is the HDMI connection: three are recommended. This allows several devices, such as receivers, Blu-Ray or DVD players and a games console, to be connected to the TV at the same time. Equally important are several USB ports, at least two, so that users can connect different storage media to the TV. An SD card slot is also an advantage.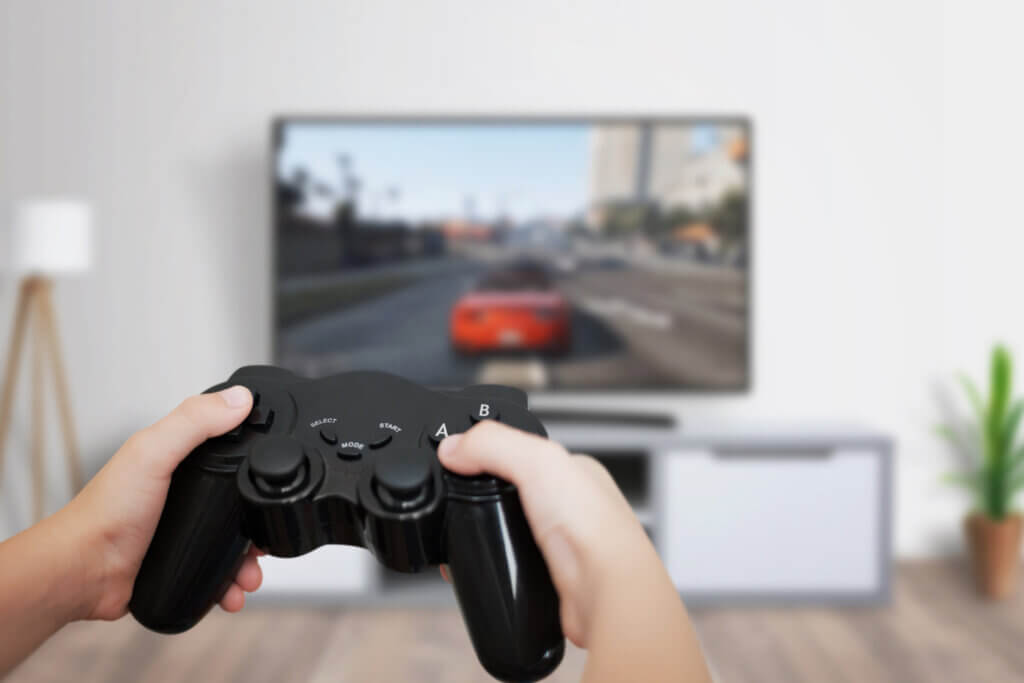 Those who want to watch paid programmes also need a CPI+ slot for the corresponding TV card. In addition, there should be connections for headphones and external speakers. A Scart connection is usually no longer necessary these days, unless users want to connect old devices such as a video recorder or older game consoles.
Scope of delivery and accessories

Almost every TV comes with a remote control and all the necessary cables – though not necessarily an HDMI cable. There is also no shortage of accessories for a 43-inch TV. For example, a mouse and keyboard are available for Smart TVs so that you can surf the Internet in comfort. Universal remote controls are also available for most models, as are sound bars, home cinema systems and external speakers.
Care tips for perfect TV enjoyment

Over time, dust and other dirt can spoil your viewing pleasure. But with simple cleaning and care tips, this can be remedied in no time at all. Never use aggressive cleaning agents to clean the screen. A special cloth for screens can be used for this purpose. Such cloths can usually be used both dry and wet. With some devices, they are even included in the scope of delivery. When cleaning with a damp cloth, however, users should always make sure that the cloth is really only damp and not dripping wet.
The back of the television should also be cleaned regularly. There are openings for ventilation that attract dust. Here, it is possible to use a hoover with a special dust brush attachment. For safety's sake, however, users should turn down the suction power. It is important that the appliance is never vacuumed without this attachment.
Tests of 43-inch televisions

Please note: Since we were not able to test the products ourselves, this is a comparison of 43-inch TVs.
In order to find the right 43-inch TV, it is quite helpful to look at some test reports on different models in advance. Since buyers first get a comprehensive picture of the most diverse brands and models, this ideally makes their purchase decision easier.
The magazine Computer Bild, for example, conducted a comparative test. The 43-inch Sony KD-43XG8096 came first and was rated "very good". The test model impressed with a very sharp, high-resolution display. In addition, the test device can be operated intuitively and has a variety of different connections, including four HDMI connections and three USB connections.
However, the last place in the Computer Bild test is by no means to be taken as a bad thing, because the test model 43UM71007LB from LG was also awarded the test mark "very good" and, on top of that, emerges as the price-performance winner. The test model is Internet-capable and has two USB ports and three HDMI ports. It also has a triple tuner and can convince with its colour and contrast values.