50-inch TV purchasing advice: how to choose the right product
The most important facts in brief
Since 50-inch TVs entail a certain size that is not equally suitable for every living room, it is advisable to check whether the seating distance is sufficient before buying.
The high-definition 4K TVs are the best investment today in this size range.
The high-contrast OLED panel and HDR technology with a higher dynamic range are also future-proof features.
Smart elements such as voice or gesture control and a WLAN function increase the comfort level.
50-inch TV: The new middle class
50-inch TVs are too big? Today, they are considered more like the new middle class. As the name suggests, these are televisions with a screen diagonal of 50 inches, which is the equivalent of 127 centimetres. These devices can be found in stores with a resolution of 1,920 x 1,080 pixels (1080p or Full HD) as well as 3,840 x 2,160 pixels (4K or Ultra HD). Often the wallet dictates which model is considered for purchase. Even this size class, however, has already reached the affordable range for the average buyer.
In principle, it should be noted that bigger is not necessarily better. The size of the appliance also places special demands on the home. In a room that is too small, 50-inch TVs may be oversized, making it impossible to maintain a comfortable sitting distance between the set and the sofa. These televisions are therefore perfectly suited for use in quite large rooms. In addition, large families also benefit from the format. If the screen is large enough, there should be no viewing problems when gathering in front of the TV in the evening.
How do I determine the perfect size?

A simple rule of thumb helps to determine the appropriate screen size: To do this, simply take the diagonal of the TV and multiply this value by 2.5. This results in the perfect sitting distance from the TV. For example, a 50 inch TV would dictate a seating distance of 125 inches (50 x 2.5 = 125). 125 inches is again about 317 centimetres (125 x 2.54 = 317.5). The ideal distance between the viewer and the TV in this case would therefore be a little more than three metres. Those who are a little removed from this value will certainly not immediately lose their enjoyment of television. However, one should not go too far above or below this guideline value, as the viewing pleasure would actually suffer.
From resolution to operation: The most important purchase criteria
Before the purchase goes over the counter, consumers should think about what requirements the device should ideally fulfil. This is why you will find below the most important factors to consider when making a purchase.
Full-HD vs. Ultra HD: The resolution
A very important decision has to be made right at the beginning: What resolution should it be? In this size class, consumers only have the choice between Full HD and Ultra HD, i.e. 1080p and 4K:
Full-HD
Full HD televisions offer a resolution of 1,920 x 1,080 pixels and are still the standard. Manufacturing is now so cheap that even 50-inch models are affordable. Their features do not have to hide behind the models with 4K resolution either: Among other things, there are smart TV functions, numerous HDMI and USB ports, voice recognition, a WLAN function and Bluetooth for headphones. For most buyers, this resolution should be sufficient – and if not, there is still the leap to Ultra HD models.
Ultra-HD
Ultra HD resolution at 3,840 x 2,160 pixels is currently the maximum that average people are capable of buying (but sinfully expensive 8K TVs are already waiting in the wings). The main difference between these devices is the significantly higher image sharpness, due to the resolution, which increases by a factor of four. Buyers will also usually find newer features like HDR here. The biggest problem, however, is still the lack of content: 4K series or films are a relatively rare commodity; streaming providers are the best choice here.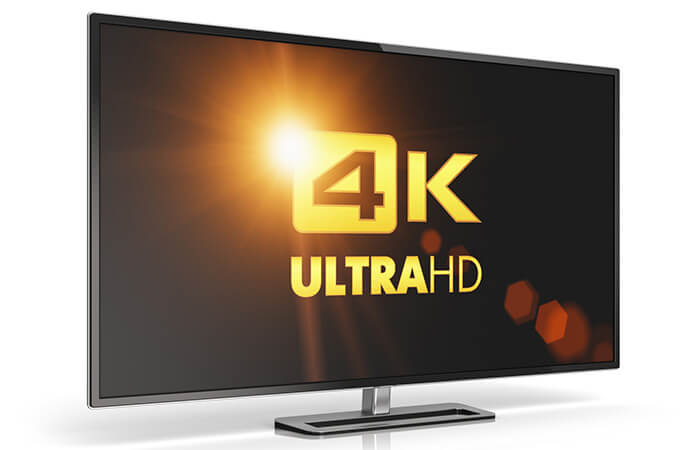 In just a few years, classic full HD will be "old hat". However, since televisions are usually purchases for several years, it is definitely advisable to go for the 4K model right away – even if it initially makes a somewhat larger hole in your wallet.
The relationship between size and resolution

The resolution indicates how many pixels are displayed vertically and horizontally on the surface of the screen. A resolution of 1,920 x 1,080 pixels would therefore mean that 1,920 pixels are visible in the horizontal direction and 1,080 pixels in the vertical direction. However, this simple rule applies to very small 28-inch diagonal TVs as well as to large 50-inch sets. Thus, it is easier to recognise individual pixels on larger TVs because the so-called pixel density decreases. Above a certain size, the switch from Full HD to Ultra HD is obligatory, so to speak, because otherwise the pixel density is so low that individual pixels become visible, which would noticeably disrupt the enjoyment of the film.
HDR: Another step towards authenticity
HDR is still a relatively new development: The abbreviation stands for the format "High Dynamic Range", i.e. a larger dynamic range. Ordinary TVs have the problem that they cannot display very bright and dark sections at the same time: Either a particularly bright area is not as bright as it would look in reality, or details are lost in dark sections. On the one hand, this causes the contrast to drop, and on the other, colours and details are distorted. HDR solves this problem, provided the source material plays along. In the trade, designations such as HDR10 or Dolby Vision indicate that the 50-inch TV supports the technology. Certain games or consoles also benefit from this by looking a little more appealing.
At the moment, the higher dynamic range does not yet play a role and even in games the differences are still relatively small, but in the long term the format, just like 4K resolution, will become established. If the purchase of the television is still to be worthwhile in five to ten years, it is advisable to buy an HDR-capable television right away.
The panels: OLED TVs as the ultimate in technology
Another important distinction is made with regard to the panels. These are available either as OLED models or as LCD or LED versions. OLED TVs with a diagonal of 50 inches are much more expensive than ordinary sets with LCD or LED panels. On the other hand, the picture quality is on a completely different level. OLED panels manage to display black as it looks in reality. This results in pronounced contrasts so that colours look very natural and strong. The disadvantage is the already mentioned price: Acquisition costs of 2,000 euros are quickly reached for these devices in a size range of 50 inches.
Especially interesting for gamers: The reaction time
The response time of the display is given in milliseconds and allows a statement to be made about how quickly inputs on a gamepad of a console are passed on to the television and subsequently displayed. The best devices offer just over ten milliseconds. Casual gamers who play a little now and then in the evening or at the weekend will hardly notice the difference. Ambitious gamers, however, recognise the effect immediately: Characters play slightly "spongy" as there is a noticeable delay between input and output. This is a problem especially in games where the highest precision is required.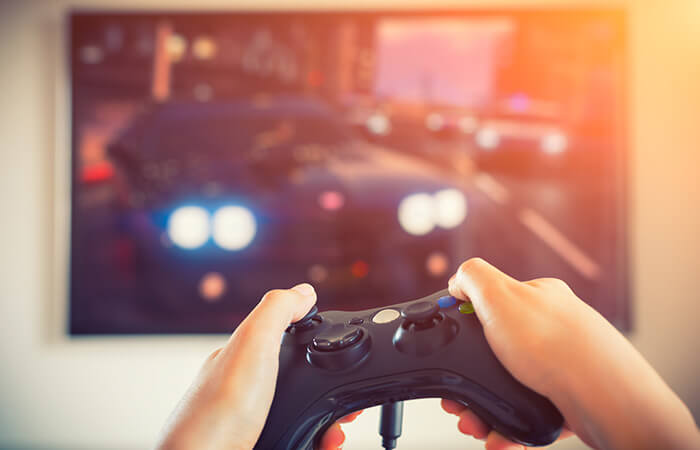 When buying, make sure that the 50-inch TV has a gaming mode. As soon as this is activated, the TV's internal software switches off certain functions that cost computing power. This reduces the time between input and output.
Which consoles fit 50-inch TVs?

Since it usually comes down to a 4K TV in this size range, the Xbox One X as well as the PlayStation 4 Pro make the most sense. Only these consoles are currently capable of playing 4K content (the highest performance is provided by Microsoft's offering). For example, the Nintendo Switch is limited to 1080p. Mind you: Mario and Co. are also fun on a 4K TV with a 50-inch diagonal. However, when it comes to conjuring up the highest visual opulence on the screen, Nintendo is not currently the measure of all things and will not be in the foreseeable future.
The number of connections: More is better
With regard to the connections, the rule of thumb is: More is better. Two HDMI ports, for example, are quickly occupied by a receiver and a BD player. If there is room for a console and an HDMI stick next to it, things start to get tricky. Three or better four HDMI connections are therefore definitely preferable. Even if no use case is ready at the beginning, this is guaranteed to be the case in the future. By the way, it works the same way with USB ports: Those who have more space will have little to juggle in the future.
In addition to HDMI and USB, some TVs also have connections that are less common, such as a component input. Here, everyone must decide for themselves what is necessary. Often this is derived from the equipment already present at home. If additional hardware such as a soundbar is planned, an optical or coaxial input is also important. In general, we recommend having a few too many connections rather than too few. You never know what the future holds, so it can't hurt to be prepared for all eventualities.
A kink in the optics? Curved TVs
Externally, all 50-inch TVs are similar – with the exception of the so-called curved TVs. On these sets, the screen is curved, which is supposed to result in the sides being more visible to the viewer on particularly large TVs (which include the 50-inch sets). This is to strengthen the "feeling of being in the middle of things". Whether this is really true in reality, however, is in the eye of the beholder. Some buyers swear by these devices, others do not like them. Since, apart from the curvature, there is no technical difference between normal, flat TVs and the curved models, this is more a matter of taste.
Does the weight play a role?
As a rule, this point is not of too much importance. If the unit stands on a piece of hi-fi furniture, a few kilograms more or less are irrelevant. The only complications are if the installation is planned on a wall bracket and the desired wall can only bear a small load. Before buying, you should therefore keep an eye on whether the wall can bear the load of the 50-inch TV (without stand). In the event that the TV is frequently carried from one location to the next, the weight is of course also crucial. However, this scenario is rather the exception in private use.
Operation: More than just a remote control
Are the days when we had to push buttons over? Some manufacturers now offer remote controls for their devices that act like a microphone and thus pick up voice commands. This feature is practical, for example, to research something via a search engine in the built-in browser. Gesture control is also partly on board. Depending on the device, the remote control also acts as a pointer, which can be used to precisely control the mouse on websites, for example. Each buyer decides for himself whether all this is necessary.
The following table illustrates the most important information at a glance:
| | |
| --- | --- |
| The resolution | Even if it costs more, 4K resolution is definitely recommended today because it is future-proof. |
| The HDR format | The same applies to the HDR format – a technology that is currently still in its infancy but will become relevant in a few years. |
| The panel | OLED panels impress with striking contrasts and natural colours compared to LCD and LED models. |
| The reaction time | Gamers in particular should look for a response time of less than ten milliseconds and the presence of a gaming mode. |
| The connections | A lot helps a lot: Less than three HDMI connections have no place in this class. |
| The design | Whether flat or curved is ultimately a matter of taste. Curved TVs, however, are supposed to enhance the "in the middle" feeling. |
| The weight | Although less is better in the case of wall mounting, this point is not decisive when buying. |
| The operation | With modern devices, additional features such as voice or gesture control are available to increase the comfort level. |
Care tips: What should I pay attention to during use?
Regular product maintenance is not usually necessary with a 50-inch TV. The unit will continue to do its job for many years to come if it is allowed to "work" undisturbed. Every now and then, however, the screen should be cleaned. The best products for this are those that are also intendedfor cleaning LCD screens on notebooks, tablets or computer monitors. Glass cleaners are not included because they are too aggressive. However, the occasional use of glass cleaners is not too dramatic.
Ideally, microfibre cloths or comparable cleaning agents should be used to clean the screen. Sponges, especially their rough side, are too rough. Although the displays are protected with a scratch-resistant glass plate, users should refrain from tempting fate. For transport, it is advisable to disconnect all cables to avoid accidentally damaging a connection. It is also advisable to wrap the TV in blankets or other soft coverings and, if possible, not to perform any reckless manoeuvres while driving. Apart from that, 50-inch TVs are very easy to handle.
Finally, we have summarised answers to the most important questions:
When is 50 inches "too big"?
A screen diagonal of 50 inches is especially too large if the intended room is too small and the viewer accordingly has to sit too close to the unit. Whether a unit of this size is recommendable can therefore also be deduced from the seating distance. Bigger is not necessarily better for a television. In large electronics stores, 50-inch devices often seem smaller than in one's own four walls. Tip: A piece of cardboard can be quickly cut to the dimensions of a 50-inch TV and mounted on the wall. In this way, consumers can quickly find out whether the size is oversized for their living room. It should also be remembered here that more surface area always entails higher power consumption.
How important is a smart TV?
Most TVs, especially in the 50-inch and 4K range, are smart these days. Otherwise, many functions can be retrofitted. For example, if the TV does not have Wi-Fi, content can be easily streamed from a smartphone to the TV using an HDMI stick such as the Google Chromecast– even if the device is not actually designed for this purpose. Media centres can also be supplemented with devices such as a Raspberry Pi and software such as Kodi. However, this procedure already poses quite high technical hurdles and presupposes a certain prior knowledge on the part of the user. Therefore: If everything is to work simply, a smart TV is necessary. If the device is internet-compatible or smart, it is considered future-proof.
Do I need a soundbar?
There is almost no 50-inch TV that produces impressive sound. This is mainly due to their construction: Flat units cannot produce rich bass because it needs space to develop. Since even the best TVs cannot break any laws of physics, film fans must therefore do without pompous sound. A sound bar or a 5.1 or 7.1 system are good and not at all expensive alternatives to give the sound from the TV a boost. Practical side effect: Music also sounds much better through most TV soundbars than through ordinary speakers found in many households.
How do I receive television?
Most 50-inch TVs have all the major receivers built in. This means that DVB-C, DVB-S and DVB-T(2) are already on board. If necessary, an external receiver can be used without any problems. With IPTV, i.e. television via the Internet, such a receiver is necessary in any case. However, this is always supplied by the provider, e.g. Vodafone, when a contract is concluded.
---
Fig. 1 : © Scanrail / stock.adobe.com | Fig. 2 : © Stefano Garau / stock.adobe.com | Fig. 3 : © rcfotostock / stock.adobe.com